New Jersey Neighbors Call 911 Over Zombie Car Crash Halloween Display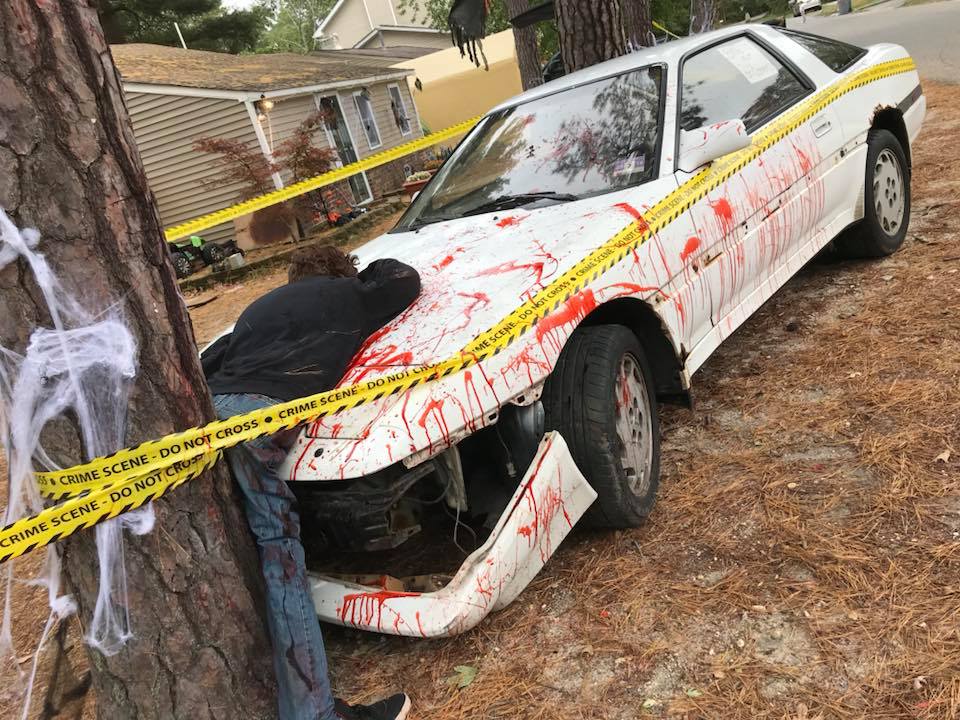 VOTE NOW! Is this Funny or Offensive?
Posted in:
Splattered Spectacle
October 26th, 2017 – A New Jersey couple is getting a lot of attention thanks to the Halloween display in their yard. The grisly attraction depicts the aftermath of a violent traffic accident with fake crash victims lying covered in blood and pinned gruesomely in between a wrecked car and a tree trunk. The pair even came up with a hair-raising backstory describing the crash as the result of a sudden zombie outbreak.
Complete with fake blood, crime scene tape and removing the bumper to the family car to simulate crash damage, the Halloween prank has both terrified and befuddled neighbors and passersby alike. Despite delighting local school children at a nearby bus stop and impressing members of law enforcement with its attention to detail, some remain less than enthused about the simulated bloody corpses outside their homes.
"I think it's too much. We have a lot of young kids here, families. Too much," one resident told a local news crew.
Kevin and Krysten Negrotto insisted they created the shocking display in the spirit of Halloween and were taken aback by people duped or otherwise bothered by the scene – telling one local news reporter:
"It's clearly a Halloween display that you've probably seen at a hayride or any other haunted attraction before."
Some residents have bristled at how realistic the carnage appears while others concede that, regardless of how graphic the scene is, it's all in good fun.
"I love it, I think it's fun. I don't understand people who had issues with it. To each his own."
Police paid a visit to the Negrottos after receiving several complaints but refrained from issuing any citations as no laws had been broken.
"They LOVED it and are encouraging us to add more! They think it is awesome," said Krysten Negrotto on her Facebook page. "And it's a free country! So thanks for the call, Waretown PD approved."
Do you think this prank was a hit or did this couple crash and burn? Funny or Offensive? Vote and comment below!