Noah Galvin Apologizes For "Horrible" Comments Made in Vulture Interview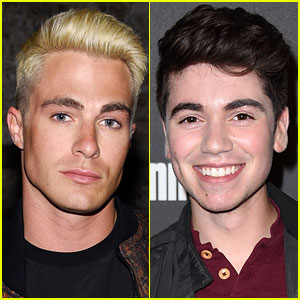 VOTE NOW! Is this Funny or Offensive?
Let's Queer it For the Boys
June 10, 2016 – Noah Galvin, who got his first big TV break on last season's The Real O'Neals, is now getting his first big break in the art of celebrity issued apology statements.
The 22-year-old actor gave an interview to Vulture which it published Thursday and immediately received backlash. Galvin has been openly gay since his teens and now portrays a newly out gay teenager on his sitcom. After a lengthy discussion with the interviewer about how gay characters are portrayed, who plays them and how gay actors miss out on roles playing straight characters, the name Colton Haynes comes up.
"It's interesting because you know Colton Haynes …
Do I …
Do you?
The worst."
Haynes, an actor best known for his roles on Teen Wolf and Arrow, originally came out after a Tumblr post called out his "secret gay past." To which Haynes replied "Was it a secret?" He also gave an interview to Entertainment Weekly a few months later where he acknowledged Hollywood's discomfort with LGBT identity.
"That's not coming out. That's fu**ing pu**y bull**it," Galvin told the reporter. "That's like, enough people assume that I sleep with men, so I'm just going to slightly confirm the fact that I've sucked a dick or two. That's not doing anything for the little gays but giving them more masturbation material."
The ballsy actor continued his bluntness as the interview went on. He took aim at an unnamed guest star on his show who was coyly flirting with him.
"At one point I turned to him and was like, 'Are you gay?' And he was like, 'Well … I don't know. I'm more like, go with the flow.' And I was like, 'Shut the f— up. Get out of my face with your wishy-washy bulls— answer. You're a f—ing f—ot.' Like, I know you are. You know you are. Stop beating around the bush. Just go make out with me in my dressing room."
He also targeted Eric Stonestreet, a straight actor who portrays a gay character on Modern Family, when asked how he wants his character, Kenny, to be portrayed when it comes to his flamboyance level.
"He's playing a caricature of a caricature of a stereotype of stereotype on Modern Family. And he's a straight man in real life. And as hilarious as that character is, there's a lack of authenticity. I think people — especially young gay kids — they can laugh at it, and they can see it as a source of comedy, but like, nothing more than that."
Vulture has now removed the excerpt where Galvin went off on "X-Men" director Bryan Singer.
"Bryan Singer likes to invite little boys over to his pool and diddle them in the f—ing dark of night," he said, laughing. "I want nothing to do with that. I think there are enough boys in L.A. that are questionably homosexual who are willing to do things with the right person who can get them in the door. In New York there is a healthy gay community, and that doesn't exist in L.A."
As almost every celebrity has learned, their quotes live on in one way or another and are often times met with such strong backlash that an apology is needed if they want to stabilize and advance their careers. By Thursday evening, not even 24 hours after the interview was published online, Galvin had issued an official apology through Vulture's website (also posted on his Instagram account).
Haynes responded quickly making an Instagram post of his own where he called the comments uncalled for and embarrassing. And had a little fun owning his allegations while signing off…