Norwegian Bikini Bottoms Scandal Grabs Attention of Sporting World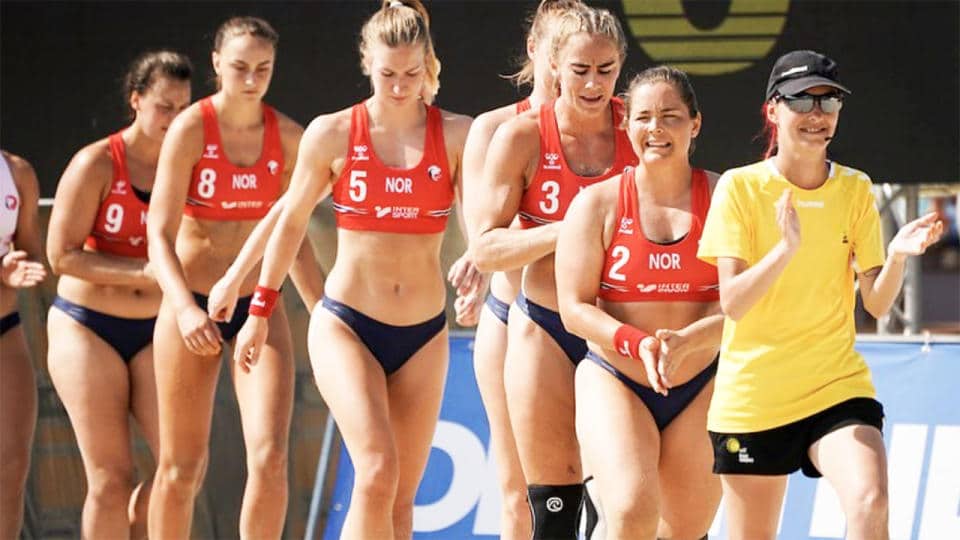 VOTE NOW! Is this Funny or Offensive?
Posted in:
Bottoms Up
July 21st, 2021 – This week the Norwegian Women's Beach Handball team grabbed headlines while competing at the European Championship, but it was their uniforms, not their play, that got all the attention. Instead of wearing regulation bikini bottoms, the team appeared for their bronze medal match versus Spain, wearing shorts. According to the European Handball Federation, the shorts were "not according to the athlete uniform regulations defined in the IHF beach handle rules of game."
Regulations state: "Women should wear a bikini where the top should be a tight-fitting sports bra with deep openings at the arms. The bottom must not be more than ten centimetres on the sides."
The team was fined 1,500 euros total ($1,700) for "improper clothing," according to a statement from the European Handball Association's Disciplinary Commission.
While male players are allowed to play in tank tops and shorts, women are required to wear bikini bottoms "with a close fit and cut on an upward angle."
The Norwegian captain claimed that the team had been threatened with disqualification if they didn't wear bikini bottoms.
"So then we are forced to play with panties. It is so embarrassing," she said.
Not surprisingly, social media was quick to point out the hypocrisy of the uniform rules.
Norway's beach handball side got fined for wearing shorts instead of bikini bottoms at the Euro 2021.

The European federation said that the resulting outcry "is based on disinformation on the procedure."

This photo shows there's more wrong with the sport than 'procedure.' https://t.co/nXkeqklxPw

— Manos Moschopoulos (@maledictus) July 20, 2021
What do you think about the Norwegian bikini bottom scandal?