Politician Accidentally Shows Porn Links in Campaign Post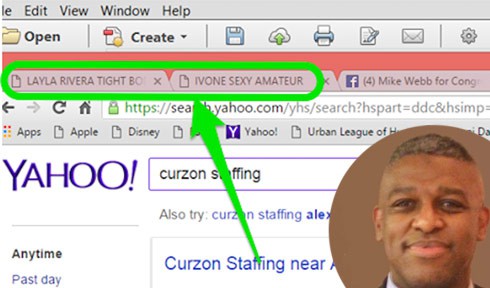 VOTE NOW! Is this Funny or Offensive?
Posted in:
Browser? I Hardly Know Her!
May 19, 2016 – Mike Webb is running for congress and running up the hits on his Facebook page.
The candidate, who's aiming for Congress in Virginia's 8th Congressional District, posted a personal screenshot to
his Facebook page
Monday that showed browser tabs of the pornographic persuasion.
TIGHT BODY OR TIGHT BOOTY?
"LAYLA RIVERA TIGHT BO" and "IVONE SEXY AMATEUR" are porn sites that were open on Webb's computer. Gawker was one of the first outlets to call attention to the tab oversight. As of today, the original post is still up on Webb's Facebook page and details an incident where he was bamboozled by a staffing agency in Alexandria (home of current VA congressman Don Beyer). The intrepid investigate team here at Funny or Offensive was able to determine through an extensive three second Google search that the first full tab was likely "LAYLA RIVERA TIGHT BODY," while Gawker
continues to insist it's
 "LAYLA RIVERA TIGHT BOOTY."
"Curious by nature."
In a very long and somewhat convoluted post (which has since been deleted), Webb explains the porn tabs by saying that he was testing to see if a virus could infect his computer and crash files. In his words he was "
curious by nature
."
Webb posted a new message to Facebook Monday evening turning the focus from flash and scandal to the Lord and traction; both apparantly had been lifted high.
"Today's notorious post reached almost 200,000 people. The succeeding post reached a little more than a te
nth of that, and all through the viral infection of social media and word of mouth," he wrote. 
"And, I certainly received my share of "interesting" comments, but no more out of the ordinary than what I have received since beginning this quest. But, the truly amazing thing about today was that 'I saw also the Lord, high and lifted up,' and I was very much moved by the love and support of those who expressed their encouragement and support, even some in the national and local press." 
According to the newly notorious candidate, in just one day the campaign's Facebook likes grew by 25%. Webb has made five posts since commenting on the incident, and a browse through the comments section of those and prior posts seem to show people mostly bringing up those porn tabs.
The 8th Congressional District of Virginia will conduct election for the U.S. House of Representatives on November 8th, 2016. Webb will be up against Democratic incumbent Don Beyer and Republican Charles Hernick. He now also has a big controversy against him, but maybe he'll just beat it.
Neither LAYLA RIVERA TIGHT BODY nor IVONE SEXY AMATEUR could be reached for comment.
Was Mike Webb for Congress' post Funny or Offensive? VOTE and COMMENT below…