President Trump's Hollywood Walk of Fame Star Destroyed with Pickaxe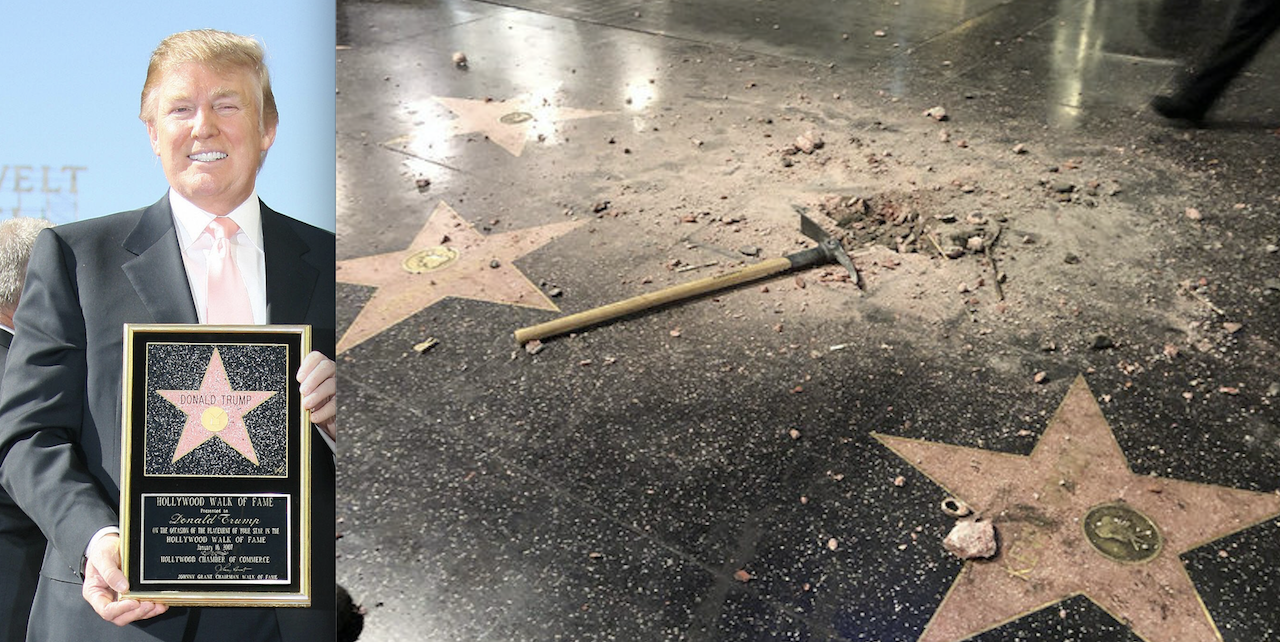 VOTE NOW! Is this Funny or Offensive?
Posted in:
July 25, 2018 – President Donald Trump's Hollywood Walk of Fame star was vandalized overnight. According to eyewitnesses, a man used a pickaxe to destroy the red marble marker bearing the president's name on Hollywood Boulevard. Per sources, the perpetrator concealed the pickaxe in a guitar case. President Trump had originally received his star on the Walk of Fame in 2007 for his work on NBC's The Apprentice.
The suspect turned himself in at Beverly Hills police headquarters and was turned over to Los Angeles police. He "called police and advised he had vandalized Donald Trump's star and basically called on himself and said, 'See you soon,'" Lt. Karen Leong of the LAPD's Hollywood Division.
A man has turned himself into police in connection with the overnight vandalism of President Trump's star on the Walk of Fame. Details @ABC7 pic.twitter.com/gQuw6QXZog

— John Gregory (@abc7johngregory) July 25, 2018
This is not the first time the President's Hollywood star has been the subject of mischief and crime:
-in 2016 a man posing as construction worker used a sledgehammer to destroy the star
-multiple spray-painting efforts have left symbols ranging from a mute button to a swastika
-earlier this month, comedian George Lopez pretended to urinate on the star using a bottle of water
Trying to set your own political beliefs aside, do you think vandalizing the President's Hollywood Walk of Fame Star was Funny or Offensive? Vote and Comment now…