Principal Bans Candy Canes In Classrooms, Says 'J' Shape Is For Jesus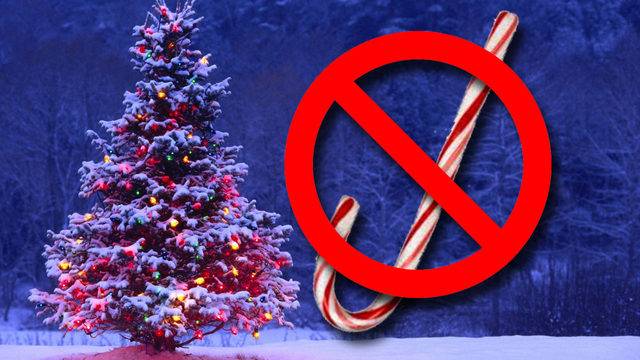 VOTE NOW! Is this Funny or Offensive?
Posted in:
Principal Grinch
December 13th, 2018 – A principal in Nebraska has been placed on administrative leave after sending a memo to staff asking them to rein in all Christmas-themed celebrations.
Jennifer Sinclair's professional title is Manchester Elementary School Principal, but on the memo she labeled herself "The (Unintentional) Grinch who stole Christmas (from Manchester)" as she asked teachers not to decorate with Santa, Christmas trees, Elf on the Shelf, and even candy canes – because their "J" shape represents Jesus.
"I will do my best to communicate the expectation from here on out, which aligns with my interpretation of our expectations as a public school who seeks to be inclusive and culturally sensitive to all of our students. I feel uncomfortable that I have to get this specific, but for everyone's comfort, I will," she wrote before identifying "acceptable/not acceptable practices:"

Using images of Santas or Christmas items on worksheets.
Trees in classrooms.
Elf on the shelf.
Singing carols.
Playing Christmas music.
Sending a scholastic book that's also a Christmas book.
Making ornaments as gifts.
Reindeer.
Christmas videos/movies and/or characters from Christmas movies.
Sinclair goes on to spell out exactly why she doesn't want classrooms decorated with candy canes. She claims that historically the red and white colors are meant to signify the blood of Christ and his resurrection. Although, she also bans candy canes that come in different colors.
The memo made its way from local news story to national scandal after Liberty Counsel, a public policy organization with an emphasis on First Amendment religious liberty issues, wrote to the Superintendent  of Elkhorn Public Schools. While they stated that they weren't asking for Principal Sinclair's resignation, they did unequivocally demand an overrule of the ban.
"For these reasons, Liberty Counsel urges you to immediately overrule and specifically disavow the sweeping directive banning Christmas holiday items, and require Principal Sinclair to undertake review of District policy and the law," they wrote. "We trust that this will be a good learning experience for her and that she will conduct herself and make decisions involving other church-state matters with appropriate respect for expressions of faith, and not with hostility."
Despite the request to keep her job, the school district placed Sinclair on administrative leave and clarified the county's holiday policies.
"The memo does not reflect the policy of Elkhorn Public Schools regarding holiday symbols in the school," Kara Perchal, spokeswoman for the school district, said. "The district has since clarified expectations and provided further direction to staff in alignment with district policy."
For her part, Sinclair had already sent out an email to parents before being placed on leave. A parent shared the note, which included an apology and an admission of fault for sending out incorrect policy information.
"I wanted to reach out and make sure our families understand what occurred, and what has been done to correct the issue," she wrote. "I understand that the information I initially provide was incorrect and I sincerely apologize for any confusion or concern this has caused and the negative attention this issue brings to the District and Manchester."
Do you think the Christmas rules memo went too far? Did Principal Sinclair deserve to be placed on administrative leave?