Australian Cartoonist Slammed For Racist Serena Williams Cartoon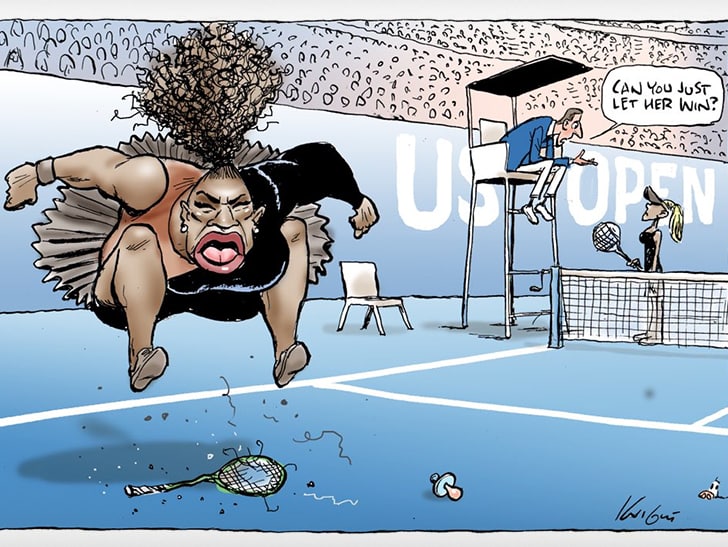 VOTE NOW! Is this Funny or Offensive?
Posted in:
Serving Up The Controversy
September 10th, 2018 – An Australian cartoonist is under fire today for drawing a cartoon of Serena Williams that looks like it could have been published during Jim Crow laws. Mark Knight, the editorial cartoonist for the Herald Sun newspaper in Melbourne, tweeted the drawing early Monday morning after a weekend filled with discussions about both the actions and treatment of Williams following multiple code violations during the US Open.
My toon in today's @theheraldsun on #SerenaWilliams @usopen pic.twitter.com/didwtQg1R5

— Mark Knight (@Knightcartoons) September 10, 2018
Williams ultimately lost the match to Naomi Osaka, but the polarizing actions between the tennis giant and chair umpire, Carlos Ramos, overshadowed the final outcome. Williams, with the support of fans, called out the sexism she saw on full display as her speech was deemed "abuse" while her male counterparts are rarely penalized for the same behavior.
Knight took the position of those who saw Williams as simply a diva having a meltdown as opposed to a black woman standing up for herself. Williams is drawn with exaggerated lips and a large nose as her hulk-morphed body jumps on a shattered racquet.
While critics have focused heavily on the racist caricatured qualities of the cartoon, they've also taken issue with the characters Knight placed in the background. Osaka is Japanese-Haitian, but in the comic she's drawn as a blonde, white woman. The umpire is seen asking Osaka "Can you just let her win?" seeming to push aside his role in the incident.
Several high-profile figures took to Twitter to slam the cartoon.
This is Jim Crow-racist. He Sambo'd Serena Williams. I'm a bit surprised that @Knightcartoons didn't include a watermelon. For those unfamiliar with the history invoked here, read about the coon caricature. https://t.co/ffmrk76MRM

— Jamil Smith (@JamilSmith) September 10, 2018
This is how @Knightcartoons and @theheraldsun in #Australia portrayed #SerenaWilliams in their publication today. And notice how they made #Osaka look like a white woman.

This isn't about "gender". This is simply global anti-Black white supremacy. pic.twitter.com/uoRijSfcrG — Tariq Nasheed (@tariqnasheed) September 10, 2018
About as subtle as Fran Drescher's voice 🤦🏿‍♀️ https://t.co/VM23b4XnlI

— Jemele Hill (@jemelehill) September 10, 2018
Well done on reducing one of the greatest sportswomen alive to racist and sexist tropes and turning a second great sportswoman into a faceless prop. https://t.co/YOxVMuTXEC

— J.K. Rowling (@jk_rowling) September 10, 2018
Holy crap. This Serena cartoon is racist AF & reminiscent Jack Johnson cartoons in 1910. Mark Knight should be fired. But any Herald Sun editors that would allow this, should fire themselves first. https://t.co/Usgd7pWH8b

— ChuckModi (@ChuckModi1) September 10, 2018
Art can be a vehicle to enlighten and eradicate racism, misogyny, etc. This does the opposite. And we can't afford that in this current social climate. Please do better, @theheraldsun. https://t.co/WZf8s2yQE4

— Be A King (@BerniceKing) September 10, 2018
Knight has defended the cartoon, keeping the tweet that has been liked nearly 10,000 times up despite steady criticism. When sports radio host Julie DiCaro questioned where his drawings of male athletes who broke racquets were, he responded by sharing a cartoon he drew of Nick Kyrgios. The previous cartoon did satisfy her question but ironically proved Williams' argument as the cartoon shows the difference in how men and women are treated by umpires.
Well Julie here's a cartoon I drew a few days before when Australian male tennis player Kyrgios at the US Open was behaving badly. Don't bring gender into it when it's all about behaviour. I'll accept your apology in writing😁 pic.twitter.com/NLV0AjPGsY

— Mark Knight (@Knightcartoons) September 10, 2018
You're highlighting the fact that when men misbehave nothing happens to them.

— Me. I Am Carlos (@Carlos_Thomas) September 10, 2018
The Herald Sun hasn't responded to any tweets questioning their decision to publish the cartoon, but they did retweet Knight's post promoting the piece.
What did you think of Mark Knight's interpretation of Serena's interaction with the umpire? Was the cartoon Funny or Offensive? Vote and comment now…