Roseanne Barr's Botched Rendition of 'The Star-Spangled Banner' #TBT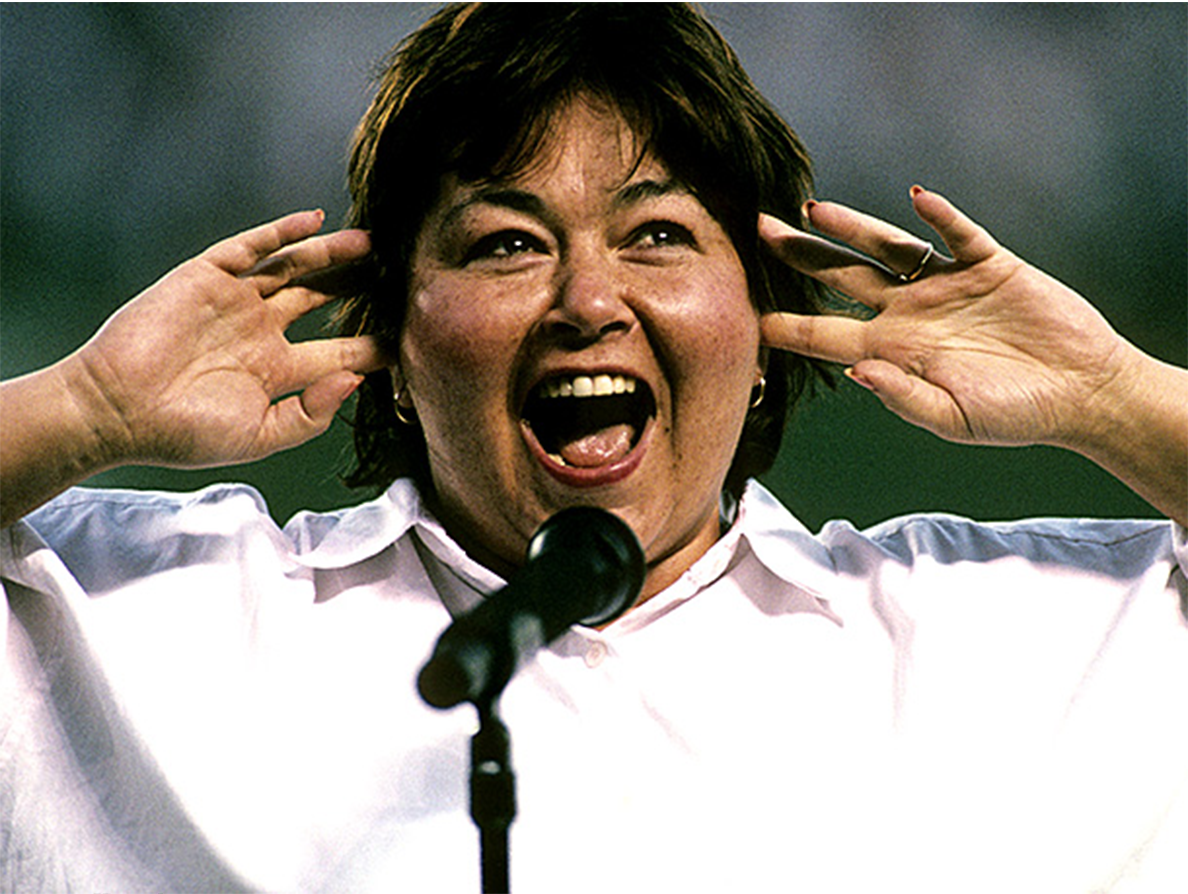 VOTE NOW! Is this Funny or Offensive?
Posted in:
A Wild Pitch Indeed…
May 31st, 2018 – Roseanne Barr has made a lot of noise since announcing she would be leaving Twitter early Tuesday morning, but her loudest shriek may have come in 1990. On July 25th, 1990, Barr walked onto the field at Jack Murphy Stadium to deliver the National Anthem during a doubleheader between the San Diego Padres and the Cincinnati Reds.
It was "The Star-Spangled Banner" heard 'round the hurled. Yes, that was a bad joke based off of quote from opera singer (and fellow National Anthem crooner) Robert Merrill who said of Barr's performance: "I almost upchucked my dinner. It was to me like the burning of the flag."
If you think that's harsh criticism, it's pretty on par with other reactions the "Domestic Goddess" received after her fateful rendition. The fans gave Barr until those broad stripes and bright stars before they unleashed a flurry of boos. After the game, people turned their boos into sound bites.
President George H.W. Bush told reporters:
"My reaction is, it's disgraceful. A lot of people in San Diego said the same thing."
Padres pitcher Eric Show told Sports Illustrated: 
"For once I find myself in harmony with public opinion. Usually, I find that to be an indictment. But (Barr's performance) was an insult to the song and all the people who died for what we have left of freedom."
Steve VanBuskurk, Veteran of Foreign Wars spokesman, told The Los Angeles Times:
"This was an insult to all Americans. Whether it was a joke or just very bad singing, it reflected very bad judgment."
To understand the context to those reactions, it's helpful to remember that this was at a time when our nation's military forces were in the Persian Gulf, San Diego was still a military town, and Barr didn't just shriek her way through the song. She ended it by grabbing her crotch and spitting on the ground. To fans in the park, that was only another display of disrespect to the flag and the troops.
Barr, however, said the gag at the end was intended to rib ballplayers for their on-field behaviors. Andy Strasberg, Padres VP of marketing, helped bring Barr to the ballpark as part of the stadium's "Working Women's Night." He claims that Mark Parent, the Padres catcher at the time, suggested she perform the closing gestures. He disputes that claim and actually says he advised her against doing so.
"Mark thought she should act like a player and grab her crotch, and spit, like most baseball players," Strasberg said. "So he was trying to be helpful and trying to make it funny. Well, she did this at the end of the song. That was also, absolutely, positively misconstrued, but understandably so, by the fans."
In 1990, there was obviously no Twitter, but the "Barr-bungled" pile-on raged on. She ended up holding a press conference two days later where she defended her intent and asked to see President Bush take a swing at the song.
"I'm not going to apologize for doing it, because I feel like it was the wrong choice for all of us to make," she said. "But not anybody anticipated (the reaction) would be this negative. You can all take this as fun or you can act like this is the worst thing committed by an American. I went down there with the best intentions. We thought it would be a fun, positive thing…I'm sorry I didn't sing so good. How much more can I say?"
Though they were a smaller group, there were people defending Barr at the time. And if people knew the extent of what she went through following the debacle, perhaps more people would have joined that team.
Reds reliever Rob Dibble told The Washington Post that he always got the joke.
"When I saw Roseanne Barr, I knew she would try to do something funny. If Amy Schumer were to sing the National Anthem today, she would put her own comedic twist on it."
What did you think of Roseanne Barr's rendition of "The Star-Spangled Banner?" Was she called out correctly or should she have been safe at the plate? Sigh. Give us your thoughts!