'Active Shooter' Video Game Causes Uproar Among Parents of School Shooting Victims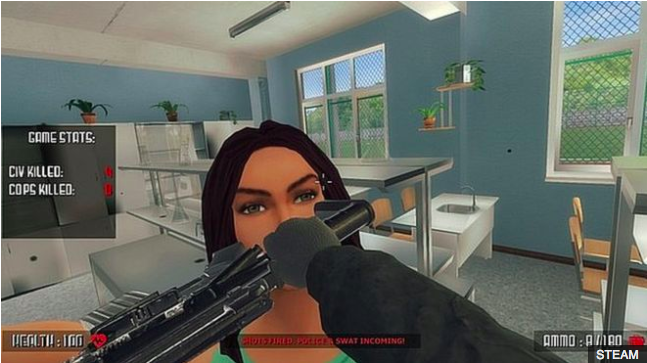 VOTE NOW! Is this Funny or Offensive?
Posted in:
Active Shooter Thrill
UPDATE (5/30/18): Following growing outrage from parents, students, and politicians, Valve Corp. announced that it will be pulling the "Active Shooter" game from its online store, Steam. Online outcry forced them to investigate the situation where they discovered the developer was a "troll" who had previously been removed from their platform. "We have removed the developer Revived Games and publisher ACID from Steam," they said in a statement. "We are not going to do business with people who act like this towards our customers or Valve.The broader conversation about Steam's content policies is one that we'll be addressing soon." 
May 29th, 2018 – Parents who have lost children in a school shooting alongside those who survived a mass shooting are coming together in hopes of stopping the release of a video game called "Active Shooter." The game is scheduled to be released June 6th on Steam – a gaming platform owned by Valve Corp.
If the opposition calls fall on deaf ears, people will be able to pay $5 – $10 to simulate what it would be like to gun down civilians and cops as they make their way though a school's hallways. Players can choose to be a SWAT team member, if they don't want the written directive to "hunt and destroy," but victims say the additional option isn't enough.
"Yes, there is an option to be the 'Good Guy' but honestly that should be the only option in this 'game' if it is produced," Stacie Armentrout, a parent whose entire family survived the Las Vegas Shooting, said. 
The game, which was developed by Revived Games and will be published by the Russian company, Acid, does issue a warning at the bottom of the game's description on Valve Corp's website.
"Please do not take any of this seriously. This is only meant to be the simulation and nothing else. If you feel like hurting someone or people around you, please seek help from local psychiatrists or dial 911 (or applicable). Thank you."
That warning didn't make the game any more palatable for parents who lost children in school shootings over the years. Fred Guttenberg and Ryan Petty, both of whom had children killed in the shooting at Marjory Stoneman Douglas High School in February, have been outspoken voices in the attempt to get this game canned.
Despicable. Let @steam_games know games depicting "active shooter" scenarios in schools, where players shoot civilians, students & law enforcement are unacceptable. https://t.co/7utMvVqYzT

— Ryan Petty (@rpetty) May 27, 2018
I have seen and heard many horrific things over the past few months since my daughter was the victim of a school shooting and is now dead in real life. This game may be one of the worst.

— Fred Guttenberg (@fred_guttenberg) May 27, 2018
This company should face the wrath of everyone who cares about school and public safety and it should start immediately. Do not buy this game for your kids or any other game made by this company.https://t.co/LbkXy0upwc

— Fred Guttenberg (@fred_guttenberg) May 27, 2018
A mother in Seattle has started a petition on Change.org asking people to join her in asking Valve Corp. to not launch the game. It currently has over 161,000 signatures.
"The company is taking the stand that this game is legal because of free speech and everything else that tech billionaires hide behind when they are doing something the public knows is absolutely, morally corrupt but legally fine – but we cannot stand for this," she wrote. 
She has also devoted her recent Twitter content to spreading the #NotAGame hashtag – retweeting those who are in support of the petition and making pleas to Apple and Google to not publish the game on their platforms.
This is inexcusable. Any company that develops a game like this in wake of such a horrific tragedy should be ashamed of itself. https://t.co/jjp6LxNWhC

— Senator Bill Nelson (@SenBillNelson) May 28, 2018
Shame on #ValveCorporation, its CEO @GabeNewell, and for-profit private sector partners and enablers, like @Apple, for developing, and planning to release a school shooting simulation game. At any level, #ActiveShooter is an insult to decency. @MiamiHerald https://t.co/kJpP1RXbni

— Alberto M. Carvalho (@MiamiSup) May 28, 2018
Apple @AppStore and @GooglePlay – Tell @Steam_Games that you'll NEVER let Active Shooter the School Shooting game publish to your platforms! Do it for @debbi_hixon #NotAGame https://t.co/UFjGWodKTT pic.twitter.com/JgVqJSQ3br

— Stephanie Robinett (@StephLRobinett) May 29, 2018
Last Wednesday, developers wrote a post on Steam's website addressing the controversy and explaining their decision-making over the course of development.
"Originally when this game started its course of the development, I have planned on having SWAT only based game-play," they wrote. "Then I thought about adding more gameplay to it by adding additional roles: of the shooter and the civilian. While I can see people's anger and why this might be a bad idea for the game, I still feel like this topic should be left alone. As I mentioned on steam discussion forums, there are games like Hatred, Postal, Carmageddon and etc., which are even worst compared to 'Active Shooter' and literally focuses on mass shootings/killings of people."

"I have wrote to Valve regarding this game and waiting for the reply. After receiving such high amount of critics and hate, I will more likely remove the shooters role in this game by the release, unless if it can be kept as it is right now," they added. 
As of this posting, Steam is still running the trailer for the game on their site. At the end of the video, the shooter tosses a grenade into a room before firing one more shot – bringing the "civilians killed" count to 11 while the "cops killed" stat remains at nine.