Rugrats Porno Parody 'Tugrats' Premieres Online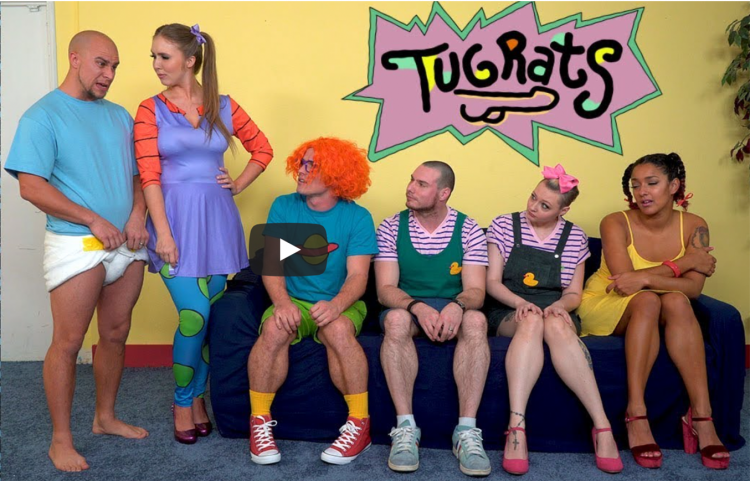 VOTE NOW! Is this Funny or Offensive?
Posted in:
Nick At Yikes
February 7, 2018 – It's adults acting like babies having sex, what could be wrong about that?
A 13 year run on Nickelodeon, three feature films, four Daytime Emmy Awards, six Kids' Choice Awards, and its own star on the Hollywood Walk of Fame. "Rugrats," the beloved 90's animated series which followed the adventures of an imaginative group of toddlers, now has a new "tribute" to its production credits: a porno film entitled "Tugrats." The project was created by adult film producer Woodrocket, known for other pop culture treatments of well know properties like Pokemon and Teenage Mutant Ninja Turtles.
The trailer shows several adults dressed in diapers portraying beloved characters like Tommy, Chuckie, Susie, Phil and Lil and Angelica lamenting that they're all grown up and bored. Hinting at years of building sexual tension with references to gang bangs, hide and seek, and Stu's erectile pills intercut with bright backgrounds and strangely, Godzilla with a boner, we all know exactly where this is going but terribly afraid to watch.
If you want just a piece of the action, the trailer is on YouTube. If you want the whole package, however, the full parody can be found at WoodRocket.com. It currently has 11,020 views, and yes, every pair of viewing eyes were supposedly over the age of 18.
No comment from Nickelodeon yet.
Is this fan fiction or did they just ruin more 90's nostalgia for a new generation? Funny or Offensive? Vote and comment now…