SNL Calls Trump A 'Bitch' and 'Cracker' in Season Premiere (VIDEO)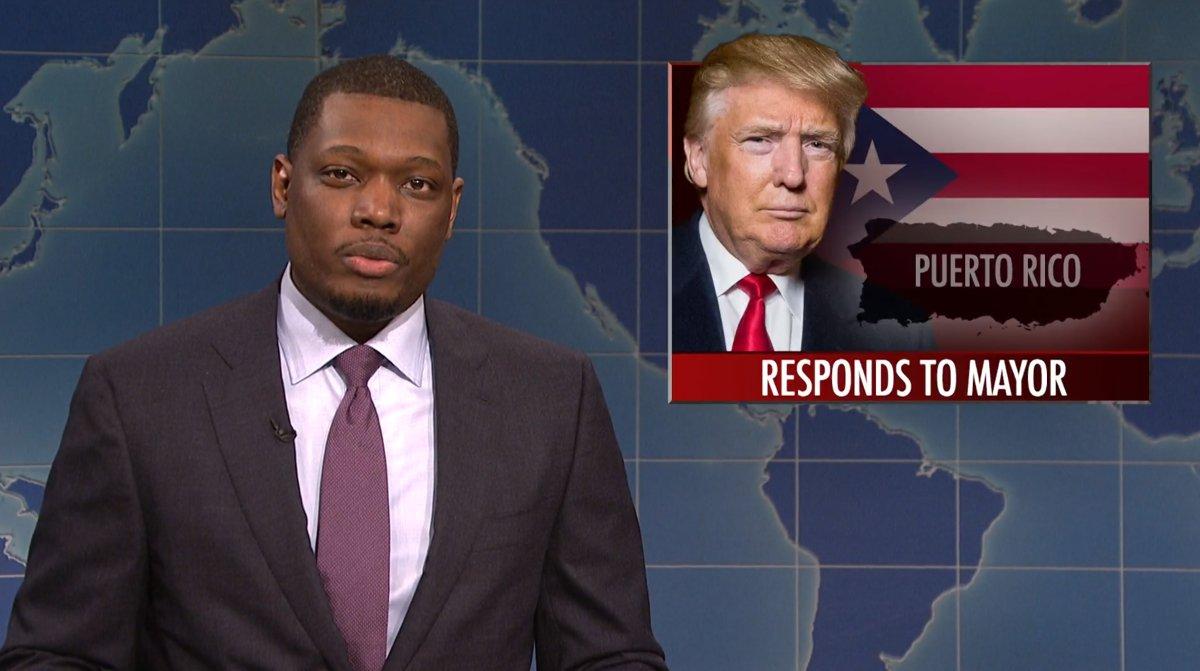 VOTE NOW! Is this Funny or Offensive?
Posted in:
"Son Of A Bitch" vs "Bitch"
October 1st, 2017 – Long running satirical variety show, Saturday Night Live, kicked off its 43rd season on Saturday with guns blazing. The pop culture-skewering sketch comedy took aim at everything from faux progressives to uninspired graphic design, but it's biggest and, judging by the show's ratings, most satisfying target to date remains Donald Trump.
The program's popular Weekend Update segment has feasted on the endless buffet of Trump tantrums, gaffs and disturbing outbursts, but this week SNL writer/performer, Michael Che, skipped the nuance. Reacting to Trump's defensive tweets decrying the people and government of Puerto Rico as well as the trickling in of vital hurricane relief into the US territory, Che called the real estate heir a "bitch." The Weekend Update co-host continued in a pointed rant:
"This isn't that complicated, man. It's hurricane relief. These people need help. You just did this for white people twice. Do the same thing. Go tell Melania to put on her flood heels, get some bottled water, some food, pack up some extra Atlanta Falcons Super Bowl T-shirts, and write them a check with our money, you cheap cracker."
Che was trending by Sunday morning with some questioning whether his use of the word "cracker" crossed a racial line. Despite the inflammatory epithet, many social media users made it clear that they agreed with Che's remarks. The SNL crack comes at an inflection point for the current administration where Trump's perceived insensitivity on matters of race and his apparent reluctance to forcefully condemn the ideology of the avowed white supremacists among his supporters has become a political liability.
To all liberals, if ur not mad because Michael Che from SNL called TRUMP a "cheap cracker", then I don't want to hear about Trump's comments

— Chris G. (@chrisgodel09) October 1, 2017
Countdown to Twitter exploding over #MichaelChe's use of the word "cracker" in 5, 4, 3…. #SNLPremiere #WeekendUpdate #Cracker

— Born2Rezist (@Born2Rezist) October 1, 2017
Michael Che just called Donald Trump a cheap cracker and is spitting facts on weekend update. This the type of energy we need #SNLPremiere

— The Lord ? (@SirFisher34) October 1, 2017
Sarah huckleberry sanders at tomorrow's press briefing;
The "owners" of Michael Che should fire him.

— Kathy Cancel (@katc704) October 1, 2017
Trump's continued habit of spending his weekends at one of his private golf resorts, a point of contention since his inauguration, was also particularly poorly received in the face of much of the island of Puerto Rico remaining without electricity and still in dire need of food, clothing, medicine and other assistance.
SNL is infamous for its savaging of political figures going back to the Gerald Ford White House, and its news parodies have delivered some of the most overly political critiques of the last 30 years.
But what do you think? Were Che's insults over the line or was he just speaking truth to power? Funny or Offensive? VOTE and DISCUSS…