SNL's Pete Davidson Mocks GOP Candidate Who Lost Eye In War (VIDEO)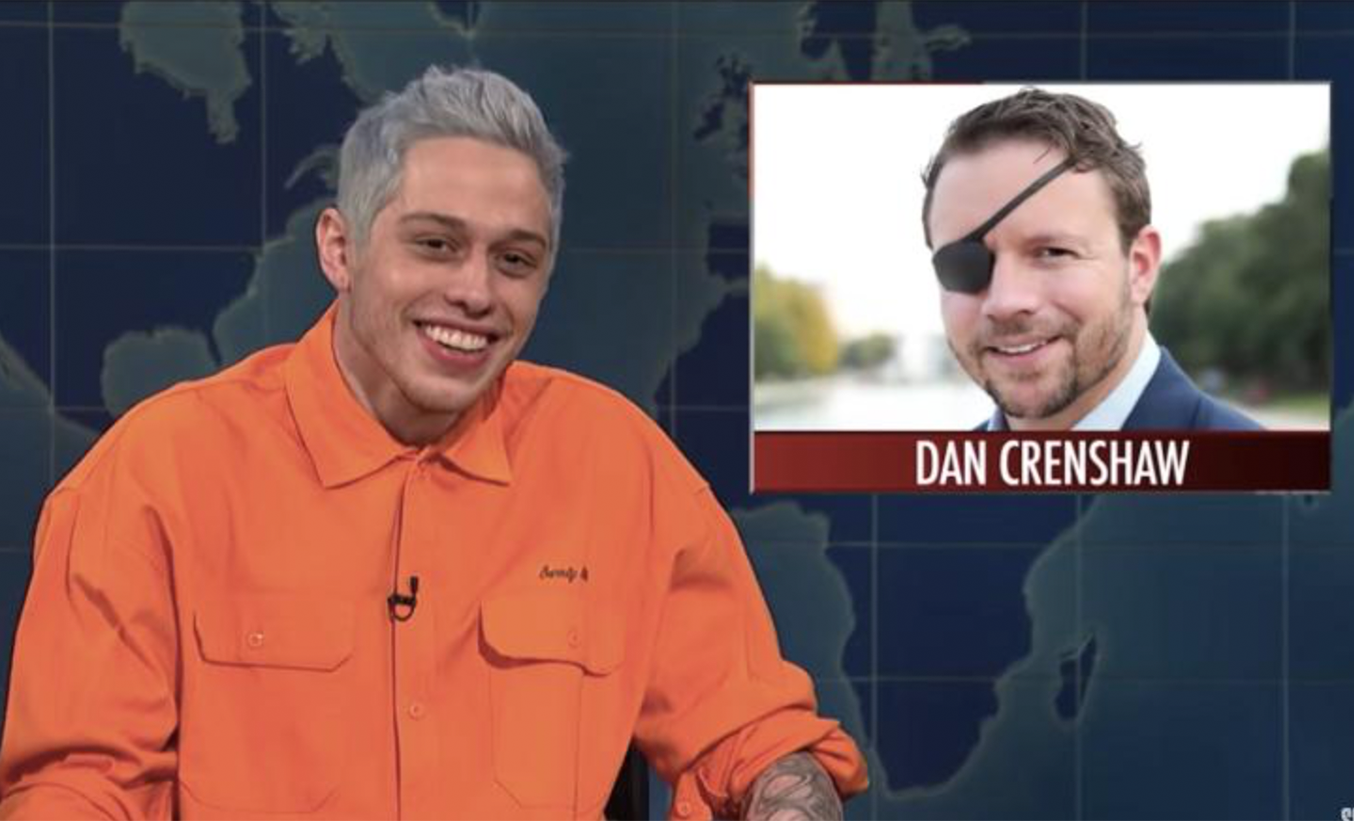 VOTE NOW! Is this Funny or Offensive?
Missed The Bullseye?
November 4th, 2018 – Pete Davidson is taking some Sunday afternoon heat after making a joke about a veteran, who lost his eye in Afghanistan, during Saturday Night Live. The joke took place during a Weekend Update segment, where Davidson sat down with Michael Che to give his "First Impressions" on a number of candidates running for office in Tuesday's midterm election.
Davidson, who recently split from pop star Ariana Grande, took hits at several political hopefuls before getting to a photo of Dan Crenshaw. The image showed off Crenshaw's eye patch, and Che, along with the audience, quickly knew where the joke was headed.
"You may be surprised to hear he's a congressional candidate in Texas and not a hitman in a porno movie," the comedian said while laughing. "I'm sorry, I know he lost his eye in war, or whatever. Whatever."
Crenshaw is a republican looking to represent Texas' 2nd Congressional District, and he's made his service a central message while speaking to voters. He was hit by an IED blast during a mission in Helmand province. It happened during his third deployment, and after regaining sight only in his left eye he went on to deploy two more times.
Crenshaw, like any good political candidate in 2018, responded to the joke on Twitter.
Good rule in life: I try hard not to offend; I try harder not to be offended. That being said, I hope @nbcsnl recognizes that vets don't deserve to see their wounds used as punchlines for bad jokes.

— Dan Crenshaw (@DanCrenshawTX) November 4, 2018
Davidson's other jokes, targeting Rick Scott, Peter King, Greg Pence, and Andrew Cuomo so he "looks fair," didn't irk people the same way poking fun at the appearance of a veteran with two Bronze Stars, the Purple Heart, and the Navy Commendation Medal with Valor.
"Rick Scott, he looks like someone tried to whittle Bruce Willis out of a penis."

"Peter King, I actually don't know a lot about him except he looks like if a cigar came to life."
Davidson also took the time to make fun of himself, saying he recognizes that he shouldn't be making fun of how anyone looks.
"I look like I make vape juice in a bath tub," he said. "I look like a Dr. Seuss character went to prison."
But the self deprecation earned Davidson no slack from conservative voices. King and the National Republican Congressional Committee released harsh criticisms with the latter referencing Davidson's split from Grande in a burn/statement.
Disgrace for SNL comedian Pete Davidson to mock GOP Dan Crenshaw for wearing eye patch. As Navy Seal he lost eye in combat. ("He lost his eye in combat or whatever.") What are NBC's standards for firing? PC to insult wounded vets?!? (Davidson also insulted me. Who cares?!)

— Rep. Pete King (@RepPeteKing) November 4, 2018
NEW: NRCC Statement on SNL's Pete Davidson Mocking War Hero Dan Crenshaw https://t.co/qb9Oj0WjV1 pic.twitter.com/SnR54KZiq1

— NRCC (@NRCC) November 4, 2018
Donald Trump Jr. also tweeted his disapproval saying "The sad thing is that this sounds more like leftist editorial than anything these days." The president's son had no additional comment on his father's comments about not labeling John McCain a war hero because he was captured.
Davidson closed the segment by encouraging people to vote this Tuesday (you can find your polling place by clicking here). He has yet to release a statement about the backlash to his joke on Crenshaw.
Did you think Pete Davidson's joke about Dan Crenshaw's eye patch was Funny or Offensive? Vote and comment now…