"Supervillain" Milo Yiannopoulos Pockets "Wheelbarrow Full of Money" From Simon & Schuster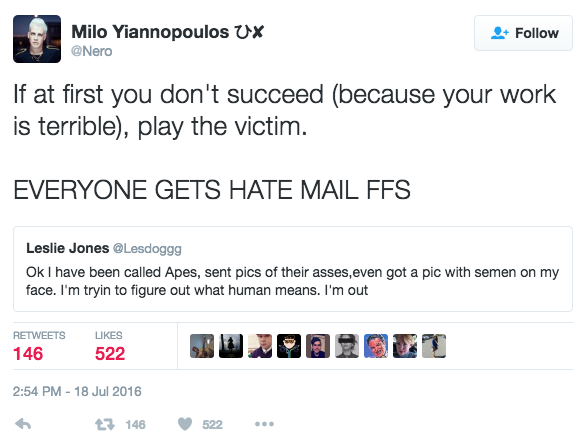 VOTE NOW! Is this Funny or Offensive?
Posted in:
Publisher Under Fire
January 4th, 2017 – Milo Yiannopoulos has found a new home for his politically incorrect writings after Twitter banned him last summer. The Breitbart editor and self-proclaimed "most fabulous supervillain on the Internet" landed a $250,000 book deal with Simon & Schuster. The news elicited accusations, defenses and boastful pride from celebrities, publishers and the villain himself.
A spokesperson from Threshold, a division of Simon & Schuster, confirmed that they are set to
publish Yiannopoulos' book
on March 14th of this year. The book, currently titled "Dangerous," will focus on free speech and the rise of the Trump phenomenon.
"Readers can expect a string of waspish one-liners and bitchy put-downs from America's favorite mischievous gay conservative," a press release from Yiannopoulos, which also mentioned the book deal is worth a "mid-six figure sum."
Yiannopoulos has forged his brand by becoming a provocative online presence, targeting the
transgender community
,
feminists
and the
Black Lives Matter
movement. He gained even more attention when he went after SNL comic Leslie Jones on Twitter, and encouraged his followers to harass her, as well.
His controversy-heavy history has led many to speak out against Simon & Schuster for allowing hate speech to not only be rewarded but to be spread even further.
I am in! In these times we can not let hatemongers get rich off of their cruelty. Shame on @simonschuster ! https://t.co/S6sACtKaoL

— Judd Apatow (@JuddApatow) December 30, 2016
The guy has freedom of speech but to fund him & give him a platform tells me a LOT about @simonschuster YUCK AND BOO AND GROSS https://t.co/CNDUDOHzke — Sarah Silverman (@SarahKSilverman) December 29, 2016
.@simonschuster are you concerned $250k book deal you gave Milo Yiannopoulos will read as condoning the racist harassment @Lesdoggg endured?

— Shannon Coulter (@shannoncoulter) December 29, 2016
@SimonBooks @threshold_books @simonschuster yea but you still help them spread their hate to even more people. — Leslie Jones (@Lesdoggg) January 2, 2017
While the backlash has been strong, there are plenty who support Yiannopoulos and defend his right to freedom of speech. Simon & Schuster also tweeted out their defense of publishing the book.
Milo plays the left like a fiddle. Congrats on the book deal! I would not have heard about it if it wasn't for the SJW's making Milo trend.

— Timothy Elkin (@Timothy_Elkin) December 29, 2016
RE: Milo book deal. The free market rewards hard work & talent. Leftists can't grasp this because they're lazy, self-loathing leeches. — Paul Joseph Watson (@PrisonPlanet) December 29, 2016
Wait, so now we're attacking publishing houses for publishing books by people we disagree with?

— Josh Barro (@jbarro) December 29, 2016
The supervillain doesn't seem to be worrying about the outcries; he's preparing to go mainstream.
"Every line of attack the forces of political correctness try on me fails pathetically. I'm more powerful, more influential, and more fabulous than ever before," he said. "This book is the moment Milo goes mainstream."
"I met with top execs at Simon & Schuster earlier in the year and spent half an hour trying to shock them with lewd jokes and outrageous opinions. I thought they were going to have me escorted from the building — but instead they offered me a wheelbarrow full of money," Yiannopoulos told The Hollywood Reporter.
While many
book reviewers
have already stated that they won't cover "Dangerous," Yiannopoulos is relying on history to repeat itself telling 
THR 
"They said banning me from Twitter would finish me off. Just as I predicted, the opposite has happened. Did it hurt Madonna being banned from MTV in the 1990s? Did all that negative press hurt Donald Trump's chances of winning the election?"
Do you think Simon & Schuster should publish Milo Yiannopoulos' book? Where should we draw the line between free speech and hate speech?