Target Shopper in Blackface Sparks Outrage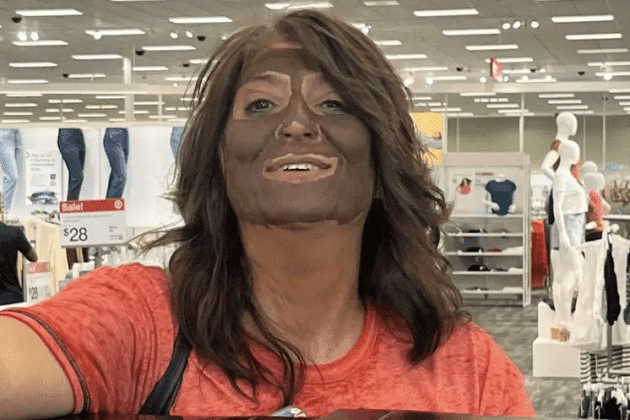 VOTE NOW! Is this Funny or Offensive?
Posted in:
August 4, 2023 – A Colorado woman is facing backlash after she was photographed wearing blackface while shopping at a Target store in Aurora. The woman, identified as former Colorado postal worker Ersilia Campbell, was wearing a black wig, dark makeup, and a large hoop earring. She was also carrying a sign that said "I'm not racist, I'm just celebrating Black History Month."
The photo of the woman went viral on social media, and many people were outraged by her actions. Some people called her racist, while others said that she was simply insensitive. The Target store where the incident occurred released a statement saying that they were "deeply sorry" for the woman's actions and that they "do not tolerate racism in any form."
"Lester Holt did 'whiteface' and nobody said s–t," Campbell can be heard telling an employee who confronted her about the offensive face paint.
NBC journalist Holt, who is black, dressed up as British singer Susan Boyle for an episode of the "Today" show over 10 years ago.
Campbell also demanded to see the store's Pride section, and became frustrated when the gobsmacked workers told her that Pride Month ended in June.
"Oh, I thought they were celebrating this and they took our flag forever, no?" Campbell retorted, presumably referring to LGBTQIA+ Pride's signature rainbow flag.
"I don't shop at Target," she grumbled as she strutted out of the store.
This incident is just the latest in a series of blackface incidents that have occurred in recent years. In 2016, a white woman in Virginia was photographed wearing blackface at a Halloween party. And in 2017, a white student at the University of Missouri was suspended for wearing blackface to a party.
Blackface is a racist and offensive practice that has a long and painful history in the United States. It was used by white performers to mock and caricature black people, and it was a way to reinforce negative stereotypes about black people.
In recent years, there has been a growing awareness of the racist history of blackface, and many people have called for it to be banned. In 2017, the University of Missouri banned blackface on campus, and other schools have followed suit.