That Time Meredith Vieira Became an "Old Horny Woman" Hosting a Game Show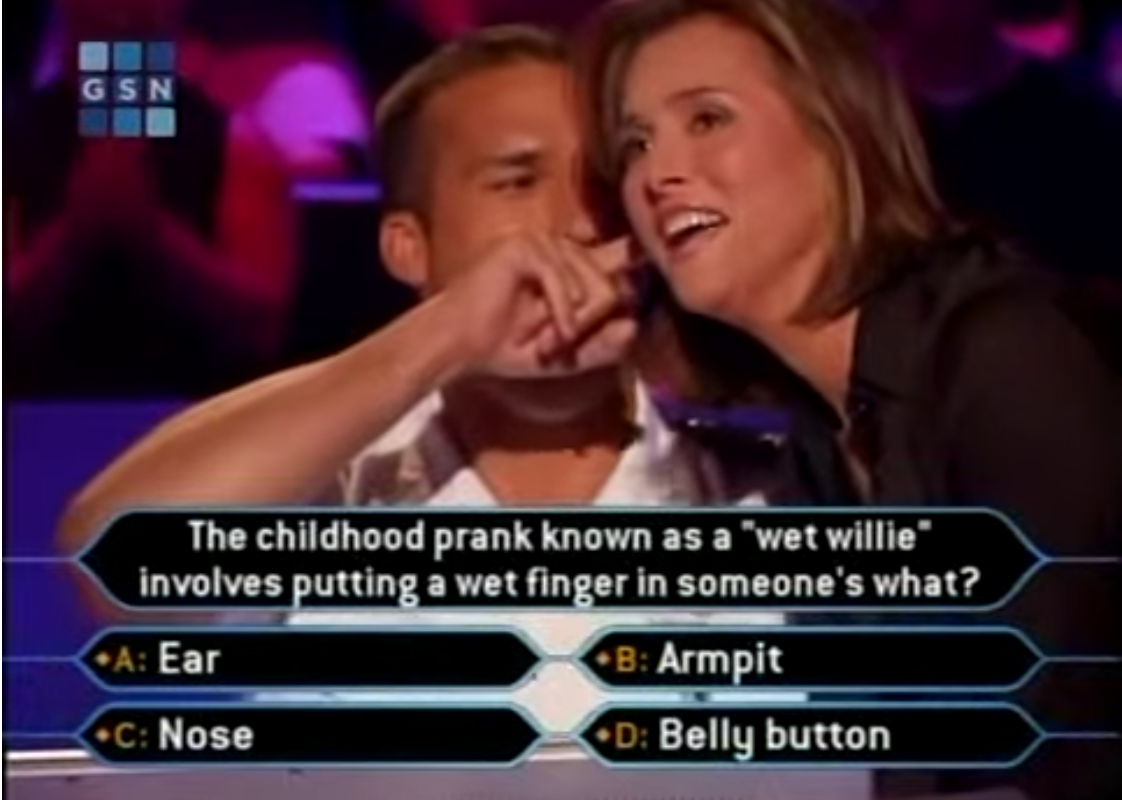 VOTE NOW! Is this Funny or Offensive?
Posted in:
She'd Like To Bone A Friend
March 2nd, 2017 – Game shows have long been hotbeds for uncomfortable, inappropriate moments between hosts and contestants. Steve Harvey has made a revived career out of it. It's estimated that Richard Dawson kissed around 20,000 women while hosting Family Fued. And Alex Trebek once resorted to walking out sans pants to help relieve some of the tension during a championship episode.
If you dig deep into the game show vault, you'll also find Meredith Vieira in a controversial episode of Who Wants To Be A Millionare. After taking over the helm in 2005 for Regis Philbin,Vieira spent 11 seasons asking people for their final answer. She was seen as a warm, personable presence who could make contestants feel at ease.
Enter Navy pilot Max Shuman from Virginia Beach.
In 2009 Shuman walked onstage to play the final few minutes of an episode, and those three minutes rocked Vieira's world harder than many were expecting.
Here's the rundown of some of her most hot and bothered lines:
Her first assessment of him:
"You are one handsome guy. I don't normally like to fly, but I'm changing my mind."
Double entendre:
After Max says he's ready to play the game, Vieira exclaimed with a wink "I'm ready to play anytime, too, Max."
Respect for the military:
Vieira said she has even more respect for the military after admiring his face and then emphasizes the word "scoring" in the $100 question about scoring one stroke under par. "You heard me right…scoring…" 
Self reflection:
After receiving some awkward laughs for calling him a miracle, Vieira defends herself with "I know. It's pathetic. I'm an old, horny woman. Give me a break!"
The questions are in on it:
The $200 question asks which part of the body someone puts their finger to give a "wet willie." Vieira would have lost the money, because she answered with "Anywhere you wanna put it, Max." 
Shuman gives his final answer not in spoken word but in physical insertion. We guess it was the wet willie seen 'round the cable town as many outlets and blogs picked up the story. The usual questions were posed: what if the sexes had been flipped, is this sexual harassment, was she just having fun with a guy who was seemingly flattered?
We're interested in finding out how this interaction would be perceived today. Do you think her flirtations would cause a stir in 2017? How should game show hosts joke with contestants during filming? Watch the clip below and give us your thoughts.