The Roast of Whoopi Goldberg: A Look Back At Ted Danson's Blackface Performance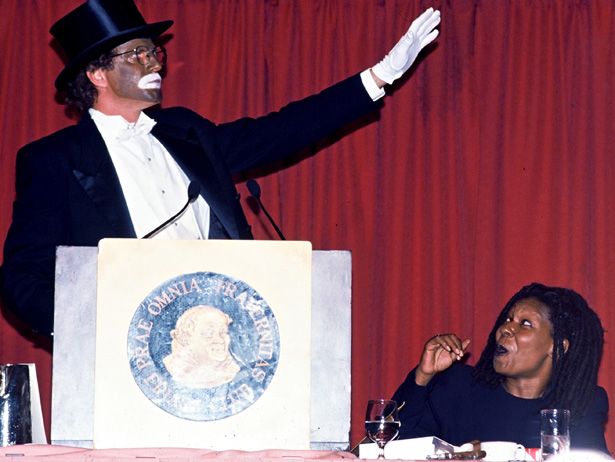 VOTE NOW! Is this Funny or Offensive?
Posted in:
Friar's Club Flop?
May 18th, 2017 – Whoopi Goldberg and Ted Danson made a lot of headlines back in the 90s but perhaps none were more hard-hitting as those that followed October 8th, 1993. That Friday night, the two entertainers, who were recent co-stars and lovers, were in attendance at the Friar's Club roast held at the New York Hilton Hotel ballroom. Danson was roasting Goldberg. His makeup was blackface and his jokes included over a dozen uses of the n-word.
Noted film critic Roger Ebert covered the event, opening his October 10th column with:
"It's a tradition of the celebrity roasts at the Friar's Club that everything goes – that no joke is in such bad taste that it cannot be told. Friday, that tradition may have ended, as a roast for Whoopi Goldberg turned into such a tasteless display that some audience members hid their faces in their hands, and others left." 
The Friar's Club allowed actors, musicians comedians into what was originally called the Press Agents' Association, and in 1949 they began the tradition of annually roasting one member. The roasts didn't become televised until the late 60s and Danson's infamous act, fortunately or unfortunately depending on your opinion, was not aired. Pictures and accounts from the night, however, recount that Danson spoke about racial stereotypes, his and Goldberg's sex life and her anatomy.
More than 3,000 people were in attendance and the star-filled dais had over 100 celebrities including Halle Berry, Vanessa Williams, Anita Baker, RuPaul and Mr. T, Michael Spinks, Sugar Ray Leonard, and New York Mayor David Dinkins.
Most reporting sets the reception of jokes at "stone faced" or "cringing" with talk show host Montel Williams turning his back and eventually leaving the event.
Goldberg, however, smiled and laughed during Danson's roast and defended him both on the dais and in statements after extreme fallout from the Cheers star's decision to cross the line.
"Let's get these words all out in the open. It took a whole lot of courage to come out in blackface in front of 3,000 people. I don't care if you didn't like it. I did," she said at the roast. 

"If they knew me," Goldber said the week after the roast, "they would know that Whoopi has never been about political correctness. I built my whole career destigmatizing words like 'nigger.'"
Goldberg also defended the routine by sharing that she had written some of Danson's remarks as a satirical piece and tried to re-focus the attention to what he said at the beginning of the roast. "Ted prefaced his remarks by saying to me, 'I love you, I'm proud of you, and I love being with you.' That's all being left out by people."
African-American model Beverly Johnson also defended Danson and the intent behind the roast.
"If you can't see the humor at a place where there's supposed to be over-the-line jokes, then there's something really wrong."
The New York Times interviewed Richard Greene, owner of Crown and Glory Hair Salon, for their coverage of the roast to get his take on how Danson and Goldberg's decision was playing at his predominately black, female business.
"A lot of people feel she's just covering up for Ted and not looking at it as an insult to a race of people," he said. "She may say, or think, that comedy has no limits. In reality it does, and what they did exceeded those limits."
1993 to 2017, we're still deciding the limit for comedy and who gets to decide.
What did you think of Ted Danson's roast in blackface of Whoopi Goldberg? Do you think you would have had a different reaction back then as opposed to today?