SNL Shares The Reason Rosie O'Donnell Didn't Play Steve Bannon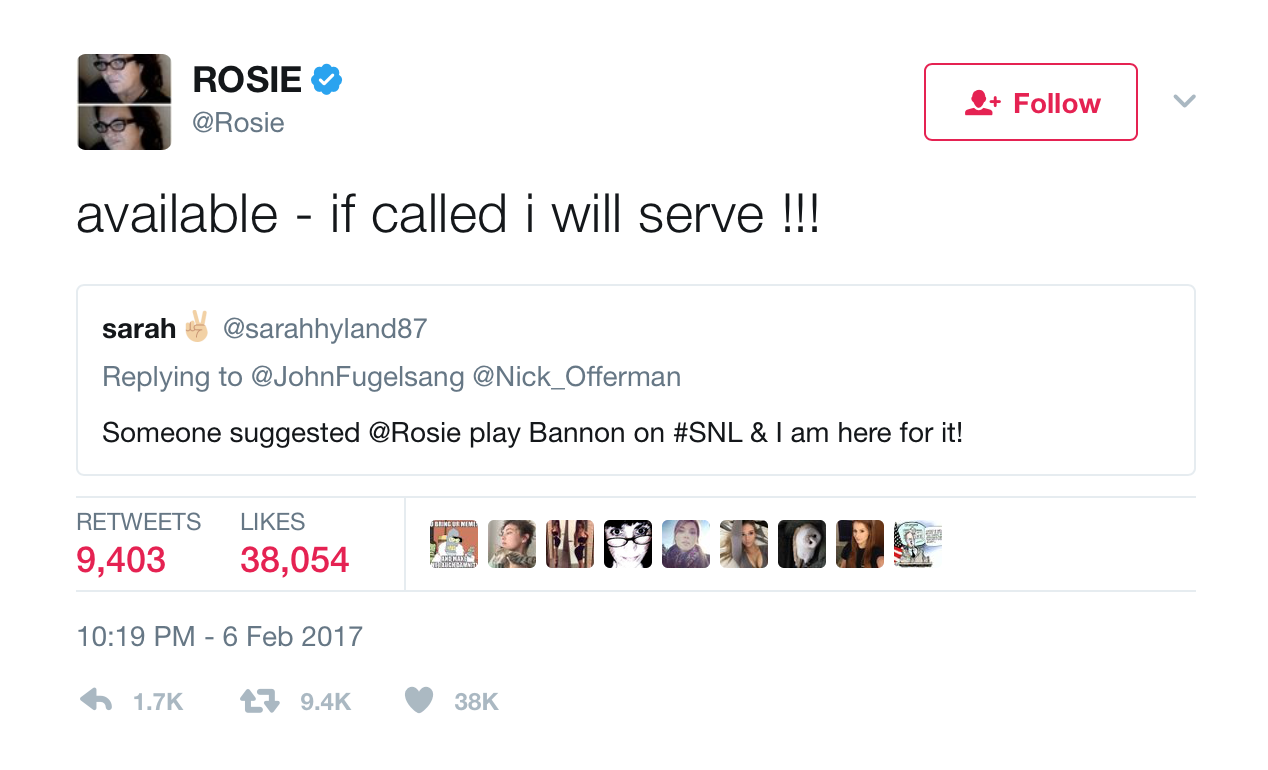 VOTE NOW! Is this Funny or Offensive?
Posted in:
Rosie O'Bannon
May 19th, 2017 – SNL is closing out its 42nd season this weekend ending the year high on ratings, enthusiasm and lots and lots of team Trump impressions. Alec Baldwin was clearly the most utilized player as he regularly formed yuge pouty lips as Donald Trump, and Melissa McCarthy's transformation into Sean Spicer made lots of people only see her impression every time the press secretary took the podium for daily press briefings.
While current cast members have stepped up for political playtime (Kate McKinnon portrayed Kellyanne Conway, Ivanka Trump and even Jeff Sessions, Beck Bennett took off his shirt to be Vladimir Putin then re-dressed for Mike Pence, and Cecily Strong morphed into First Lady Melania), the show has relied on outsourcing for the bigger characters.
That reliance made many people petition for Rosie O'Donnell to play current White House Chief Strategist Steve Bannon. O'Donnell, a longtime critic and Twitter enemy of Trump, posted that she was ready to serve and even changed her profile picture to a mashup of their faces.
? @Rosie ? O'Donnell's ? new ? avatar ? pic.twitter.com/onWAgUWa9j

— Scott Bixby (@scottbix) February 10, 2017
In a recent interview with The Hollywood Reporter, SNL cast members, writers and other guest-stars shared insights into their politically charged season. That's when cast member Leslie Jones gave the answer to why O'Donnell has never been called to serve.
"I asked Lorne, 'How come y'all aren't bringing Rosie O'Donnell in [to play Bannon, per her plea on Twitter] or any of them to do it?' And he was like, 'When you're playing a character, you can't play it from hate. You have to play it from funny, because when you play it from hate, it looks like you're just being mean.' I love Rosie to death, but he might have been right on that one."
Producer Lindsay Shookus also shared that O'Donnell wasn't the only celebrity angling for a chance to satirize team Trump.
"We've gotten a lot of pitches from people, big people, like, 'I can play this person on the Cabinet, or I can play this person,' she said. "It's in the vein of Melissa and Alec and Larry David, and it's never happened before. We got a lot of Kellyanne and [Steve] Bannon pitches. But the casting has to make sense. You don't want to make a splash to make a splash. That's not what we do."
Trump, his staff and many of his supporters have been vocal about feeling hurt by "mean-spirited" impressions and sketches that SNL has already done this season. So with O'Donnell's staunch opposition and well-documented battles with the president, it's likely that cast member Mikey Day will continue to play Steve Bannon via the Grim Reaper costume.
Do you think Lorne Michaels made the right call not casting Rosie O'Donnell to play Steve Bannon on SNL? Can funny character play come from a place of hate? Give us your thoughts!