Trump Demands Apology From 'Hamilton' Cast After Off-Script Speech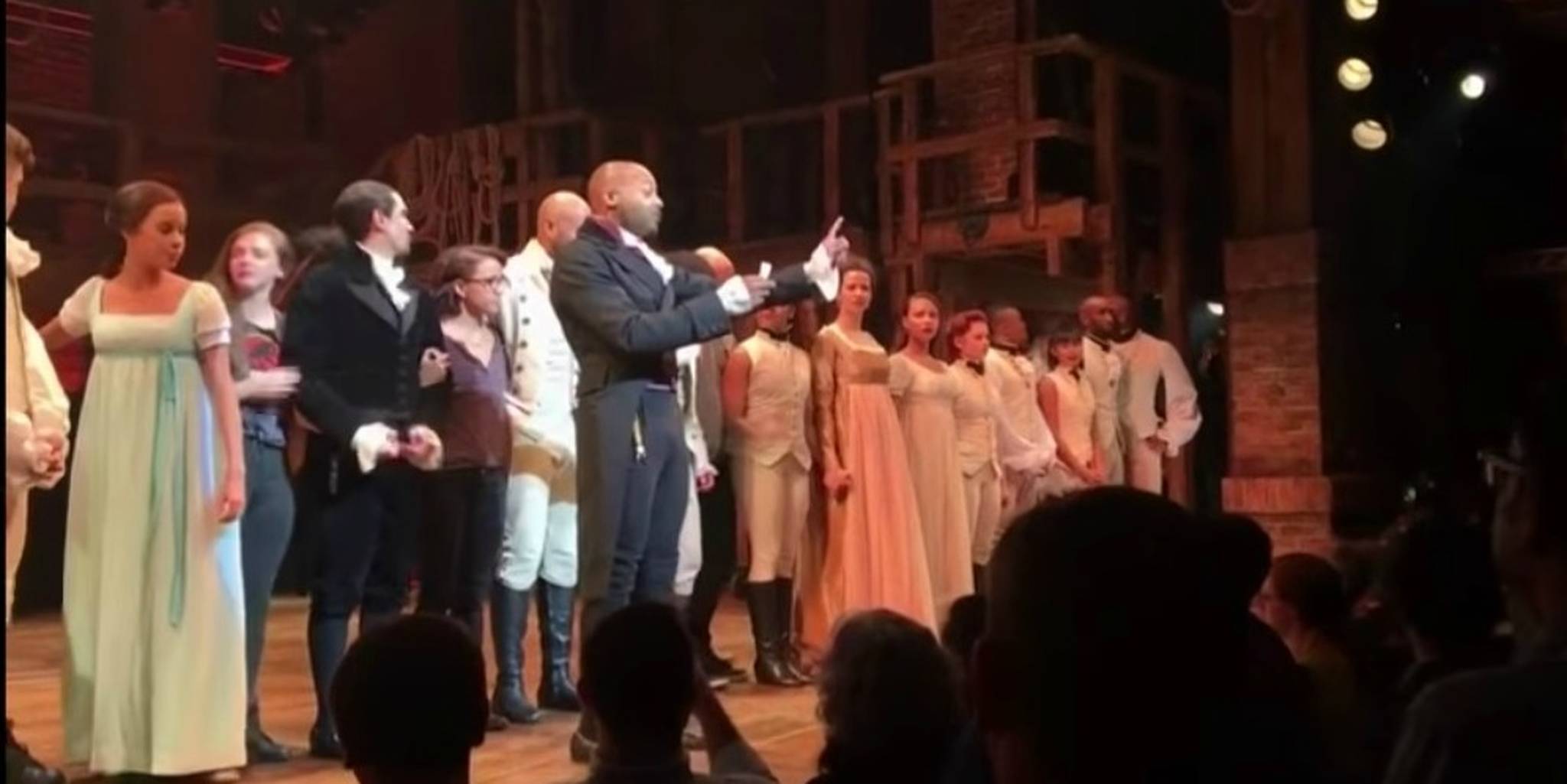 VOTE NOW! Is this Funny or Offensive?
Posted in:
Critical Theater
November 21st, 2016 – Donald Trump's unprecedented presidential election victory has prompted some unprecedented responses, as his running mate, former Indiana governor and anti-LGBTQ zealot, Mike Pence, found out when he took in a performance of the Broadway smash, 
Hamilton
, 
on Friday
. The hip-hop inflected chronicle of the life of "Founding Father" Alexander Hamilton has been a cultural phenomenon (and a financial juggernaut) since its 2015 debut.
The show's award-winning cast took the unusual step of
addressing the Vice President-Elect
personally from the stage at the conclusion of the evening's performance. Actor Brandon Victor Dixon read a prepared statement in front of the rapt audience:
"We, sir, we are the diverse America who are alarmed and anxious that your new administration will not protect us, our planet, our children, our parents, or defend us and uphold our inalienable rights, sir. But we truly hope this show has inspired you to uphold our American values and work on behalf of all of us."
Pence's arrival prompted scattered jeers from the Manhattan audience in contrast to the rousing applause after Dixon's statement. A report by the Associated Press confirmed that Pence stopped on his way out of the theater and listened the cast's message in its entirety. The off-book moment went viral and the now President-Elect Trump took to Twitter to condemn the incident and demand an apology from the cast on behalf of Pence.
Despite Trump's calls for the theater to be a "safe" space, the sentiment from the cast could be described as diplomatic as Dixon quieted a flutter of boos directed at the soon-to-be Vice President and ended the protest on an uplifting and inclusive note calling for Pence to work "on behalf of all of us."
Our wonderful future V.P. Mike Pence was harassed last night at the theater by the cast of Hamilton, cameras blazing.This should not happen!

— Donald J. Trump (@realDonaldTrump) November 19, 2016
The Theater must always be a safe and special place.The cast of Hamilton was very rude last night to a very good man, Mike Pence. Apologize! — Donald J. Trump (@realDonaldTrump) November 19, 2016
The dramatic deed set social media alight with some even calling for a boycott of the long-since-sold out musical. The hastags #NameAPenceMusical as well as #BoycottHamilton began trending in short order. While the controversy has, so far, done nothing to alter the status quo, the show's creator tweeted words of support and hope for his performers and Dixon remains optimistic that their message may yet resonate with Pence.
"I hope he thinks of us every time he has to deal with an issue or talk about a bill," he said. 
Proud of @HamiltonMusical. Proud of @BrandonVDixon, for leading with love.
And proud to remind you that ALL are welcome at the theater.

— Lin-Manuel Miranda (@Lin_Manuel) November 19, 2016
@realDonaldTrump conversation is not harassment sir. And I appreciate @mike_pence for stopping to listen. — Brandon Victor Dixon (@BrandonVDixon) November 19, 2016
Pence told Fox News Sunday that he wasn't offended by what the cast said but would leave it up to others to determine whether or not the theater was an appropriate venue for the speech.
Do you think the cast of Hamilton went too far or were they just exercising free speech? Let us know your thoughts on their protest and Trump's response in the comments section below.