Trump Mocks Dr. Ford's Sexual Assault Testimony During Rally (VIDEO)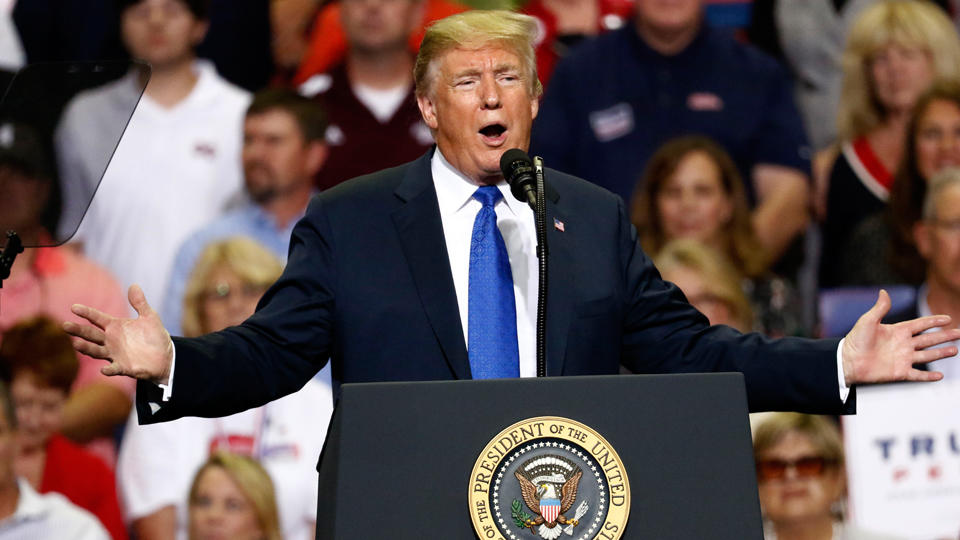 VOTE NOW! Is this Funny or Offensive?
Posted in:
Trump Turns Restraint into Complaints
October 3rd, 2018 – President Trump spent Tuesday evening at a rally in Mississippi where he talked about the economy, crowd sizes, and also mocked the testimony of a sexual assault victim. As Brett Kavanaugh's nomination to the Supreme Court continues to unravel following accusations and misleading statements under oath, Trump fell back to his tried and true attack-dog style.
As the crowd cheered and laughed, the president mocked Dr. Christine Blasey Ford, the woman who has accused the judge of sexually assaulting her while they were both teenagers. Ford testified to the Senate Judiciary committee last week saying that while she wasn't sure of all the details surrounding the attack, she was "100%" certain it was Kavanaugh who assaulted her.
"I had one beer. Well, do you think it was — nope, it was one beer," Trump said, using different tones as he mimicked Ford and the prosecutor who questioned her. "How did you get home? I don't remember. How'd you get there? I don't remember. Where is the place? I don't remember. How many years ago was it? I don't know."
The Washington Post reported that the crowd responded positively with cheers of "We want Kavanaugh! We want Kavanaugh!"
"I don't know. I don't know," Trump continued. "What neighborhood was it in? I don't know. Where's the house? I don't know. Upstairs, downstairs – where was it? I don't know – but I had one beer. That's the only thing I remember."
Ford did say that the alleged attack took place upstairs in a bedroom, and ironically her other statements impressed Trump last week. Directly following the hearing, the president said he found her testimony "very compelling" and that she was a "very fine woman" who was a "good witness."
"With all of that you cannot say that we've done anything but be respectful, and I do. I respect her position very much. I respect her position very much," Trump told reporters on Monday.
Ford may not remember all the details surrounding the attack from 36 years ago, and Trump doesn't seem to remember details from two days ago. While taking questions in the Rose Garden on Monday, he said the judge surprised him with how honest he was about his past.
"I was surprised at how vocal he was about the fact that he likes beer and he's had a little bit of difficulty, I mean, he talked about things that happened when he drank," Trump said. 
During the rally last night, Trump changed the narrative again saying that Kavanaugh was a "perfect human being" who "never had problems."
People were quick to point out that this isn't the first time Trump has relied on mocking those who step onto his path. He also mocked a gold star family, a disabled reporter, and the late senator John McCain for being a prisoner of war.
Michael Bromwich, an attorney for Ford, called Trump "a profile in cowardice" following the incident.
A vicious, vile and soulless attack on Dr. Christine Blasey Ford. Is it any wonder that she was terrified to come forward, and that other sexual assault survivors are as well? She is a remarkable profile in courage. He is a profile in cowardice. https://t.co/UJ0bGxV1EZ

— Michael R. Bromwich (@mrbromwich) October 3, 2018
Was Donald Trump's mocking of Dr. Ford Funny or Offensive? Do you think a president should be making light of any person who claims to be a victim of sexual assault?