White High School Takes Heat For Trump Banner At Football Game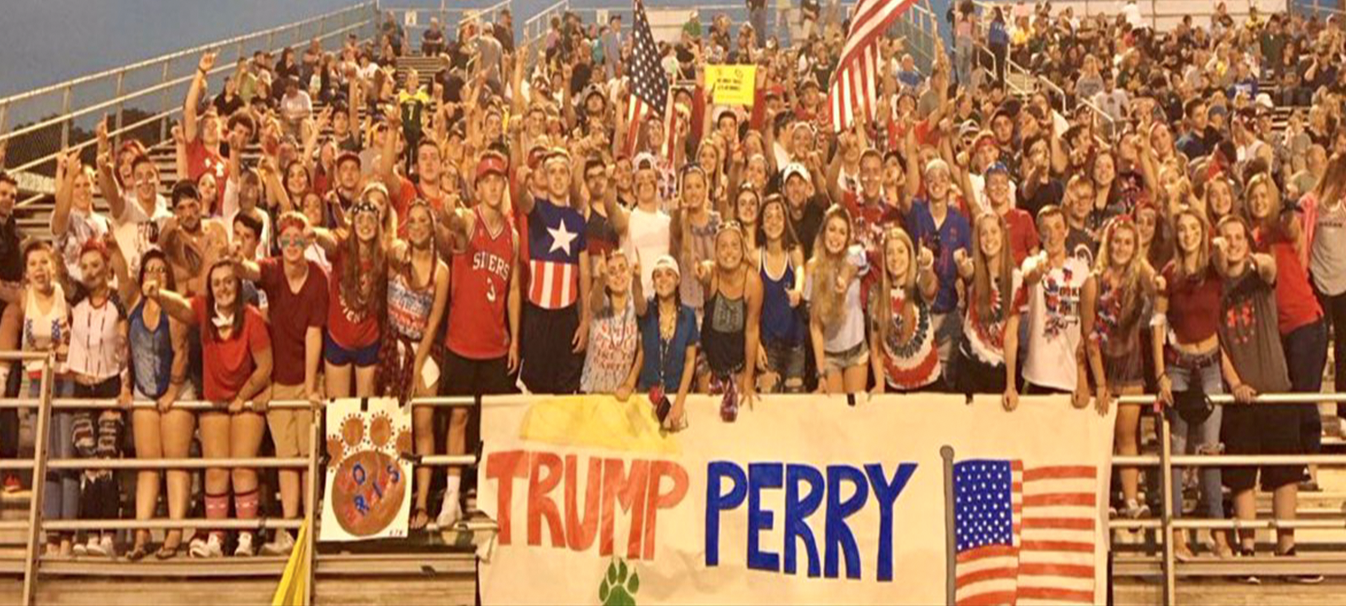 VOTE NOW! Is this Funny or Offensive?
Posted in:
Flag On The Play
September 25th, 2017 – A Pittsburgh-area high school football team got a special welcome at West Virginia's Brooke High School on Friday. Brooke students from the 98% white Brooke County displayed a banner reading "Trump Perry" adorned with an American flag. Perry Traditional Academy, a predominately black school, traveled to Wellsburg, W. VA to play Brooke for the first time.
GAMEDAY!!! The Bruins welcome Perry Traditional Academy to Memorial Stadium tonight Kickoff at 730PM #BrookePride

— Brooke Bruins Sports (@BrookeAthletics) September 22, 2017
Social media was buzzing over the incident with one Perry faculty member who also traveled for the game criticizing the display as overtly racist.
My mostly Black, inner-city school played this team last night & were confronted w/this. Sickening racism. @BrookeAthletics @ShaunKing pic.twitter.com/MbXxSilJbj

— Sheila May-Stein (@smaystein) September 23, 2017
The sign was part of our student section theme. We did a Red white and blue theme to support our country and our president.

— Austin Jenkins (@hillbilly6960) September 23, 2017
Senior administrators from both school districts have vowed to discuss the matter, and a spokesperson for Pittsburgh Public Schools confirmed that an image featuring the "Trump Perry" sign appeared on Facebook and Twitter accounts affiliated with Brooke High School. The images, depicting Brooke students behind the controversial banner cheering and waving American flags, have since been removed. The Brooke football team defended the display explaining in a statement posted on the team's Twitter account:
"…every home game [has] a different theme and this one was red white & blue so we used the saying 'trump' for double meaning. Being one our president and two using the world 'trump' which also means 'beat.' Also this was our first time ever playing them."
One Perry parent found that excuse wanting. In an open letter to the Brooke County School Superintendent she wrote:
"The use of the current President's name is an intentional signal to opponents that they are in 'Trump' territory … I am appalled that the adults in your school district not only approved of this sign, but are actively celebrating it… This is what racism in America looks like today."
The Perry parents may have been keenly aware of the symbolism of the sign during a weekend that saw Donald Trump use his platform to slander former NFL quarterback Colin Kaepernick, his mother and players in the majority black NFL who expressed their constitutional rights. In response, dozens of NFL players emulated Kaepernick's protest by kneeling during the national anthem before the start of Sunday's games.
Per a statement from the Perry coaching staff, the teams behaved cordially and the game concluded without further incident.
Was this just a good old fashioned, all-American high school football rivalry or did the "Trump Perry" banner show the student's true colors? Funny or Offensive? Tell us what you think.