Zoo Under Fire For Painting a Donkey To Look Like a Zebra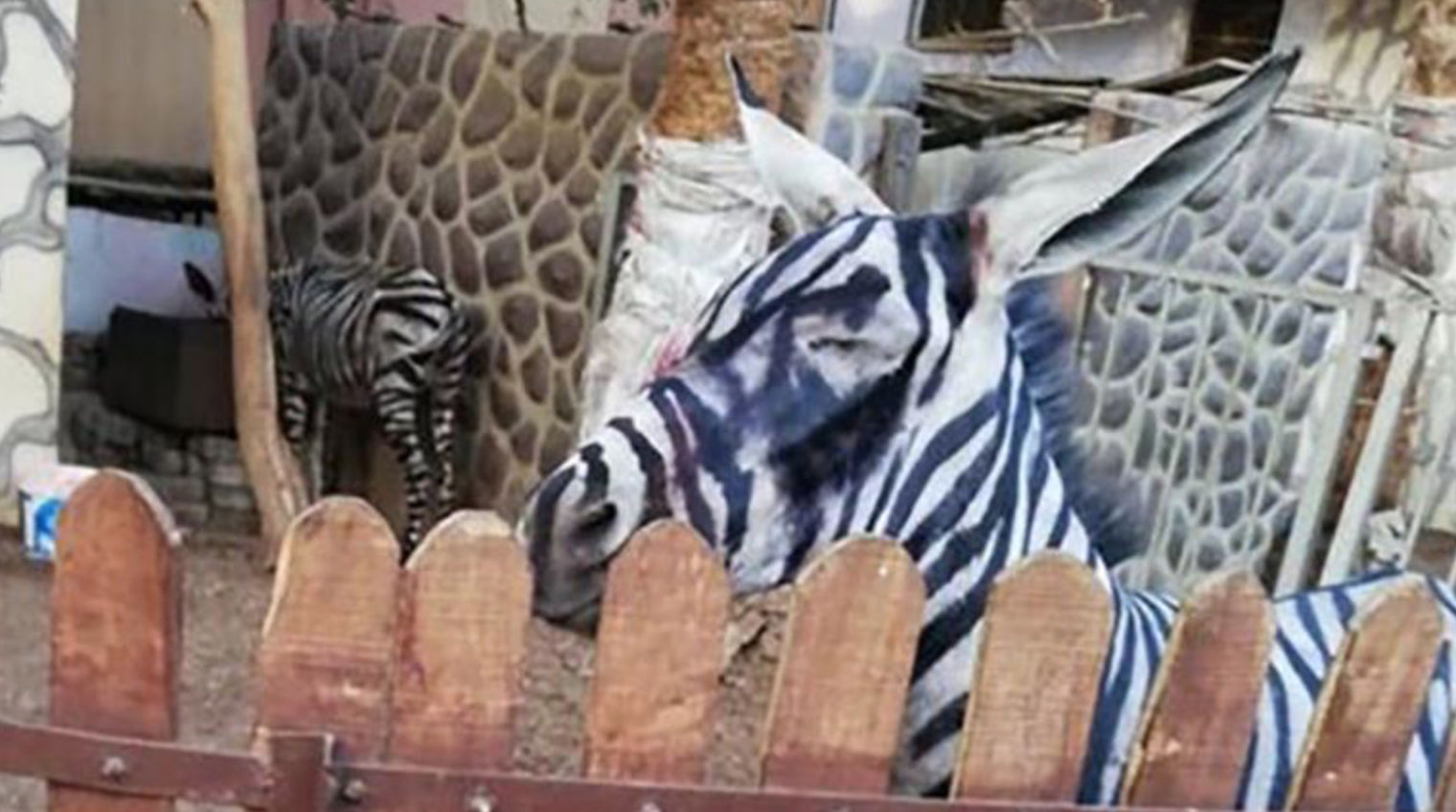 VOTE NOW! Is this Funny or Offensive?
Posted in:
A Zoo in Sheep's Clothing
July 31st, 2018- Step aside, Laurel vs. Yanny, we're now focused on Zebra vs Donkey. A zoo in Cairo, Egypt is being accused of painting stripes onto a donkey in order to pass it off as a zebra. The International Garden municipal park was thrown into the lion's, or who knows maybe the tiger's, den after Mahmoud Sarhan posted a photo to Facebook from his July 21st visit to the sanctuary.
The 18-year-old student told CNN that he quickly became suspicious of the situation when he walked up to the animal. Noticing that some of the stripes on the face had melted from the heat and that the ears didn't look to be the correct size, he shared his experience online.
"The stupidity has reached in the country that they brought a local donkey and painted it to look like a zebra," he wrote in Arabic. 
— mahmoud.sarhann (@mahmoud__sarhan) July 23, 2018
His Facebook post has now been shared nearly 8,000 times, and with viral spotlight comes experts weighing in with their analysis.
"The ears are rounded, not oblong and pointy, and of course zebras have black skin, answering that age-old question of them being black with white stripes," said Alex Adams, a wildlife biologist and researcher at Colorado State University.
PETA was also quick to add their voice, accusing the zoo of spray painting the donkey and criticizing their facility in general.
"No reputable animal care facility would subject a skittish animal like a donkey to the stress of being restrained and sprayed with chemicals like paint," the organization said in a statement to CNN. "PETA hopes that Cairo authorities are fully investigating this matter."
ANIMALS DESERVE OUR RESPECT 😡

As if suffering in captivity wasn't already horrible enough, this roadside zoo in #Cairo reportedly painted donkeys to look like zebras. https://t.co/ni8KppBqgL

— PETA 🐳🐬 (@peta) July 27, 2018
For the zoo's part, they are maintaining that the animal is, in fact, a zebra.
"The zebra is real and not painted," Mohammed Sultan told Egypt's Youm 7 news channel.
Much of the social media world wasn't buying that story, though, and took to Twitter to find the humor in the moment.
Look I found one they could add to their collection 😂 pic.twitter.com/uYJEnpfl5W

— 𝕃𝕚𝕟𝕕𝕤𝕖𝕪♛ (@lindsdafiveone) July 27, 2018
— Sheyda Irani (@irani_sheyda) July 28, 2018
a donkey painted to look like a zebra is a metaphor I relate to way more than I'd like to admit https://t.co/KT5qxF1tzx

— gracie hoos (@cottoncandaddy) July 27, 2018
Not sure why Americans are so shocked that an Egyptian zoo turned a donkey into a zebra when we turned a jackass of our own into a President. https://t.co/BFg63MRzai

— Adam Best (@adamcbest) July 26, 2018
Fake zoos!https://t.co/QvufpmxI4x

— Josh Campbell (@joshscampbell) July 26, 2018
Cairo isn't alone in zebragate drama. In 2009, a zoo in Gaza finally came clean about using masking tape and hair dye to transform a donkey into a zebra. And in 2013, a Chinese zoo was busted for trying to pass off a Tibetan mastiff for an African lion. Zoo-goers cracked this case when the dog started barking.
What are your feelings on Zebra vs Donkey? Was the Cairo zoo's decision Funny or Offensive? Vote and comment now…