Man From 10 Guy Meme Reveals Identity After Decade of Anonymity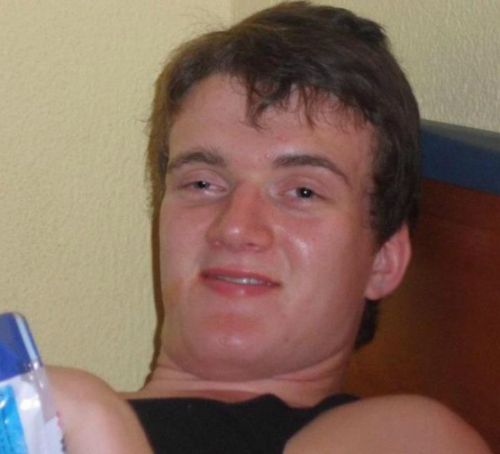 VOTE NOW! Is this Funny or Offensive?
Posted in:
The Man, The Myth, The Meme
May 13th, 2021 – The identity of "10 Guy" has finally been revealed after a decade of anonymity. Connor Sinclair announced to the (internet) world that he is, indeed, the red-faced, high guy who made the 10 Guy meme go viral back in 2011.
Originally posted on the marijuana enthusiast r/trees subreddit with the caption "Being at a [10] is not always pretty," the image inspired countless memes marking the joys and fears of overindulgence.
Sinclair never thought he would be talking about the meme 10 years later, much less capitalizing on the recent craze of NFTs. If you need a thorough breakdown of what non-fungible tokens are, definitely talk to your mom. (Just kidding, give this a read instead.) Yesterday, the real life 10 Guy announced that his meme has been officially minted and will be listed for sale on Foundation's app soon.
10 Guy Original NFT is minted and ready to go.

Listing taking place very soon…

Shoutout to @solidbadluck for inviting me to @withFND pic.twitter.com/EEhqNymSN5

— 10 Guy (@10GuyOfficial) May 13, 2021
"Honestly I never thought it would have the staying power it does," Sinclair told Know Your Meme. "I've had plenty of offers for promotions, from board games to a snack food brand. I've never gone through with them because I didn't think people would care, and it felt a bit disingenuous almost? The meme belongs to everyone who shared it, liked it, etc. I just happen to be the guy with the sweaty face and the glazed expression who went viral. But now feels like a good time to do it. As you said, a decade, 10 years of 10 guy. It just felt right. Of course, the hype around NFTs is a large part of that but the timing just felt perfect."
Sinclair began posting on Twitter back in April but went largely unnoticed until his YouTube announcement made it to Know Your Meme, an origin story encyclopedia of all viral memes.
Yes it's me. The Real Deal 👋

10 years of 10 Guy 🙌

The Original 10 Guy meme NFT going live in the near future.

Watch this space 😀 pic.twitter.com/aZ1kzipOu7

— 10 Guy (@10GuyOfficial) April 11, 2021
So what took the, let's now call him, 5 Guy so long to publicly reveal that he's the man behind the meme?
"To be honest, the meme went viral when I was 18 and just starting University," Sinclair said. "I was a bit nervous about getting too involved, and I wasn't comfortable about it when I was younger and studying, if it might have affected my career, etc. I don't think I could have imagined still talking about it 10 years later! But if I reflect, it's been a great thing. It makes people happy, what's better than that."
In the end, Sinclair only sees positives from his meme trajectory and feels confident that letting go of his anonymity is the right decision. He even found love thanks to his 10 Guy alter ego.
"At this point in life I'm a lot more settled," he said. "If i think about it I've never really had anything negative from the meme apart from maybe the odd comment online, so in retrospect I was being overly cautious. I met my girlfriend of six years because she asked to take a photo with me so it certainly hasn't been all bad."