20 Mother's Day Cards She'll Never Forget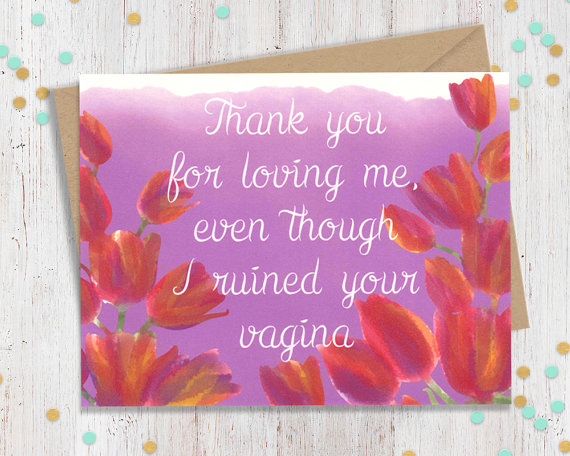 VOTE NOW! Is this Funny or Offensive?
Posted in:
Maybe Include A Gift Card, Too
May 14th, 2017 – Mother's Day has made its way to breakfast in beds once again this year. Whether you are a child, a parent, a partner you're probably showering a mother in your life with loving thanks for all she's done in your life.
Maybe that's not the case, though, and you're begrudgingly sending a text, showing up to a brunch hungover, or delivering a card to your step-mom with a bit of angst.
Whatever the case may be, there's a card ready to be signed, sealed and delivered.
Take a look at the 20 most outrageous Mother's Day cards we could round up, and let us know which one you would send.
A bit of honesty on this day:
Maybe they don't always blame the mother:
A very anatomically correct day to you:
Vagina cards 2.0:
More graphic cards for Mom:
Happy Emoji Day:
Game of Thrones fans:
Don't know if she's gonna LOVE this one:
Dad joke time:
Just like whispering sweet nothings:
A card from your baby daddy:
Someecards coming through with lots of material:
Mother's Day full circle:
Stop hitting on your mom:
Happy Mom's Day! Love, André 3000:
Here comes Debbie Downer:
And finally one for all those living a kid-free life:
Would you give these cards to your mom? Are they Funny or Offensive? Vote, comment, and enjoy Mother's Day!