7th Grade Student Receives "Most Likely To Become A Terrorist" Award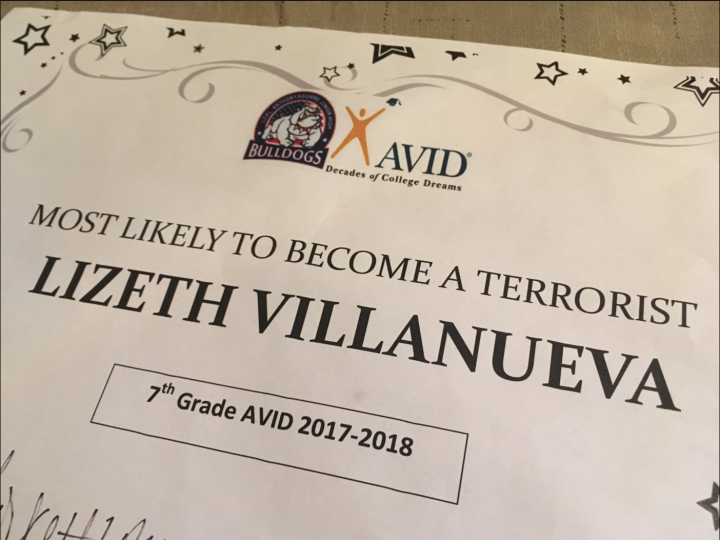 VOTE NOW! Is this Funny or Offensive?
Posted in:
Teacher of the Fear
May 28th, 2017 – A Texas schoolteacher has drawn the ire of parents, students and administrators after targeting a seventh grade student during a class presentation. The teacher handed out a printed certificate to a student named Lizeth Villanueva that identified her as the student "Most Likely to Become a Terrorist."
This happened one day after a suicide bomber killed 22 people and injured dozens more after an Ariana Grande concert in Manchester, UK. The ceremony at the Houston-area school was for a group of honors-level students and allowed teachers the chance to present mock awards as a "joke" for the class. According to reports of the incident, Villanueva's teacher laughed as she signed the certificate in front of the other students as well as teachers who also joined in on the laughter.
Mom furious after teacher, students name daughter 'most likely to become a terrorist' https://t.co/t8Tcy7wfHR #kprc2 pic.twitter.com/o5oM7mdq1h

— KPRC 2 Houston (@KPRC2) May 25, 2017
Other joke awards handed out were "Most Likely to Become Homeless in Guatemala" and "Most Likely to Blend in with White People." Villanueva, who is of Salvadoran descent, was disturbed by the incident and has stayed home from school since the ceremony because she now feels "uncomfortable."
"It was not a joke," she told a CNN affiliate. "I do not feel comfortable with this… I do not feel comfortable being in the same classroom with [the teacher]."
The school district's formal statement of apology read in part:
"The Channelview ISD Administration would like to apologize for the insensitive and offensive fake mock awards that were given to students in a classroom… [and] would like to reassure the community that this incident does not reflect the many good things going on in our district."
One parent expressed both anger and shock over the behavior of the school personnel, telling The Washington Post:
"I was upset and very mad when I saw the award… I was surprised because my daughter has been doing well in the honors program."
Despite the apology from the school's principal and the official statement from the school district, at least one of the teachers in question doesn't appear concerned about the impact of their actions. According to Villanueva, the teacher offered the following explanation:
"She said that some people might get offended, but she doesn't really care about our feelings."
The district is conducting an investigation into what happened and insists the teachers responsible have been disciplined.
So is this political correctness run amok or did the teacher not understand the assignment? Funny or Offensive? Vote and comment now!