Ann Coulter UC Berkeley Event Cancelled, Free Speech Protests Alive And Well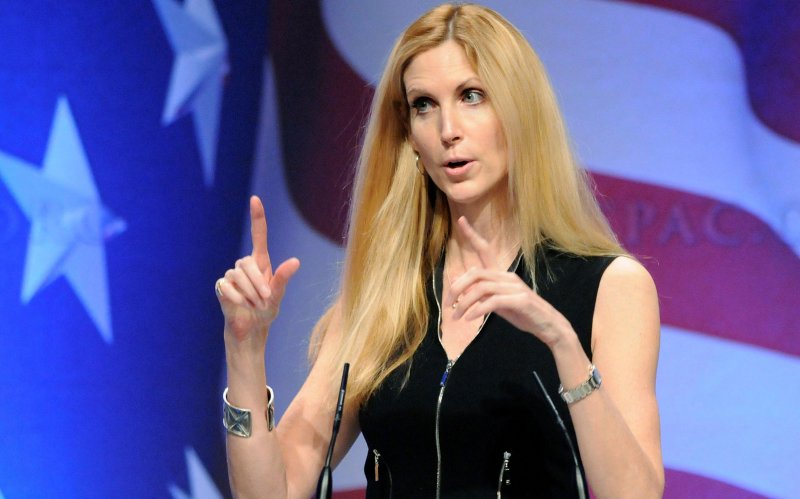 VOTE NOW! Is this Funny or Offensive?
Posted in:
Coulter: Berkeley is a "radical thuggish institution"
April 27th, 2017 – Conservative commentator Ann Coulter will not be speaking at UC Berkeley today, but the battle over free speech has not been halted. It's been pushed further into the epicenter of hot-button issues being argued between the left and the right as blame for the cancellation seems to be falling on everyone involved. Coulter officially pulled out of the speech Wednesday after insisting she would still attend the event following the university claiming it couldn't accommodate or safely protect her and their student body.
I'm so sorry Berkeley canceled my speech. I'm so sorry YAF acquiesced in the cancelation. And I'm so sorry for free speech crushed by thugs.

— Ann Coulter (@AnnCoulter) April 26, 2017
Coulter continued sharing her feelings about the "dark day" for free speech and the belief that the conservative groups organizing the event should have kept up their fight against the university.
For their part, the university said the organizing groups didn't follow proper protocol for requesting an event at the university, so it was technically never scheduled.
The university ordinarily requests a two months notice for an event to properly work out logistics and security. They said they were emailed by the groups in mid-March but were never given an official date. After reading about the April 27th date in the newspaper, the university says it wasn't able to provide the adequate accommodations in time.
"We know how to do this, but we can't do what we want to do to facilitate those speakers if the groups that want to invite them and host them don't work with us in the way that they need to," Mogulof said.
Berkeley College Republicans and the Young America's Foundation – conservative groups that orchestrated Coulter's event – each pulled their support Tuesday evening.
Reports cited their fears of violence
and belief that the environment had become too hostile. Both groups, however, are now a part of a lawsuit accusing the school of discriminating against conservative guest speakers by placing overreaching restrictions on their appearances.
"In effect, our free speech has been stifled because the university has decided not to assist us in making sure the event can occur successfully," Troy Worden, president of the Berkeley College Republicans said.
Students, media and politicians are keeping the conversation going despite the many cancellations.
The Bay Area chapter of the International Socialist Organization will hold an "Alt-Right Delete" press conference for those who oppose "racist provocateurs" this afternoon. Hours later, right-wing commentators will gather on Sproul Plaza where Gavin McInnes will deliver Coulter's scheduled speech in her place.
Bill Maher has spoken out with 
pointed humor
 saying "Berkeley used to be the cradle of free speech. And now it's just the cradle for fucking babies."
Senators Elizabeth Warren and Bernie Sanders have both criticized those who tried to block the speech. "I don't like this. I don't like it. Obviously Ann Coulter's outrageous ― to my mind, off the wall. But you know, people have a right to give their two cents worth, give a speech, without fear of violence and intimidation," Sanders told 
The Huffington Post. 
"What are you afraid of ― her ideas? Ask her the hard questions. Confront her intellectually. Booing people down, or intimidating people, or shutting down events, I don't think that that works in any way."
UC Berkeley is no stranger to controversy and no new kid on the block when it comes to the fight for speech. Having long been a bastion for the right to speak freely, the university has been in the news frequently in recent months.
Milo Yiannopoulos called off an event
in February amid violent protests and earlier this month fights broke out in downtown Berkeley at a pro-Trump protest.
Where do you fall on the free speech debate when the environment has grown violent and hostile? What's the best approach to bring together opposing views?
Our own chat with Ann Coulter on political correctness: