Macaulay Culkin as Kurt Cobain Gets Crucified In New Father John Misty Video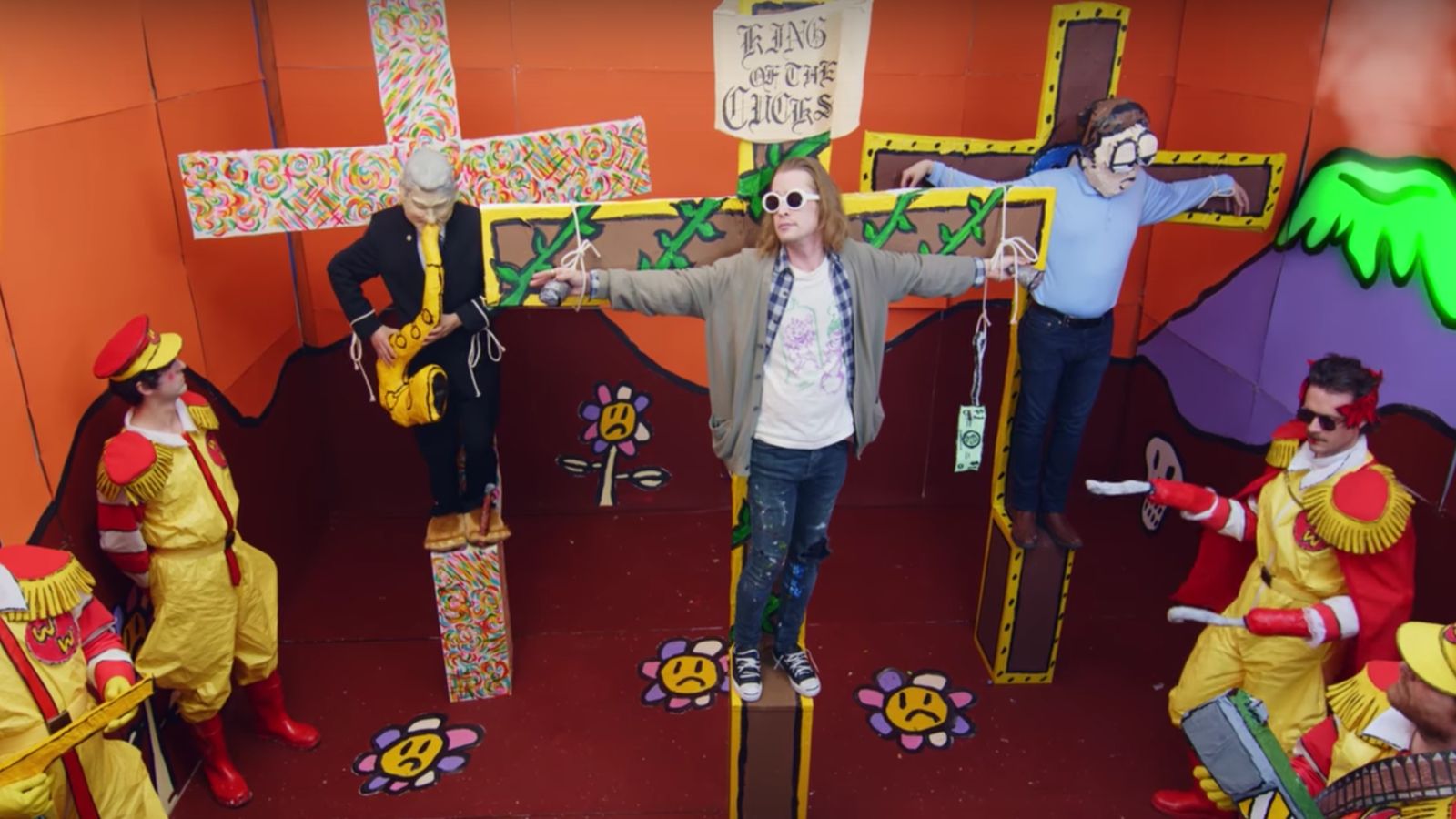 VOTE NOW! Is this Funny or Offensive?
Posted in:
A Bold Cross To Bear
April 27th, 2017 – If your church's Easter Sunday service didn't include Macaulay Culkin in a crucifixion reenactment, you can now see what that would look like thanks to Father John Misty's new music video. Misty recently released "Total Entertainment Forever" (from the album Pure Comedy) and his visual interpretation of humanity's obsession with celebrity and technology involves Culkin as Kurt Cobain getting crucified, Bill Clinton playing the saxophone on a cross, Misty as a Ronald McDonald figure with hook hands, and George Washington directing all of them as he plays a virtual reality game.
It's a lot to take in, and it's a lot for people to argue about – his artistry, his use of satire, his irreverent imagery and his trolling.
FJM has long courted controversy, even being labeled the "beloved troll king," and has made his career out of music and mayhem. NME published his best "Grade-A" trolls, which included his fake online streaming service called SAP, his false claim of stealing a rose-quartz crystal, and his discussion of the futility of the entertainment industry at a festival before cutting his set 30 minutes short.
He's currently spending some time trolling on Twitter after some users tagged RELEVANT (a magazine that discusses the intersection of faith and culture) asking their thoughts on the music video for "Total Entertainment Forever."
— FEATHER JAM MINISTRY (@fatherjohnmisty) April 26, 2017
//platform.twitter.com/widgets.js
Reactions to the video have ranged from people calling out religious irreverence to making fun of Misty for trying way too hard to be edgy to people wondering how Cobain would have reacted to his portrayal. All the while fans and first-time-listeners are reminded that this is all taking place in a world where a band of McDonald's policemen nail Culkin-Kobain to a cross where the sign above reads "KING OF THE CUKCS," Jon Arbuckle from Garfield also gets crucified, and George Washington pops some viagra before obsessively controlling it all.
For those familiar with Misty's work and that of the folks over at the arts collective Four Gods and a Baby (who directed the video), it's par for the course. The amount of views and the number of articles discussing the video, however, might mean more people are trying to wrap their heads around Misty's work.
Watch the video below and give us your thoughts. Did Father John Misty go too far in his satirical commentary? Funny or Offensive? Vote and comment below.