Artist Arrested For Performance Piece Allowing Strangers To Touch Her Breasts And Genitals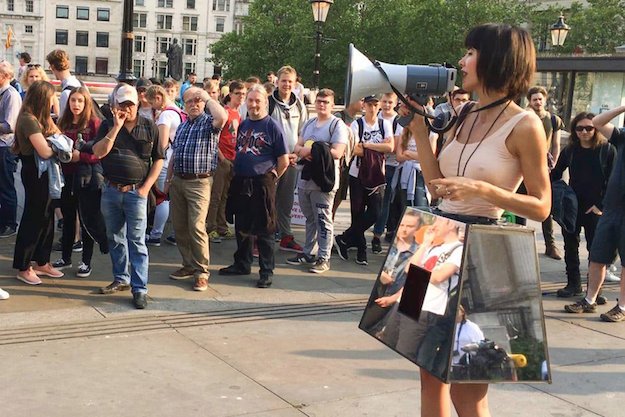 VOTE NOW! Is this Funny or Offensive?
Posted in:
MIRROR, MOIRE – NSFW
May 21st, 2017 – Controversial conceptual artist Milo Moire, known for turning more than a few heads with her sexuality-themed artwork, was arrested for one of her public exhibitions. During a performance last year in London's Trafalgar Square, the provocateur invited strangers to touch her genitals or breasts concealed behind a mirrored box worn over her body.
The project is called "Mirror Box," and each person who chooses to interact with the personal installation gets to do so for only 30 seconds.
"I am standing here today for women's rights and sexual self-determination," Moire shouted into a megaphone during her first 'Mirror Box' performance. "Women have a sexuality, just like men have one. However, women decide for themselves when and how they want to be touched, and when they don't."
The Spanish Slovak has developed a reputation for creating sometimes scandalous art pieces that normally involve her being either partially or completely nude in public. After staging exhibitions at internationally renowned art fair, Art Basel, and being arrested for taking naked selfies in front of the Eiffel Tower, the Dusseldorf-based, Swiss-born Moire continues to blur the lines between art, pornography and the sexual mores of the day. When asked about the utility of allowing random men and women to touch her genitals in public, Moire explained in a statement:
"The audience's reflection on the mirrored box simultaneously becomes a visual metaphor for the role reversal from voyeur to the object of view: a constant play of inversions analogous to our roles in the digital world."
Much of Moire's work explores the concepts of consent, women's rights and sexual equality. But her artistic output has been met by harsh criticism. One critic for The Independent called a piece wherein the artist expelled paint-filled acrylic eggs onto a blank canvas "the latest desperate effort to shock in the name of art." Since 2007, Moire has been nude in all her public performances including her most recent arrest in London. The artist rebuffs any attempt to dismiss her work as a stunt saying on her website:
"The inward importance of my own nudity is of far greater force than the importance of the visible nudity in itself."
The Metropolitan Police were not impressed by Moire's artistic expression, and she was charged with "indecency" and fined for her trouble. This was not the first time a female artist was punished for challenging the conventional wisdom on public exposure. Artist Valie Export's Touch Cinema performance in 1968 saw Export inviting men and women on the street in Vienna to touch her breasts through a Styrofoam box.
So is this clever art or blatant obscenity? Funny or Offensive? Vote and comment below!