Time Magazine's Latest Cover Shows Russia Overtaking The White House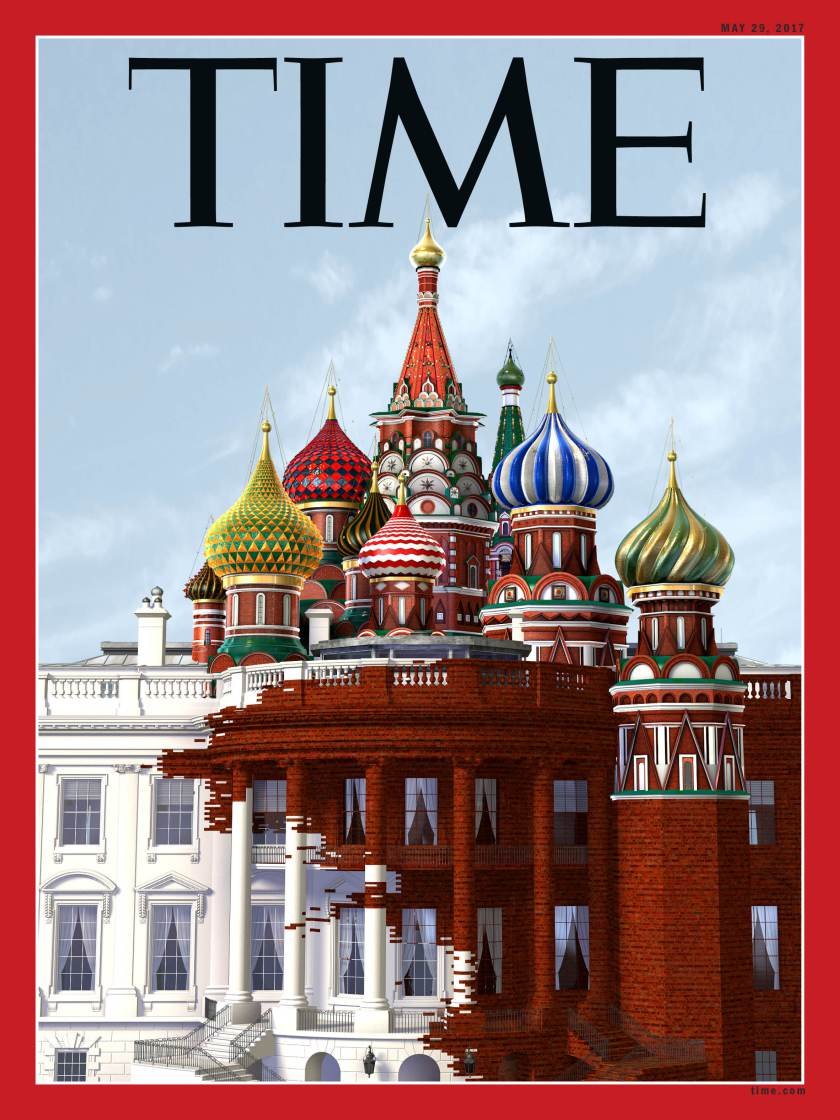 VOTE NOW! Is this Funny or Offensive?
Posted in:
It's TIME for some controversy
May 19th, 2017 – Time magazine released their cover of the May 29th issue yesterday, showing the White House being engulfed by all things Russia. Visually, there's red brick encroaching upon the columns and onion domes soaring above – positioning Saint Basil's Cathedral above President Trump's oval office.
Executive Editor Matt Vella shared the cover on Twitter, adding that it had been a decade since the magazine didn't have a cover line. With no text, and the accompanying story not published in full yet, people had plenty of reactions to the provoking image.
Our new cover this morning, it's been a decade since @TIME did not have a cover line https://t.co/7iWyl0gOuY pic.twitter.com/YHfbLSQ8Lw

— Matt Vella (@mattvella) May 18, 2017
Sean Hannity and other fellow conservative sites called the "Destroy-Trump media" out for what they deemed a "big mistake." They described the illustration as Time showing the "White House being absorbed by Russia's Kremlin," and then correctly identified the image as Saint Basil's Cathedral.
"So much for fact-checking," the Hannity.com staff wrote. 
Time didn't label the structure as the Kremlin, however, and although the cathedral isn't within the Kremlin, it's in the Red Square and a federal property of the Russian Federation.
Business Insider reported that the accompanying story details "White House officials' struggles to contain and respond to multiple Russia-related controversies."
The firing of FBI Director James Comey, the classified intelligence shared with Russian officials from Trump, and the appointment of former FBI Director Robert Mueller as special counsel to oversee the Russia probe remain talking points for news coverage.
The Time cover has only provided more fodder for the constant coverage. From allegations of CNN misusing the term "minarets" to Mad Magazine slamming Time for copying their illustration, the famous landmark mashup has gotten people questioning if the magazine made the right decision.
Oh boy. The new cover of @TIME went there. pic.twitter.com/NDWyQEahk0

— Kyle Griffin (@kylegriffin1) May 18, 2017
What if Time Magazine had a cover showing the White House as a mosque when Obama was president? They're pushing conspiracy theory BS. Sick! pic.twitter.com/dA0JBEszwJ

— Jacob Wohl (@JacobAWohl) May 18, 2017
I thought the Time Mag cover was over the top. No longer. https://t.co/04hBGBV0zE

— Neal Katyal (@neal_katyal) May 19, 2017
@TIME Just saw your latest cover with the Kremlin looking like it's taking over the White House. Glad I cancelled my subscription. Shameful

— JudyhHarrison??? (@hey_jude2u) May 19, 2017
@TIME Wow ! Time should be ashamed of that white house cover. How un American.Guess you guys are liberal wack jobs also.Political hacks

— Dee deeplorable me (@deemat727) May 19, 2017
@TIME Your cover depicting the White House in such a grotesque manner is just about as low as you can go. Sewer propaganda. Unbelievable.

— Jeff L. (@aeolian65) May 19, 2017
Good for them! Striking #TIME Magazine cover shows #Russia taking over the White House https://t.co/diL6yJBcdu #TrumpRussia #Resist!

— John Lundin (@johnlundin) May 19, 2017
New cover of TIME magazine is spot-on despite using St. Basil's Cathedral instead of the Kremlin to depict Russia overtaking the White House pic.twitter.com/SSzq2LDsmj

— Jordan Silverman (@Jordan_Silvermn) May 18, 2017
Time has not shied away from controversial covers in the past, but this one has taken on greater scrutiny amid an ever-evolving news cycle.
Do you think TIME's cover of a Russian takeover of The White House went too far? Funny or Offensive? Vote and comment below.