A Million Bernie Sanders Inauguration Memes To Keep You Warm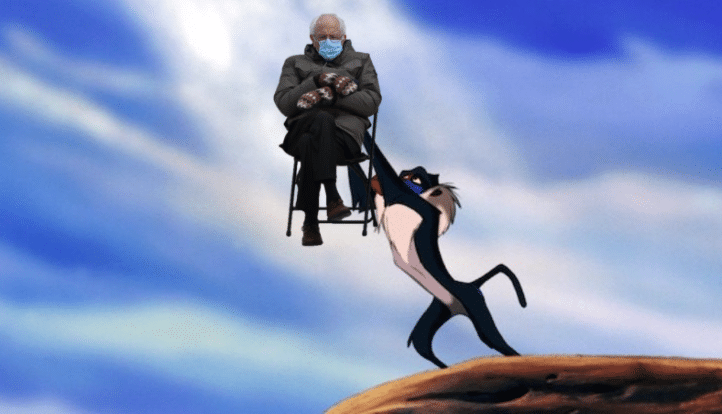 VOTE NOW! Is this Funny or Offensive?
Posted in:
Brrrnie Stole The Show
February 23rd, 2021 – Joe Biden got a new job last week, but Bernie Sanders has the same coat. He is once again asking you to meme him. As high-profile politicians took their seats to watch Biden and Kamala Harris get sworn into office, most of them did so in their finest outfits and mingled across the aisle. Bernie Sanders did not.
The Vermont senator, who came close to nabbing the Democratic presidential nomination last year, showed up comfortable, cold, and ready to get on with the rest of his day. The rest of the day for those watching at home, however, was spent memeing cold Bernie into about a million different pop culture moments.
Bernie found his way into the cast of Sex and the City, Friends, The Golden Girls, Game of Thrones, Friday, and many, many other small and big screen cliques. And, for good measure, his mittens also took center stage; making an appearance in O.J. Simpson's infamous courtroom glove photo.
In these highly divided times, it seems what our country needed most was Bernie being classic Bernie.
"Bernie Sanders — the long-serving, self-described democratic socialist, the scourge of economic inequality and now the powerful incoming chairman of the Senate Budget Committee — has inadvertently provided us with something we have been robbed of for the past four years, good old fashioned laughter," standup comic Judy Gold wrote for CNN. "Whatever political party you pledge allegiance to, whatever your socio-economic background, immigration status, language, gender, race, sexual orientation, religion…there is a Bernie meme for you."
So here's our best roundup of Bernie inauguration memes, because somehow this hasn't gotten old yet. And don't worry about Bernie: he's seen 'em, he's seen 'em.
LMFAO "Ima swing by Joe's thing for a minute." https://t.co/FBo5IoxFA1

— Bri (@shes_the_maNN1) January 20, 2021
"I am once again asking for a space heater." https://t.co/2PmfOWFGYE

— Daisy Razor-in-candy (@daisy_razor) January 20, 2021
Everyone else: wearing giant, dressy black and grey coats

Bernie: This is my good jacket, and it keeps me warm. I'm wearing it pic.twitter.com/fZk9I90iVw

— Cameron Newton (@CamBNewton) January 20, 2021
Martin Scorsese watching a Marvel movie pic.twitter.com/U0BcpOjTVr

— Eric Allen Hatch (@ericallenhatch) January 20, 2021
Bernie Sanders cameo in Forrest Gump 😮 pic.twitter.com/HUBejIgi1k

— єℓ ∂υ∂єяιиο (@IamSegni) January 21, 2021
And just like that #seashantytok has been replaced with Bernie Sanders memes. It's the circle of life. pic.twitter.com/EW7HwVegli

— Dave O'Connor (@daveohsee) January 21, 2021
"This could've been an email" pic.twitter.com/kn68z6eDhY

— Ashley K. (@AshleyKSmalls) January 20, 2021
bernie sending a pic to the grandkids whatsapp being like "almost time for your favorite, lady goo goo" pic.twitter.com/8RsNZBQvZI

— Rebecca Caplan (@NotThatReba) January 20, 2021
I've seen enough. This is the winner. pic.twitter.com/DuDeUGnGz4

— Fred (@WaywardWinifred) January 20, 2021
Good morning all! ☕️ pic.twitter.com/pxXvpxIk58

— Jake Tapper (@jaketapper) January 21, 2021
I could re-post a million Bernie memes today, but I'll just post my favorite. Here ya go pic.twitter.com/fQqLU8Pi4f

— Emilee (@emilee_limeblue) January 21, 2021
My favorite of the Bernie Meme. pic.twitter.com/rLkXXXJ2LP

— Harry's Baked (@HarryR) January 21, 2021
I made this Bernie sitting meme to contribute to the cause pic.twitter.com/kvHADLRFJI

— DJ-KIMchi (@djjkim) January 20, 2021
January 21, 2021
January 21, 2021
Bernie Sanders, first of his name, Wearer of Mittens, Sitter of Chairs pic.twitter.com/1j6p8mrdlr

— Matthew Mucha (@mattymooch) January 20, 2021
you better hold on tight spider monkey pic.twitter.com/cThUKuy6YJ

— self-identified emo (@ThyArtIsMemes) January 21, 2021
I really dislike y'all. 😂🤣 pic.twitter.com/V9W1u5Svll

— Alyssa Rose, MS.Ed 💕🍏 (@Ms__TeacherLady) January 20, 2021
Not me. Us. pic.twitter.com/ec7XgfEl7b

— Guy Fieri (@GuyFieri) January 21, 2021
How I wish I dress: How I actually dress: pic.twitter.com/8lAA8X7u78

— jorden (@jordeeeeeen) January 20, 2021
There's so many, but this is my favorite 🤣#Berniememes pic.twitter.com/KSnLJD1SGe

— Steven Dehler (@StevenDehler) January 23, 2021
One last time . . .#Berniememes pic.twitter.com/werfGkVgcG

— Jim B. (@Jnb928) January 23, 2021
Okay one last Bernie Sanders meme, I promise. pic.twitter.com/hnW2ElnlJE

— KD ➐ (@notkdk3) January 21, 2021
I love the internet😂🤪 now find #BernieSanders #Berniememes pic.twitter.com/TWbIysbLrD

— Vikas Rana (@vikasrana_10) January 23, 2021
Let us know which Bernie Inauguration Meme is your favorite! Oh, and if you found Waldo and Bernie, buy yourself this as a prize!