Former Sesame Street Writer Says Bert and Ernie Are A Couple; Creator Disagrees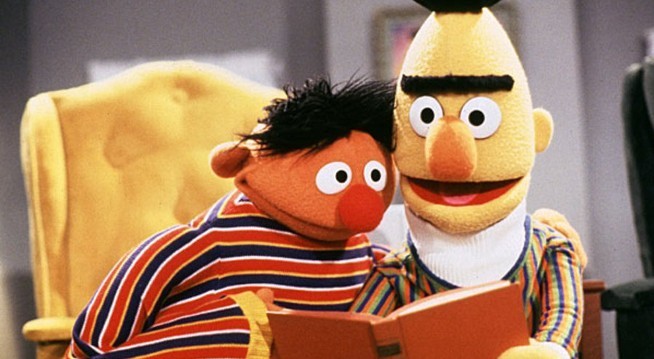 VOTE NOW! Is this Funny or Offensive?
Posted in:
Bert & Aren't They?
September 19th, 2018 – Mark Saltzman can tell you how to get to Sesame Street, and he can also let you know that Bert and Ernie are a gay couple. The former Sesame Street writer reignited the "are they or aren't they" debate this week causing fellow street residents to speak out on the issue.
Saltzman joined the writers' room of Sesame Street in the 80s and became open about his sexual orientation during his time on the show. He was in a relationship with Arnold Glassman, and many people referred to him and "Arnie" as "Bert and Ernie."
During an interview with Queerty, Saltzman was asked if he thought of Bert and Ernie as a gay couple while working on the show.
"I always felt that without a huge agenda, when I was writing Bert & Ernie, they were. I didn't have any other way to contextualize them," he said. "I was already with Arnie when I came to Sesame Street. So I don't think I'd know how else to write them, but as a loving couple. I wrote sketches…Arnie's OCD would create friction with how chaotic I was. And that's the Bert & Ernie dynamic."
Frank Oz, a longtime puppeteer and voice actor on Sesame Street, and Sesame Workshop, the nonprofit educational organization behind the series, stepped into the Twitter debate that quickly ensued. The workshop account originally tweeted the following statement but deleted the post Wednesday afternoon.
Please see our most recent statement regarding Bert and Ernie below. pic.twitter.com/gWTF2k1y83

— Sesame Workshop (@SesameWorkshop) September 18, 2018
Sesame Workshop's first statement is a verbatim response from 2011 following an online petition urging the show to allow Bert and Ernie to get married. While the workshop account hasn't posted any other comments, Oz continues to engage in discussions with people challenging his declaration that Bert and Ernie aren't gay.
After his initial tweet, Oz clarified that by saying Bert and Ernie are not gay, he is not implying that they are straight. He also acknowledged that a lot of the pushback made him realize why people need to see themselves represented in entertainment.
When I wrote "They're not, of course", did you think I was saying something like, "They're straight like everyone else." ? What I was actually saying was "They're not, of course. Jim and I never created them to be gay". Just a misunderstanding. Thanks for for the discussion. https://t.co/148yb3BuUk

— Frank Oz (@TheFrankOzJam) September 19, 2018
But I did learn something from @Logainne. Although it doesn't matter to me if someone is gay or viewed as gay, I learned it does matter to a great many people who feel they are not represented enough. The Tweet discussion was worth it for me to just learn that. https://t.co/148yb3BuUk

— Frank Oz (@TheFrankOzJam) September 19, 2018
I hope Mr Saltzman doesn't feel my comment was directed towards him. My comment was directed towards the question. He sounds like a caring person. He never said B & E were gay. But when others took that leap from his interview I felt I had to question the need for the question. https://t.co/148yb3BuUk

— Frank Oz (@TheFrankOzJam) September 19, 2018
Some people continued to explain to Oz why the question, or reality, about Bert and Ernie's relationship is important while others highlighted the hypocrisy in saying puppets don't have a sexual orientation when we've all had to watch some pretty awkward interactions between Kermit and Miss Piggy.
Replies to the Bert & Ernie thing show a depressing truth: many people, even some who claim to be LGBT "allies," see gay couples as inherently sexualized and therefore inappropriate for kids. Yet they're totally okay with straight couples being depicted in kids' media.

— Kelly Ellis (@justkelly_ok) September 19, 2018
For all of the Bert & Ernie jokes on the timeline, I think this articulates why it's actually frustrating.

When you have no representation, you try and find it where it may not truly exist — you try to see yourself to give yourself hope for another day, a future. https://t.co/OcY4umFqKL — Phillip Picardi (@pfpicardi) September 19, 2018
are you kidding me, you're gonna sit here and tell me Bert and Ernie aren't gay because puppets don't fuck after I had to go through Kermit and Miss Piggy's fucking divorce????????

— angel viago-iglar (@angelnorelation) September 18, 2018
Am I original? (yeaaaah) Am I the only one? (yeaaaahhh) pic.twitter.com/iNP4Vaq9hB

— Naomi Skwarna (@awomanskwarned) September 18, 2018
Where do you fall on the Bert and Ernie sexual orientation debate? Can you still find your own representation in a character even though its creator disagrees with you?