Binghamton University Wants To Stop White People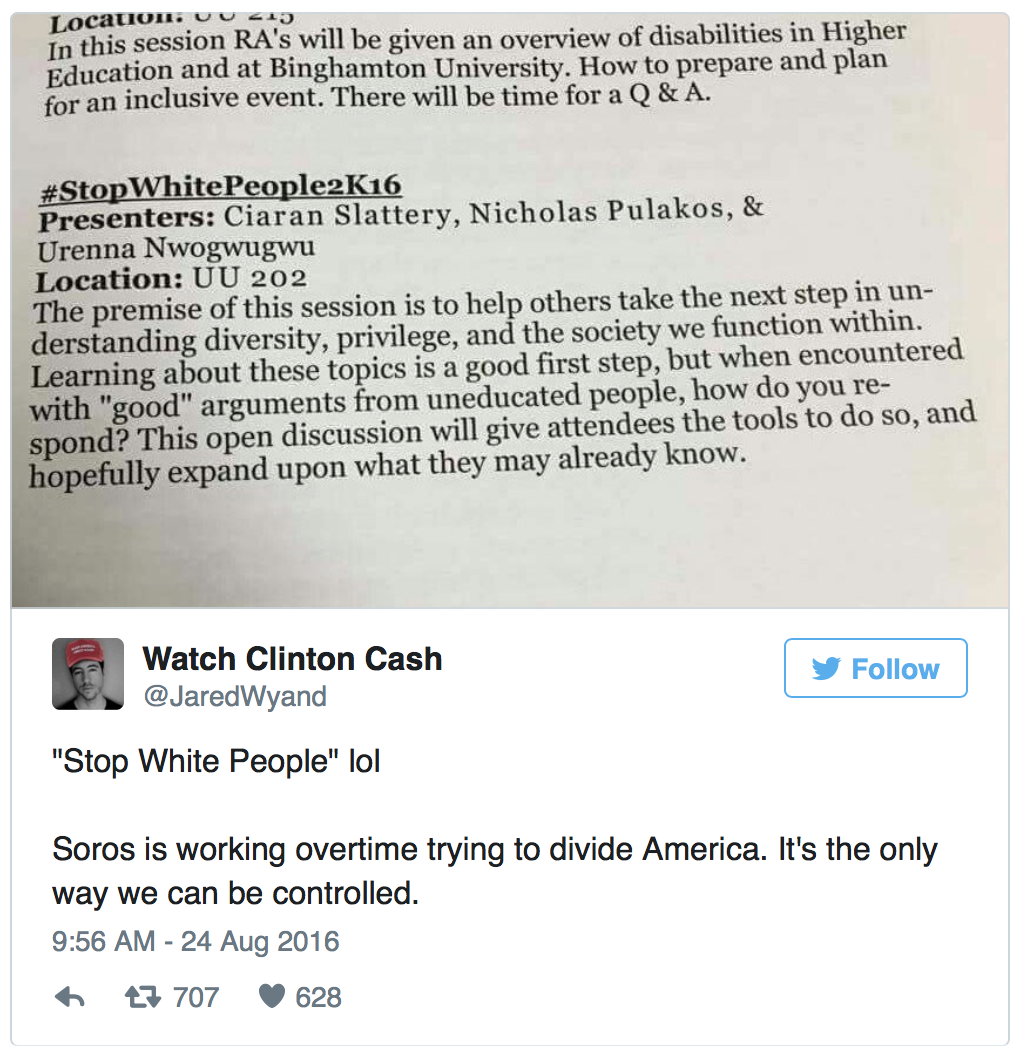 VOTE NOW! Is this Funny or Offensive?
Posted in:
This Is Their (White) Fight Song
August 29th – A college in upstate New York is under fire for a late addition to the school curriculum. The State University of New York at Binghamton is offering a training course for new Residential Assistants living in student housing called
"Stop White People."
 According to school officials, the class was designed to "help others take the next step in understanding diversity, privilege and the society we function within."
The stated goal of the course is to equip RA's with tools to help "uneducated people" who may be living on their own with people different from them for the first time who suddenly find themselves in "racial situations" on campus.
The loud and numerous critics accused course organizers of perpetuating racism, both the original and "reverse" varieties. While some liked the idea and voiced their support on Twitter and Facebook, the outcry lead school administrators to
release a statement
expanding on the nature and purpose of the optional, student-led session. Vice President for Student Affairs, Brian Rose, said in the statement:
"What we hope to do from an administrative level is cultivate an environment where our students listen to one another, learn from one another and do so in a manner that doesn't cause unnecessary harm."
This explanation, though, was not enough for much of the Internet. One online publication, The Daily Caller, cited the school's own staff guide, claiming the "Stop White People" course violates the code of conduct for Residential Assistants and does nothing to create:
"…an environment where interaction between people of different cultural and ethnic backgrounds as well as the sharing of divergent opinions and beliefs are respected and welcomed."
.@benshapiro on Binghamton Univ. training, "#StopWhitePeople2K16": "This is just plain leftist politics under the guise of re-education."

— Megyn Kelly (@megynkelly) August 25, 2016
When you find out universities are offering courses on how to Stop White People & you're like "Where do I sign up?": pic.twitter.com/fVzMj7f2JP — D (@Delo_Taylor) August 24, 2016
I am Hispanic and would be aggravated if "Stop Brown People" was trending…

"Stop White People" is a racist trend. #justsaying — Sierra White (@iSierraNichole) August 24, 2016
Be that as it may, the Student Affairs VP maintains that the "Stop White People" course was in no way "anti-white" and that many students who took part in the course felt the session was productive. Rose concluded that the course was consistent with the school's values and with the "respectful environment we hope to support and sustain."
So, was this a case of white guilt gone wild or reverse racism in effect? Funny or Offensive? Vote and comment below