Parents Say Portland School Bus Ban On Rap Music Is Racist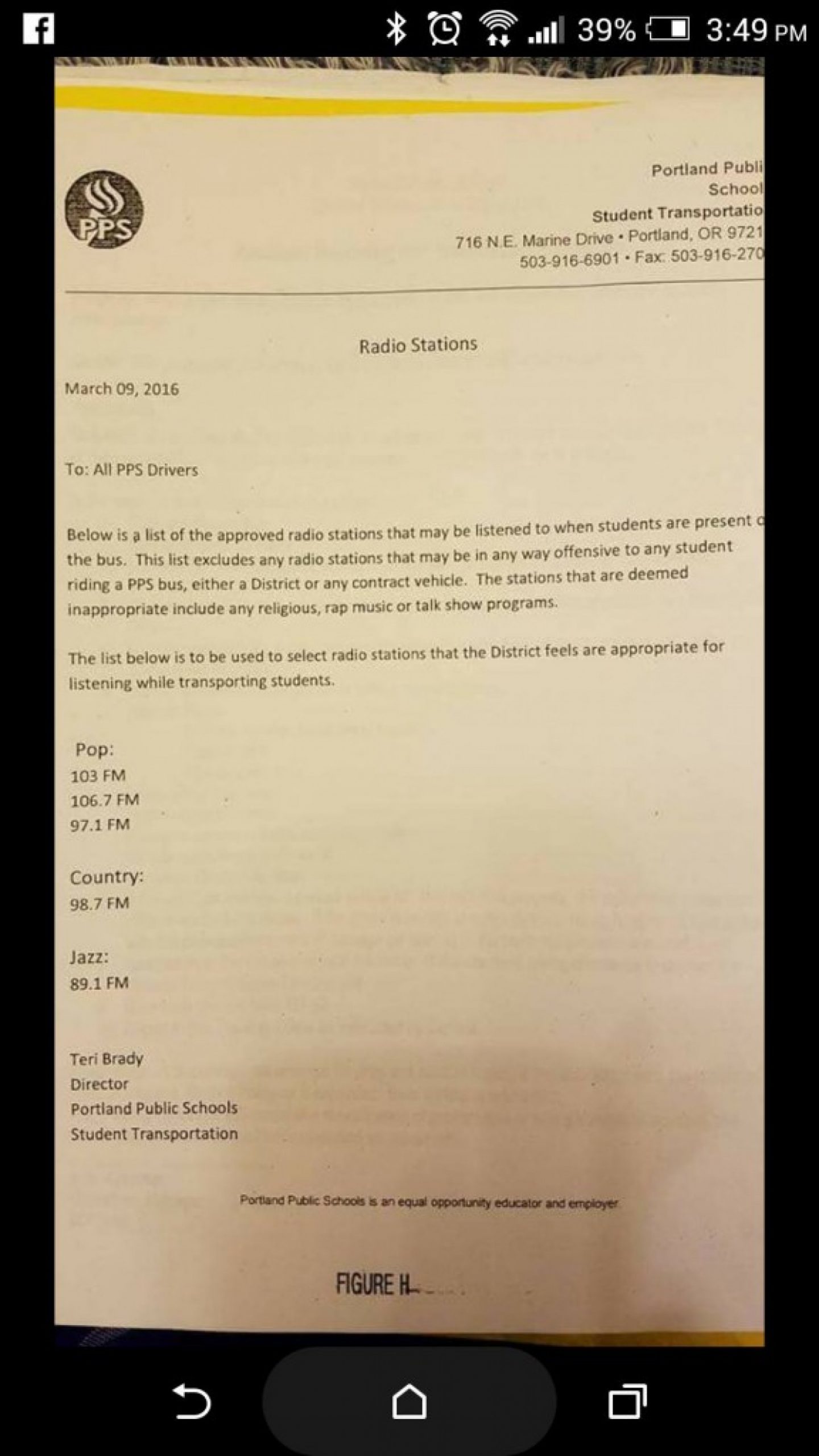 VOTE NOW! Is this Funny or Offensive?
Posted in:
School House Block
August 29th, 2016 – An Oregon school district has found itself in a different kind of rap battle after a memo sent to Portland Public Schools bus drivers in March made its way to parents' hands this summer. The memo, sent by Transportation Director Teri Brady, provided a list of approved local radio stations that drivers were allowed to play. It also included genres that were banned, and that's why parents are saying the directive is racist.
"This list excludes any radio stations that may be in any way offensive to any student riding a PPS bus, either a District or any contract vehicle," the memo stated. "The stations that are deemed inappropriate include any religious, rap music or talk show programs."
The transportation department deemed pop, country and jazz radio stations as the only music students are able to hear during the commute. Many parents, however, see these musical divides as racist and only further exclude major communities. One parent, Colleen Ryan-Onken, told The Oregonian that she was livid when she read the memo.
"When you outlaw a kind of music that is very indicative of the modern culture of one group of people you're basically saying that they're not welcome," she said. "Those of us in the district, living in diverse communities in Portland, understand the racial equity stuff going on is entirely for the cameras. There is no real meat behind it."
The Washington Post reported that the PPS spent millions on equity training for students and staff in an attempt to be culturally responsive and ensure the success of every student. Another parent, Kim Sordyl, sees the sending of that memo as evidence that the training has been "a waste of taxpayer dollars."
Now that the memo has made the rounds, parents continue to voice their objection to the music bans. Sordyl said that allowing country music could be just as offensive citing lyrics about date rape, liquor and drugs, however she understands the decision to prohibit Christian music. "For me, the Christian music thing isn't a problem because there must be a separation of church and state," she said. "It should have been policy a long time ago."
Local Portland news station KGW also brought up students' voices; many of whom were in agreement that the ban crossed a line. They spoke to students Nic Speed and Henok Techest last week outside of Lincoln High School. "That seems really racist and culturist to me," Speed said. "It just doesn't make sense." "I feel like it's not fair," Techest added. "Play the clean version of the hip hop like what the radio does."
More than 55% of students in the PPS district are white, 16% are Hispanic and 10% are African American, and parents in the community worry that labeling music that's popular to a certain race will have negative impacts. "It's telling one group of kids in our city that they're offensive, basically," Colleen Ryan-Oaken said. "That that group of people's music is offensive."
The viral uproar has gotten the attention of the PPS, and last Wednesday they released a statement saying they are in the process of making changes that will show more inclusivity. "We regret the way this was communicated. Our intent is to limit student exposure to religious teachings, profanity and violent lyrics,"  Portland Public Schools spokeswoman Courtney Westling said. "The transportation department will be revising its guidance to bus drivers shortly to be more inclusive of different genres of music."
Do you think the transportation department was right in trying to control the type of music played on school buses or did they show racism in choosing what was approved? Let us know your thoughts in the comment section below.