Black-ish Cancels Episode About "Kneeling Athletes"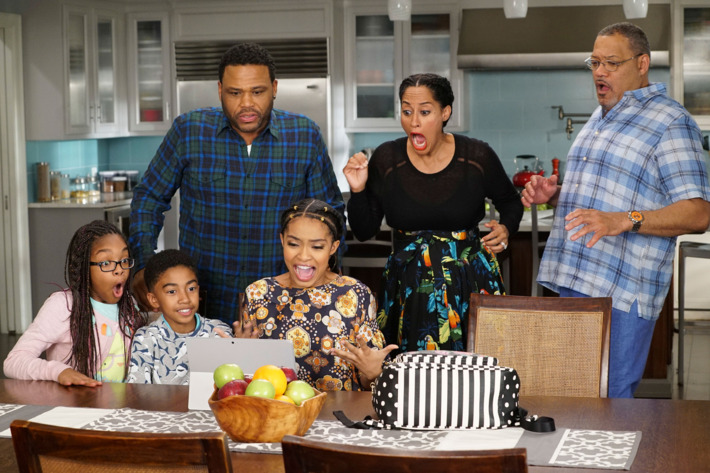 VOTE NOW! Is this Funny or Offensive?
Posted in:
ABC, Showrunner Pulled Episode Of Black-ish Over Creative Differences
April 2, 2018 – Black-ish has aired many politically and socially charged episodes over its four season run, but couldn't get on the same page with the network when it came to tackling the topic of athletes kneeling. ABC and showrunner Kenya Barris decided to shelve an episode that was set to air on February 27th. Earlier in the month, a statement was released saying that instead of "Please, Baby, Please" the show would be airing a rerun.
The statement did not convey any specific details as to why the original episode, which was shot in November, would not be airing but both Barris and a spokesperson for ABC released statements.
"One of the things that has always made 'Black-ish' so special is how it deftly examines delicate social issues in a way that simultaneously entertains and educates," the spokesperson told Variety. "However, on this episode, there were creative differences we were unable to resolve."
Barris, who also co-wrote Girls Trip, gave a similar answer citing creative differences while highlighting the unifying role the show has played in our collective dialogue.
"Given our creative differences, neither ABC nor I were happy with the direction of the episode and mutually agreed not to air it." Barris said. "Black-ish is a show that has spoken to all different types of people and brought them closer as a community and I'm so proud of the series."
From what has been reported by the exclusive given to Variety, the since-shelved episode found Anthony Anderson's Dre taking care of nighttime baby duty during a thunderstorm. While the rest of the family struggles to sleep through the night, Dre improvises a bedtime story, which lays out his concern for the many problems facing our country today, to his infant son.
Bouncing between many political and social issues, the episode lands on a scene between Dre and his son, Junior, where they argue about the rights of athletes who choose to kneel during the singing of the national anthem.
Given the show's track record with facing controversial topics head on, there were plenty of understandably confused fans. Black-ish has walked the entertainment/education line with episodes covering police brutality, the n-word, and the 2016 presidential election to name just a few.
Blackish has covered everything from, "Trump's election, the N-word, postpartum depression, and police brutality," but when the show, DURING BLACK HISTORY MONTH, tried to tackle athletes taking a knee as a form of protest, ABC/Disney SHUT THE EPISODE DOWN. https://t.co/1WJtWHOrML

— LEFT? (@LeftSentThis) March 11, 2018
The season 4 premiere episode of Blackish was about Juneteenth and reparations, and ABC clutching their pearls at tackling national anthem protests? https://t.co/ayOK5kZwdt

— NaijaKingCharles?? (@ChuckAkpan) March 10, 2018
We've gotten Black-ish episodes about the n-word and mass incarceration, but ABC won't air an episode about National Anthem protests because of "creative differences." This is interesting, and by interesting, I mean worrying. https://t.co/kbAQEjRaeO

— Evette Dionne ??‍♀️ (@freeblackgirl) March 11, 2018
Not cool @ABCNetwork This episode should have aired – that is what #blackish @blackishabc @BlackishWriters is all about>> Starting a dialog! Please Air the episode! https://t.co/CtoZwn4Su5

— Brian (@hmblwrldtrvlr) March 11, 2018
ABC does not currently have any plans to air the episode or provide it on another platform. Black-ish has eight remaining episodes left to air for its fourth season.
What do you think of the decision to pull this episode of Black-ish? How can television sitcoms help advance the discussion of difficult conversations?