Exotic Dancers Encourage Voting with 'Booty to the Poll' Video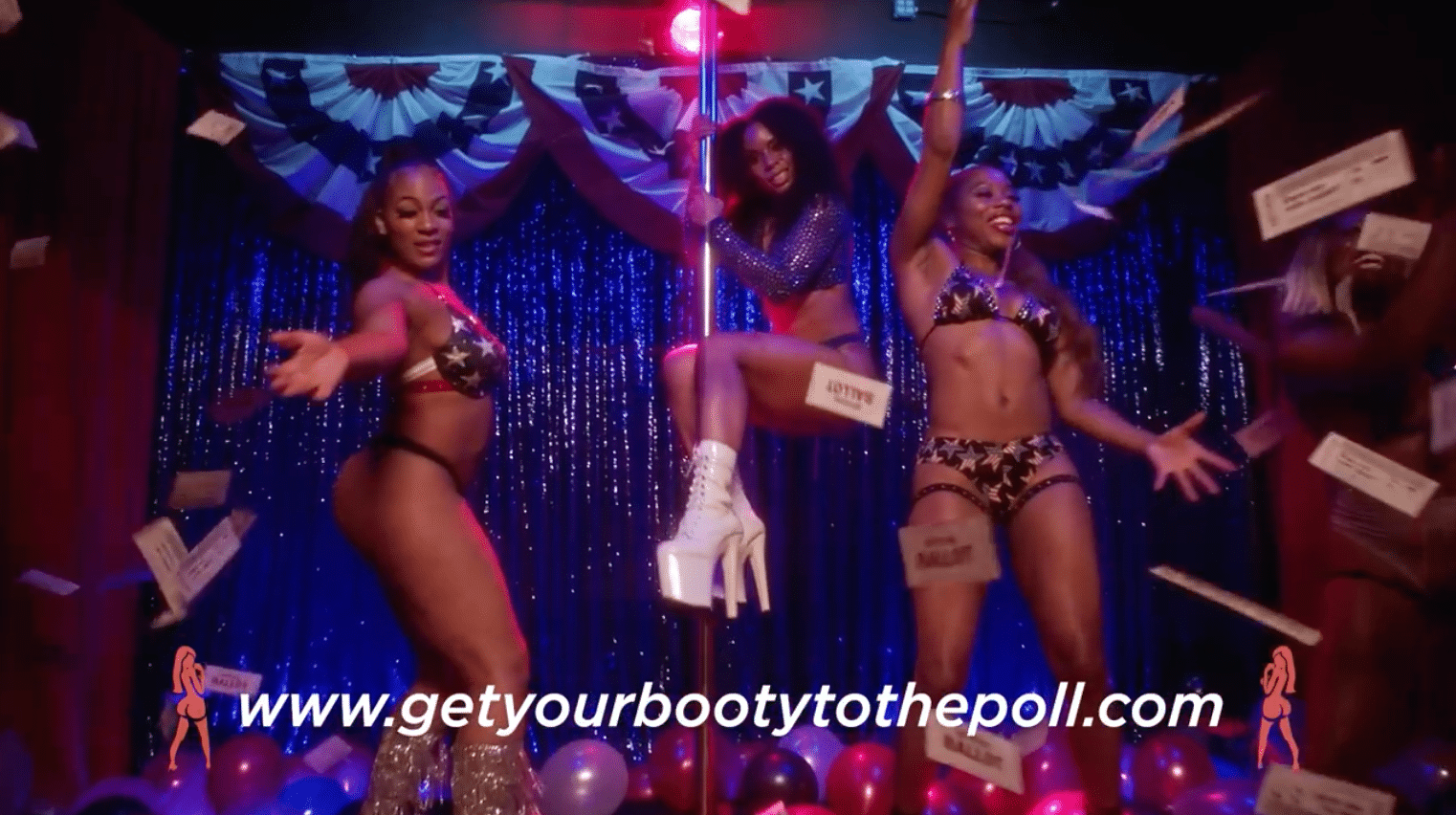 VOTE NOW! Is this Funny or Offensive?
Posted in:
From the Pole to the Polls
September 25th, 2020 – It looks like "Get Out the Vote" campaigns don't only involve dropping Kendall Jenner into the land of political podcasts. Adding their voices to the electoral process is a group of exotic dancers who released a video this week encouraging people to "get your booty to the poll."
The video features dancers from the Atlanta area who show off their work on the pole in order to encourage voters to get to work at the polls in November. While the spot opens with the expected, attention-grabbing moves, the dancers move on to substance (nevertheless, the booty bouncing persisted).
"Want trades and coding taught in our schools? Then vote for the school boards that will prepare us for the job market," one dancer says. "Want to end cash bail? Well then vote for the sheriffs and county officials that feel the same way you do," another adds.
The 90-second ad hits on a lot of points and reminds people that it's not just Trump vs Biden on the ballot. If you get your booty to the poll, you can have a hand in what your community looks like.
"But you talkin' about 'awww, they gonna pick who they pick shawty.' Ferguson just elected their first black mayor, do you know how that happened?" The answer is shown in the form of the word "VOTE" written on the booty of another dancer.
"It's clear Black lives don't matter to some of our current elected officials. If they matter to you then don't let other people decide who is gonna run your community."
The ad came to life through the work and fundraising of Atlanta director, Angela Gomes, and producer Paul Fox. More information about their booty-driving plan can be found at the website "getyourbootytothepoll.com" where people can also discover resources for voter registration, sample ballots, and early voting deadlines.
Reaction to the "Booty to the Poll" video has been split amongst those who believe any "get out the vote" effort is valuable and those who find the booty shaking approach insulting and offensive. The creators wrote on the website that they were specifically targeting the "black male demographic" with the ad.
After being called out on Twitter by Tariq Nasheed, Gomes defended her work and dispelled the notion she was paid by white people to make the video.
Instead of talking about our tangibles, this is what the white Democrats think will appeal to us
🤦🏿‍♂️#smh pic.twitter.com/XjuBKUfSi8

— Tariq Nasheed 🇺🇸 (@tariqnasheed) September 22, 2020
I am the writer/director & I am a BLACK WOMAN. I was NOT paid for this & used MY OWN MONEY & money raised from a GoFundMe to pay for it. Black people, especially Black men are ignored by our govt & I want them to know they need to start paying attention. #getyourbootytothepoll

— Angela Barnes (@AngelaBDirector) September 22, 2020
Let them know sis. There is an audience for this and EVERYBODY has to do their part in their lane…that's what you did and I am here for it and proud of you. We need ALL of us at the polls.

— Camille D. Jamerson, C.E.M© (@CDJamerson) September 24, 2020
Not every Black man feels as you do. This ad WILL get some to the polls. Expand your thinking. All black folks do not think the same.

— TJ Williams (@tjinlv) September 24, 2020
Good work, sis. Forget the haters. This was very clever and well done. I'm proud of you and the ladies featured in the Ad.

— mjohnso27 (@mjohnso27) September 24, 2020
Poles or Polls? Booties or Ballots? Funny or Offensive? Vote and comment now!