Party City Pulls Confederate Costume From Virginia Store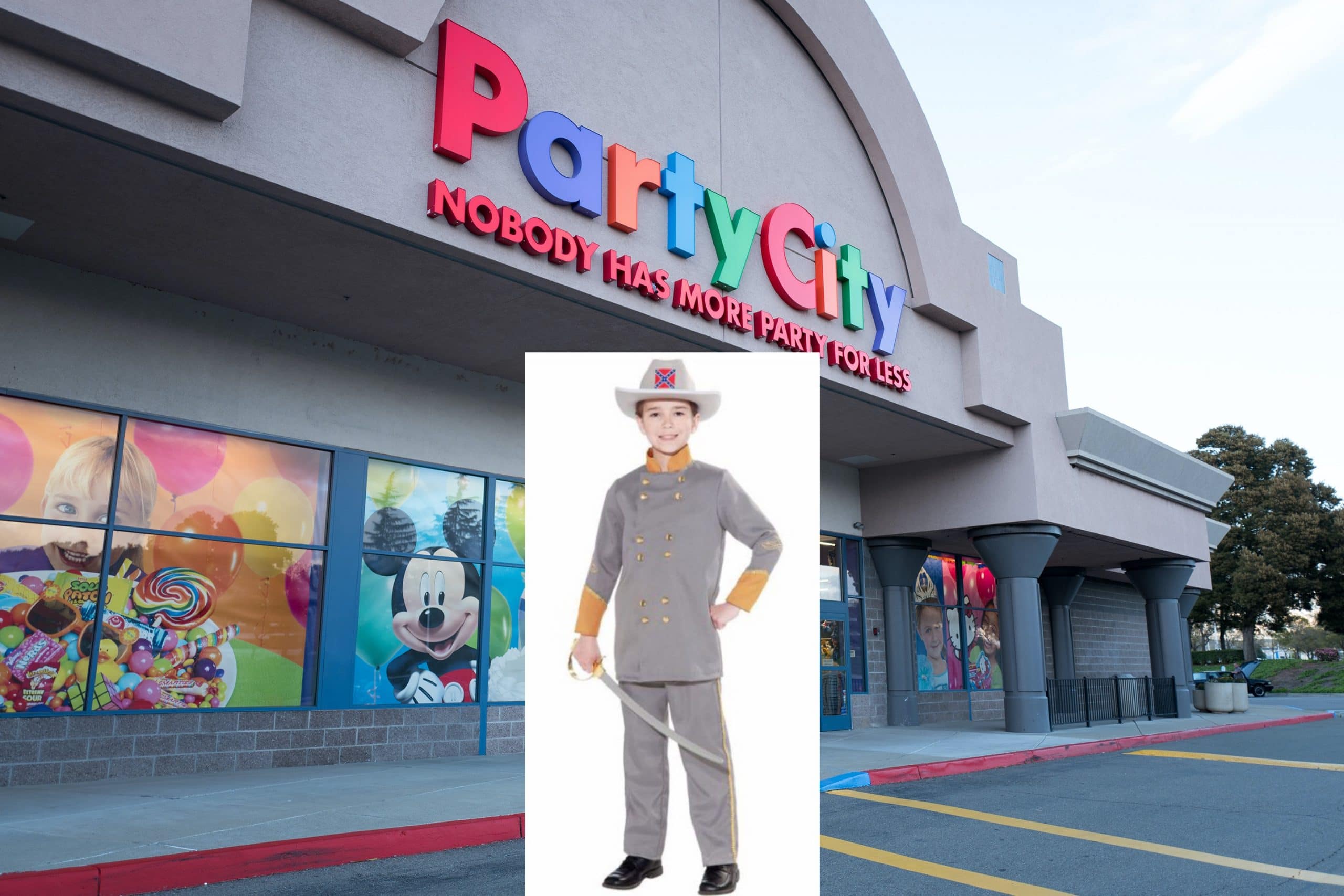 VOTE NOW! Is this Funny or Offensive?
Posted in:
Robert E. Leave
September 28th, 2020 – Party City has ordered stores to remove Confederate solider costumes after one mother called the Halloween gear a "symbol of racism."
Virginia resident Caroline Brasler, who is the mother of two adopted Black children, saw the costumes while out Halloween shopping with her daughters. Brasler posted photos of two Civil War costumes to her Facebook account; one a "Confederate Officer" and the other a "Confederate General Robert E. Lee."
Both Halloween costumes came with a hat showing off the Confederate flag front and center.
"The Confederate flag to me is a symbol of racism," Brasler told WUSA9. "To have that out there for a child to wear on Halloween sends so many horrible messages."
Party City was quick to note that the Confederate costumes were not sold at corporate-owned stores or their online site. The costumes are still being sold on Amazon by other vendors, but the Confederate flag seems to have been removed from the photo.
"We have reached out to our franchisees and other partners to remove it from all retail locations ASAP," Party City wrote in a statement. "We know that as a company, we can and must do better, and we're taking immediate action."
While Brasler's daughters are only 12 and 10, she says they have already experienced racism. After seeing the Confederate costumes available for purchase in her community, she decided that Party City wouldn't be getting her money this Halloween season.
"I'm the adoptive parent of two beautiful African American girls…We discuss race, we respect race. And to see something like that just flies in the face of everything I try to teach them to be proud young women," she said.
Brasler's message gained traction on her personal page and then found its way onto Twitter after a local reporter shared the post.
Party City is selling Confederate costumes in its Bailey's Crossroads, Va store. Is this acceptable in this day and age? @wusa9 pic.twitter.com/6bIemqyvnq

— Bruce Leshan (@BruceLeshan) September 21, 2020
Party City doubled down on the position that none of its costumes are ever sold with the intention to offend.
"At Party City, we do not tolerate racism or hatred of any kind, and we stand together in solidarity with our diverse colleagues, customers, and communities. As the leader in Halloween with more than 60 million customers per year, Party City supplies a broad assortment of costumes, none of which are meant to be offensive in any way."
Costume controversy is nothing new for Halloween season. In 2017, an online retailer removed a child's Anne Frank costume after receiving widespread criticism.
Do you think Party City made the right call in removing the Confederate costume?