Boston Bros Pitch Straight Pride Parade, LGBTQS Inclusion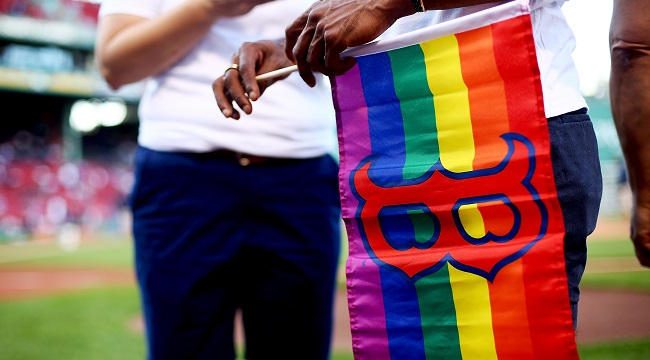 VOTE NOW! Is this Funny or Offensive?
Posted in:
"It's Great To Be Straight"
June 6th, 2019 – Finally, there's a parade for those who unabashedly love Tom Brady. But not, like, in a gay way. Organizers from the group "Super Happy Fun America" have requested a permit from the city of Boston to hold a Straight Pride Parade in August. The Mayor's office has yet to issue the super straight permit.
SHFA claims the event will celebrate the "diverse history, culture, and contributions of the straight community" and hopes it will finally achieve "inclusivity and spread awareness of issues impacting straights in Greater Boston and beyond." The announcement has ruffled a lot of rainbow feathers with June being Pride month for the LGBTQ+ community.
Boston kicked off its week of pride last Friday and participants will march to City Hall Plaza on Saturday, June 8th. In its 49th year, the festival is expected to draw thousands of people.
"Boston Pride produces events and activities to achieve inclusivity, equality, respect, and awareness in Greater Boston and beyond," the Boston Pride mission statement reads. "Fostering diversity, unity, visibility, and dignity, we educate, communicate, and advocate by building and strengthening community connections."
If that language sounds familiar, it's because SHFA seems to have pulled from Boston Pride's website for their own mission statement. They are also requesting the same parade route and flag display that the original Pride festival is granted.
Among the light-hearted and fired up replies to the proposed event, one Twitter user suggested the parade route should clearly be a straight line. And it should obviously end in the Boston harbor.
the straight pride parade in boston should have a completely straight parade route, i thought i'd save them some time by drawing one pic.twitter.com/afbUi8mtnu

— pun the jewels (@failnaut) June 4, 2019
SHFA is run by three right-wing men who have a history of associations with white nationalist groups. Mark Sahady, vice president of Super Happy Fun America, is an organizer for Resist Marxism and has joked on Facebook about throwing liberals out of helicopters.
Joining Sahady in organizing the Straight Pride Parade are John Hugo, Chris Bartley, and Anthony Tamagna who have filled their website with, what some are considering, jokes about the oppression they face as straight men. Bartley is their gay ambassador who "became involved in the straight pride movement after being ostracized from established advocacy groups for merely suggesting that straight people be afforded equal rights."
The bros were motivated to establish the Straight Parade after Mayor Marty Walsh rejected their request to have City Hall raise a straight pride flag. They have filed a discrimination complaint after the government allowed the rainbow flag to be displayed for a week and denied the straight flag being hoisted up for a few hours.

"We're not even asking for equality," Hugo told The New York Times. "We're asking for one-seventh of what they got."

"We will continue to educate the Mayor and the public in anticipation that one day straights will be able to celebrate their lifestyle like everyone else," they go on to say on their website.

"
In addition to the parade route and the straight flag display, the group is also requesting the city add an "S" to LGBTQ. They've created a poster showing a woman in a MAGA headband advocating for the additional letter. And, sure, they've created eight other posters and have a page dedicated to their "mascot" Brad Pitt.
Over on Twitter, rebuke of the Straight Pride Parade came in the form of jokes and education.
Wow! Cool initiative, fellas!! Just a thought, instead of 'Straight Pride' parade, how about this: The 'desperately trying to bury our own gay thoughts by being homophobic because no one taught us how to access our emotions as children' parade? Whatta ya think? Too on the nose?? https://t.co/gaBWtq2PaL

— Chris Evans (@ChrisEvans) June 5, 2019
Straight guys already have a pride parade – it's called NASCAR

— Whitney Cummings (@WhitneyCummings) June 5, 2019
Straight Pride Parade: pic.twitter.com/wMXwGPkyg9

— Jules Suzdaltsev (@jules_su) June 6, 2019
some idiots want a straight pride parade, so me & @kingsleyyy went the fuck off: https://t.co/xWTfrcsjco pic.twitter.com/ULYX4LsIok

— tyler oakley (@tyleroakley) June 5, 2019
For those seeking a Straight Pride Parade: read this pic.twitter.com/7ZvlWl3H1C

— Shawn Olson 🔥🌊🌎 (@OOOlson) June 4, 2019
This isn't the first time a Straight Pride parade has attempted to be organized. Seattle blogger Anthony Rebello hosted one in 2015 where he was the only attendant. And a #HeterosexualPrideDay trended on Twitter in 2016 with a handful of sincere tweets.
Where do you fall on the spectrum when it comes to a Straight Pride Parade? Funny or Offensive? Vote and comment now…