Climate Advocacy Group Wants Trump's Face Carved Onto Melting Iceberg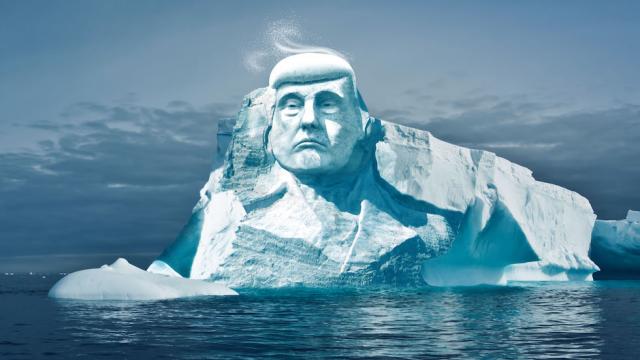 VOTE NOW! Is this Funny or Offensive?
Posted in:
Climate Strange
A climate advocacy group is spearheading a fundraising campaign designed to call attention to the issue of climate change. Melting Ice, a Finland-based NGO, hopes to sculpt the likeness of former reality show performer-turned-politician, Donald Trump, onto the side of an iceberg. Trump has famously expressed his desire to have his face appear on Mt. Rushmore, inspiring the name of the climate campaign: "Project Trumpmore."
A statement issued by Melting Ice revealed the impetus behind their effort:
"Global warming is one of the most important issues and topics of today. There are still people who ponder whether it's a real issue."
The group's plan is to livestream the Trump sculpture as it melts in real time, illustrating the impact of rising global temperatures.
So the group "Project Trumpmore" is raising money to build an ice monument on a glacier to see if it will stay frozen as a replica of Trump's face, or melt as a result of global warming. By the way, this is #notsatire , as I initially thought. pic.twitter.com/IRQduvgYOb

— Katelyn Caralle (@Katelyn_Caralle) May 1, 2018
Pro-environment groups across the United States have expressed grave concerns over the White House's environmental policies as Trump's pick to run the Environmental Protection Agency, Scott Pruitt, has a well documented antipathy towards the agency and its stated policy objectives.
The official position of the current administration suggests that climate issues are not a high priority as evidenced by Trump's preferred platform for discussing matters of state: Twitter.
In the East, it could be the COLDEST New Year's Eve on record. Perhaps we could use a little bit of that good old Global Warming that our Country, but not other countries, was going to pay TRILLIONS OF DOLLARS to protect against. Bundle up!

— Donald J. Trump (@realDonaldTrump) December 29, 2017
Trump is also on record expressing the belief that climate change is a "hoax created by and for the Chinese in order to make U.S. manufacturing noncompetitive." Further, his decision to withdraw the U.S. from the international environmental pledge known as the Paris Accord has been met with widespread disapproval from climate groups, world leaders and U.S. economic & military officials.
The statement from Melting Ice expressed hope that their 115-foot ice sculpture will win a few hearts and minds and prompt a real dialogue:
"We want to build the monument for all of us, so we can see how long the sculpture lasts before melting. Often people only believe something when they see it with their own eyes."
Does Donald Trump need to cool it with the climate talk or are these Finns all hot air? Funny or Offensive? Vote and comment now…