Hitler Valentine's Card Not Feeling the Love on CMU Campus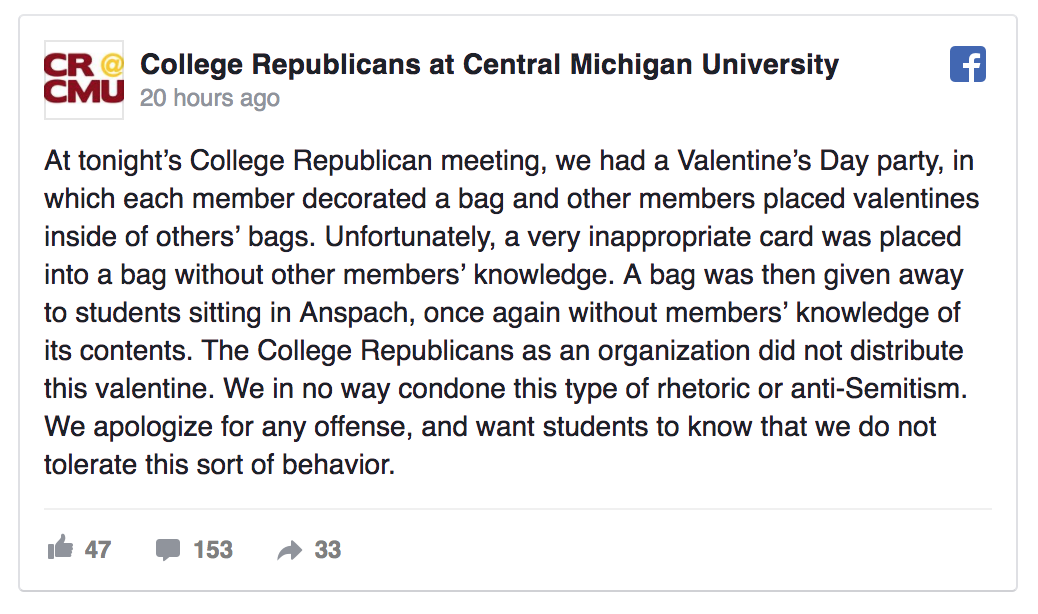 VOTE NOW! Is this Funny or Offensive?
Posted in:
Roses are red, Holocaust puns are…
February 10th, 2017 – Central Michigan University is dealing with widespread reaction to an anti-Semitic Valentine's Day card, which was given away during a College Republicans party Wednesday evening. The group released a statement insisting the love-day greeting wasn't officially distributed by the organization but rather from an individual member as part of a party activity.
The pink card shows a cut-out photo of Hitler with the message "my love 4 u burns like 6,000 jews." Though no name is written after the card's "to" or "from" section, the back side finds the sign-off "XOXO, Courtney."
Bigoted Valentine card causes uproar, anger at CMU student group https://t.co/aKC9tbQVIw pic.twitter.com/8M3wQmQUEy

— The Morning Sun (@MPMorningSun) February 9, 2017
Speaking to the school's newspaper, College Republicans president, Mackenzie Flynn, said members gathered to decorate bags and fill them with valentines for each other. One valentine ended up being the Holocaust-Valentines mashup.
"While still not appropriate, I want to clear up that they did not create it themselves," she said.
Once the non-member discovered the valentine in the gifted bag, she posted a photo online with a direct message to the College Republicans asking for an explanation.
Early Thursday morning, Central Michigan University President George E. Ross gathered various campus offices and organizations (including the Office for Civil Rights and Institutional Equity and the Office of Institutional Diversity) to review the incident and begin a formal investigation.
In a statement posted on the school's site, Ross expressed deep disappointment in what he labeled as "hurtful, offensive language" used on the valentine. He went on to say that while that type of language is protected by the First Amendment, it is unacceptable in his eyes and not consistent with the values and standards the school expects.
"We caution against concluding that the action is representative of the entire student organization or its members and remind all that threatening others as a result of such an incident can have legal consequences.

We once again urge each of our students, faculty and staff to be beacons of peace, respect, inclusivity and civility — to be role models of integrity, dignity and leadership."
Central Michigan Action, a student-led activist group, held an anti-hate speech rally on Thursday. For the Republican group, they haven't made any additional statements online, but comments such as "disgusting," "disgraceful" and "expelled" were being added to their original Facebook post as of Friday morning. The Morning Sun also reported that "many people complained that the College Republican group removed leadership information from social media and deleted Facebook posts that identified board members and possibly the person who may have signed the card."
Do you think the valentine in question was just trying to be punny or was it an obvious use of hate speech? Funny or Offensive? Vote and comment below.