Corporate America's Battle Between Free Speech And Hate Speech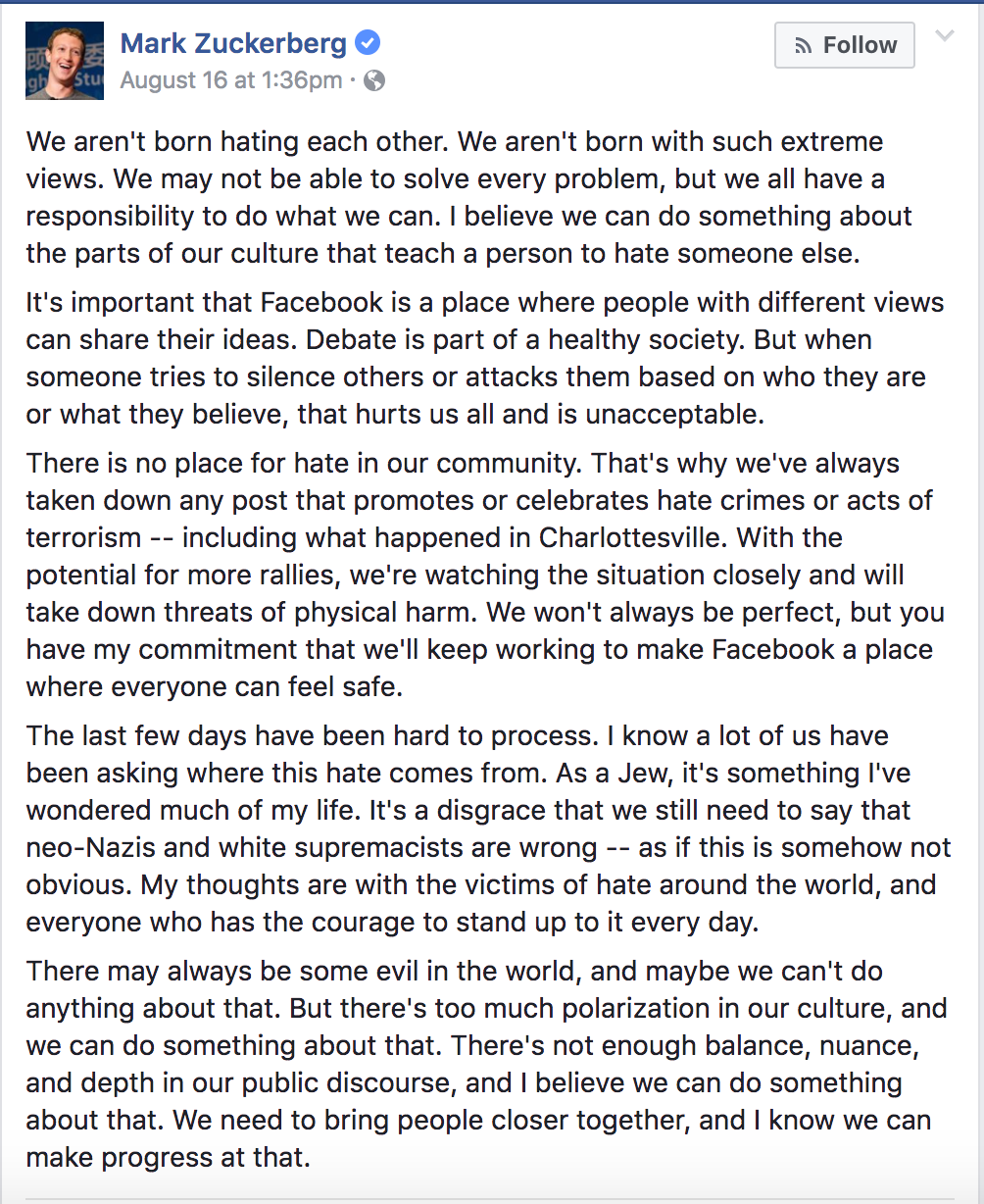 VOTE NOW! Is this Funny or Offensive?
Posted in:
The Growing List of Businesses Shutting Down Hate Groups
August 19th, 2017 – The "Unite The Right" Rally, which left one dead and nearly 20 people injured in Charlottesville, opened many eyes to the very real ideas that guide those on the far right. Those ideas came came through in words and actions, and it's those words that have pushed the debate over free speech into every facet you could possibly imagine.
While the president has taken a "many sides" stance to place blame, corporate America has come out in strong numbers against those who show hatred, bigotry and violence. From dating apps and Internet hosting providers to ride-sharing apps and online payment platforms, businesses have drawn a clear line between free speech and hate speech as it pertains to their terms and services.
GoDaddy, a domain name provider, was an early crusader coming out publicly against hate speech. They had previously hosted the neo-nazi website The Daily Stormer, which had published an article about Heather Heyer (the woman killed by a domestic terrorist in Charlottesville) calling her a "fat, childless slut." When the article was called out on Twitter, they notified the site that they had 24 hours to move to another provider. Stormer briefly went to Google, but they too cancelled their service after deeming their content violated terms and services agreement. And while The Daily Stormer, again briefly, moved on to a Russian provider, it now cannot be found online.
We informed The Daily Stormer that they have 24 hours to move the domain to another provider, as they have violated our terms of service.

— GoDaddy (@GoDaddy) August 14, 2017
Cloudfare, a cloud protection and performance service, also played a hand in taking down The Daily Stormer. They had previously been outspoken about their commitment to free speech saying they would provide service despite the content of a site. Last Wednesday, however, they changed their stance after being associated with racist views.
"Earlier today, Cloudflare terminated the account of the Daily Stormer. We've stopped proxying their traffic and stopped answering DNS requests for their sites. We've taken measures to ensure that they cannot sign up for Cloudflare's services ever again," CEO Matthew Prince wrote.

"Our terms of service reserve the right for us to terminate users of our network at our sole discretion. The tipping point for us making this decision was that the team behind Daily Stormer made the claim that we were secretly supporters of their ideology.

Our team has been thorough and have had thoughtful discussions for years about what the right policy was on censoring. Like a lot of people, we've felt angry at these hateful people for a long time but we have followed the law and remained content neutral as a network. We could not remain neutral after these claims of secret support by Cloudflare."
Facebook and Twitter have had a long struggle with combating hate speech but have both amped up their fight against threatening or hateful messaging by suspending accounts who violate their terms.
Companies like Bumble and Uber have reached out to their clients through email expressing their firm stance against discrimination and hate. They've detailed how they're attempting to combat these things as they may arise while using their services.
Apple Pay and PayPal have both let money speak, as they have banned several websites from using their services. BuzzFeed reported that Apple Pay disabled white supremacist websites selling "sweaters with Nazi logos, T-shirts emblazoned with the phrase 'White Pride,' and a bumper sticker showing a car plowing into stick figure demonstrators."
Many of these companies are being applauded for their decisions but also being reminded that they have been criticized heavily in the past for allowing white supremacists' views and profits to thrive by allowing them to use their services.
Color Of Change, the nation's largest online racial justice organization, worked with PayPal to finally make the break.
"We've been working directly with PayPal for months to cut off a number of hate groups that they allowed for years to generate revenue using their platform," Rashad Robinson, the executive director of Color Of Change, said. 
Other companies that cut off revenue to hate groups include Spotify, Squarespace, WordPress, GoFundMe and Airbnb. One company even cut off the potential for love…or at least a casual hookup. OkCupid banned Chris Cantwell, a white supremacist leader in the "Unite The Right" Rally, when they learned he was using their services.
There is no room for hate in a place where you're looking for love.

— OkCupid (@okcupid) August 17, 2017
If any OkCupid members come across people involved in hate groups, please report it immediately https://t.co/K6PTo8Rtlr

— OkCupid (@okcupid) August 17, 2017
Voices still cry out for First Amendment protection and some view these companies' actions as going too far. Leaders in anti-defamation, though, see reason why companies are feeling confident in standing up against hate speech.
"Charlottesville is a flashpoint," Brittan Heller, the Anti-Defamation League's director of technology and society said. "The reason that companies feel they can take action now, where they were uncertain earlier, is that with this event the connection between hate speech and real-world violence is quite obvious."
Where do you land in the debate between free speech and hate speech? Are these companies doing the right thing by cutting ties with white supremacists?