ESPN Killing Schilling Over Trans Meme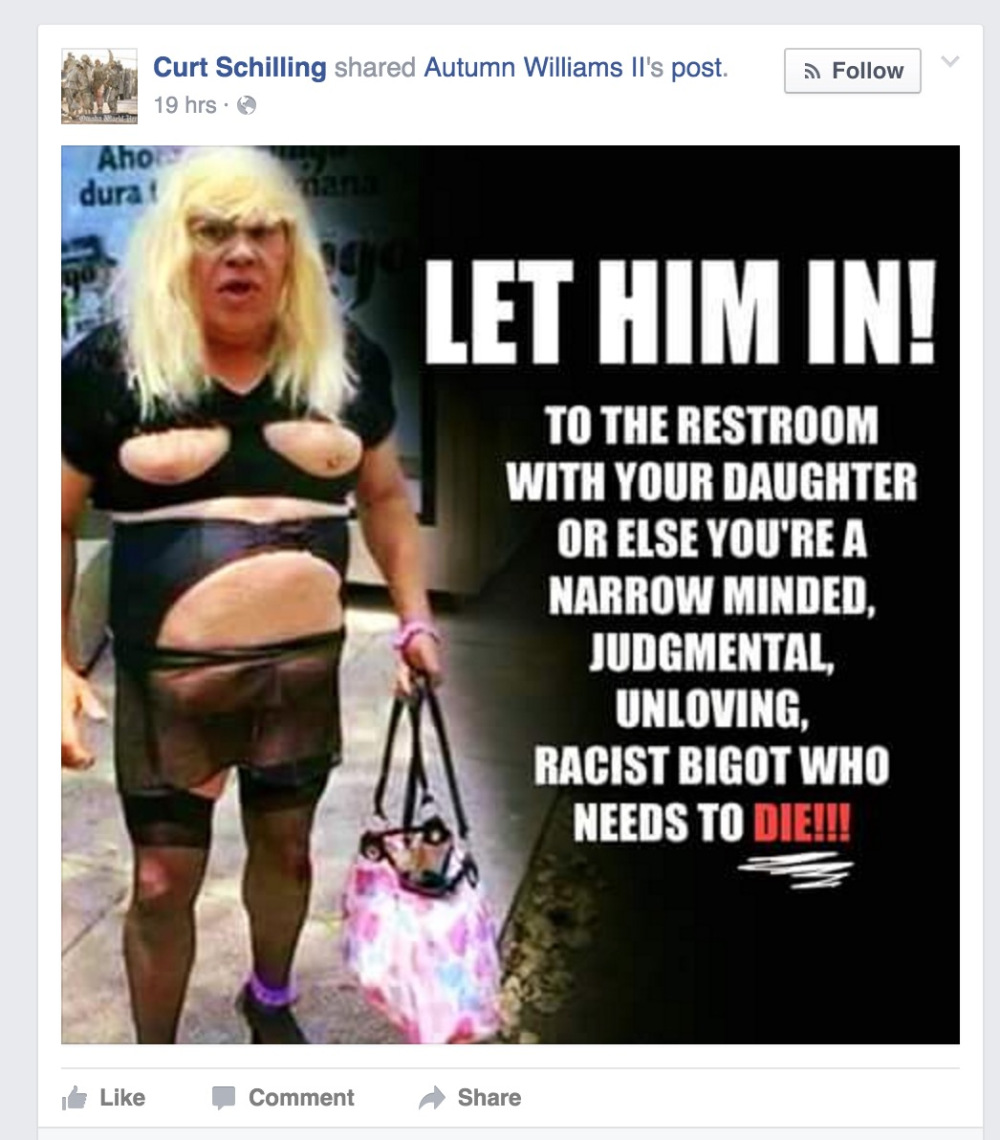 VOTE NOW! Is this Funny or Offensive?
Posted in:
Curt Schilling Axed From ESPN over Transphobic Meme 
April 22, 2016 – Curt Schilling is now able to take a full-time position as a meme generator after being terminated by ESPN on Wednesday. The former MLB pitcher and now former "Monday Night Baseball" analyst found himself in hot water after posting a meme to his Facebook account earlier this week. The meme revealed his stance on the transgender bathroom debate while also showing a man wearing a wig and a strategically cut black dress with the words "LET HIM IN! to the restroom with your daughter or else you're a narrow-minded, judgmental, unloving racist bigot who needs to die."
While the post was deleted and Schilling claims he didn't post it himself but merely replied to it, he did have a few more thoughts on the issue. "A man is a man no matter what they call themselves. I don't care what they are, who they sleep with, men's room was designed for the penis, women's not so much. Now you need laws telling us differently? Pathetic," he said.
ESPN fires #Butthead #CurtSchilling after #transphobic Facebook post on #transgender people https://t.co/4ScvS7jQ0Y pic.twitter.com/sLD0KkxAz4

— Abbi PJ (@AbbiPJ) April 21, 2016
Very few of us get what we deserve.
I would like to congratulate Curt Schilling for getting exactly what he deserves.

— John Lurie (@lurie_john) April 21, 2016
"I have opinions, but they're just that, opinions. And opinions are like buttholes, everyone has one and they usually stink. You know how I know you 'offended' people are full of crap? Because I'm not even close to any of the things you so desperately want me to be, so you can whine."
On a trending hot-button issue was Curt Schilling just being funnily transparent with his opinion or did he show ignorance towards a greater problem? Funny or Offensive? VOTE and COMMENT now…