DiCaprio Takes Private Plane to Accept Environmental Award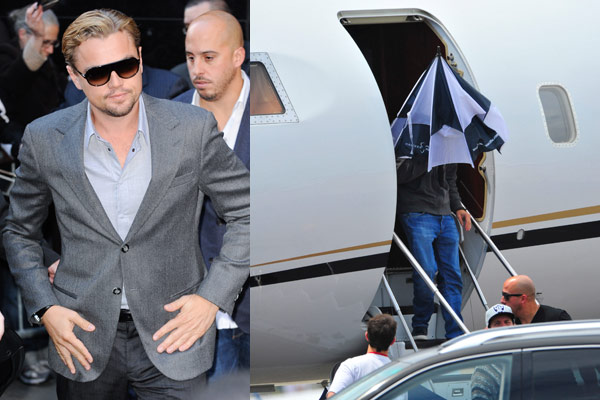 VOTE NOW! Is this Funny or Offensive?
Posted in:
Leo-ving on a Jet Plane
May 23, 2016 – New Academy Award winner and seasoned environmental activist Leonardo DiCaprio got a lot of flack after taking a private jet from France to New York to receive an environmental award.
DiCaprio spent last week at the Cannes Film Festival as well as in New York, and then right back over to the Cannes Film Festival. On Wednesday he was presented, alongside Ralph Lauren, with a "Big Fish" award from Riverkeeper for his activism in the clean water initiative.
"
We know that ignorance, greed and political malfeasance
stand in the way of our simple vision of achieving the basic right of access to clean water for every living being on our shared planet," DiCaprio said at the Riverkeeper's Fishermen's Ball. "The work of the Riverkeeper is critical to creating and protecting a healthier future for millions of people."
"Everybody says, 'I've got a good reason for consuming what I consume.'"
But when DiCaprio was seen back in France 24 hours later partying in the arms of models and giving a speech at the amfAR gala at Cannes, many were quick to point out his hypocrisy. Environmental analyst Robert Rapier has come out boldly saying the actor's lifestyle diminishes his authority to lecture other people.
"He demonstrates exactly why our consumption of fossil fuels continues to grow. It's because everyone loves the combination of cost and convenience they offer. Alternatives usually require sacrifice of one form or another." Rapier said. "Everybody says, 'I've got a good reason for consuming what I consume.' It's the exact same rationalization for billions of people."
Page Six
reports that a source close to DiCaprio said
the actor didn't charter those flights
. He instead was just getting a ride with someone already planning to fly back and forth; it was the only way he could make it to both events.
DiCaprio has given a lot of attention and money to environmental charities over the years, even becoming known for capitalizing on acceptance speech time to highlight the dangers of climate change. "Climate change is real. It is happening right now. It is the most urgent threat facing our entire species," he said at this year's Oscars. His foundation also pledged $15 million to environmental causes at this year's World Economic Forum. But despite his public push for environmental awareness, many are slamming him for not practicing what he preaches.
Many actors walk a thin line of living a life of luxury and advocating for those in need. Do you think Leo is walking the line with authenticity or hypocrisy? Was his use of a private jet to receive and environmental award Funny or Offensive? VOTE and COMMENT below.