Disney Maui Halloween Costume Pulled After Racial Backlash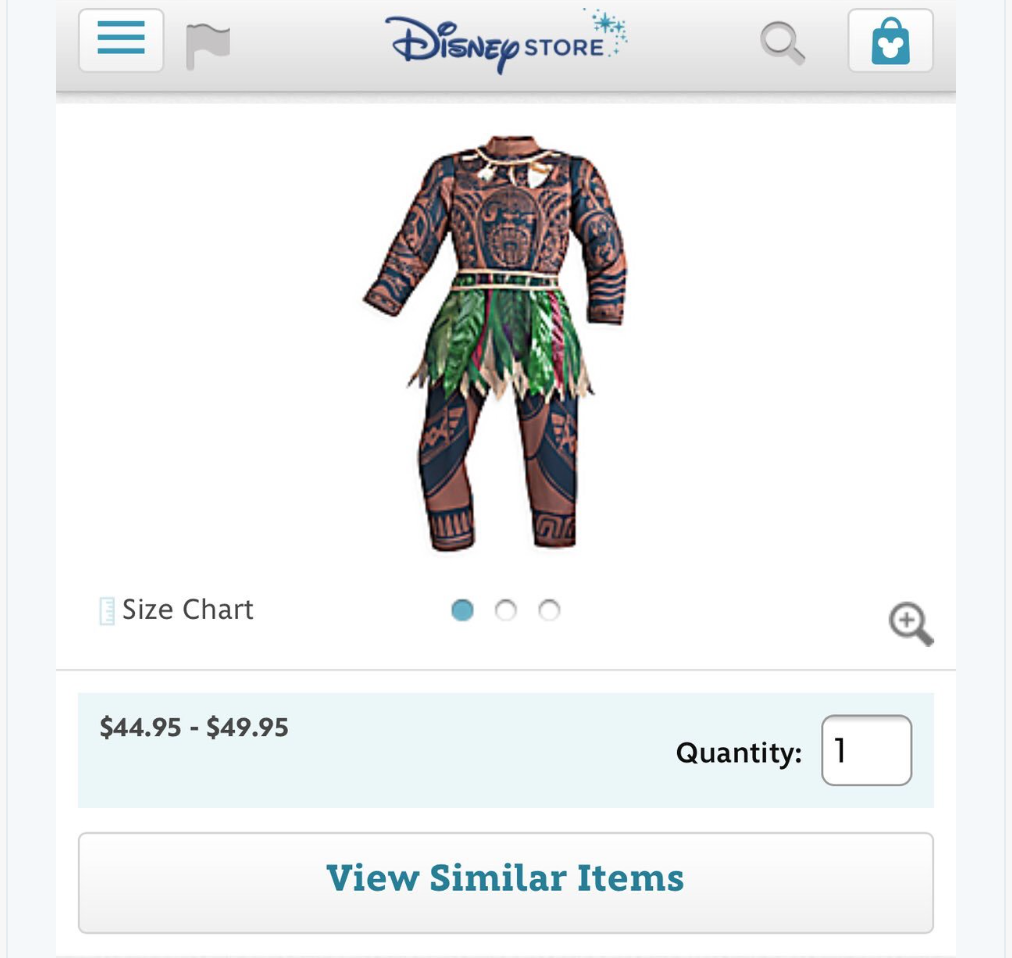 VOTE NOW! Is this Funny or Offensive?
Posted in:
Controversy Killed the Disney Star
September 26th, 2016 – It's quite possible that kids have had Halloween candy sugar highs that lasted longer than Disney's Maui costume did on the retail shelf. Just under a week after the company released a boy's costume fashioned after a character in the upcoming film Moana, it pulled the getup after receiving heavy online criticism.
The costume would have allowed kids to pretend to be Maui, (played by Dwayne "The Rock" Johnson) a revered figure in Polynesian traditions and seen by certain Pacific Islanders as an ancestor. The costume is a brown body suit covered in what many perceive to be sacred tattoos as well as including a fake shark-tooth necklace and green-leaf skirt. Critics likened the skin color to promoting "brownface" and felt like the suit appropriates the culture of the Pacific Islands.
Tevita Kaili, a professor of cultural anthropology at Brigham Young University-Hawaii, said the costume featured tattoos that would be used in Polynesia by chiefs, adults and those committed to the community. He told the Associated Press that they have been removed from their cultural context once placed on a Halloween costume.
Disney released a statement saying they made the decision to pull the costume and assured the public that they will see a respectful portrayal of the characters when they go to see the movie in November.
"The team behind Moana has taken great care to respect the cultures of the Pacific Islands that inspired the film, and we regret that the Maui costume has offended some," the company said in a statement. "We sincerely apologize and are pulling the costume from our website and stores." 
Many were happy that the entertainment company made the decision to pull the costume, (as well as boys' pajamas also considered by some to simply be "brown skin body suits") but some still expressed concern that this was marketed in the first place. Others, however, saw no problem with the Halloween costume and sent their support to Disney.
https://twitter.com/islandirie/status/778722303043448832
My daughter's culture is not a costume. I feel stupid for ever expecting @Disney to get it right. #NoHope #Moana https://t.co/fema9cj8gL

— Michelle Blau (@MichelleEBlau) September 21, 2016
Disney pulling that Maui costume is stupid, it's a costume and that's literally how he looks in the movie.

— b ❥ (@buhhrooklahn) September 25, 2016
@Disney, As a Pacific Islander, I'm not offended by the #Moana #Maui costume at all. I appreciate other people appreciating my culture.

— Konami Ai -Eternally Tired- (@Konami_Ai) September 20, 2016