Donald Trump Calls Out Dishonest Media Over Star of David Tweet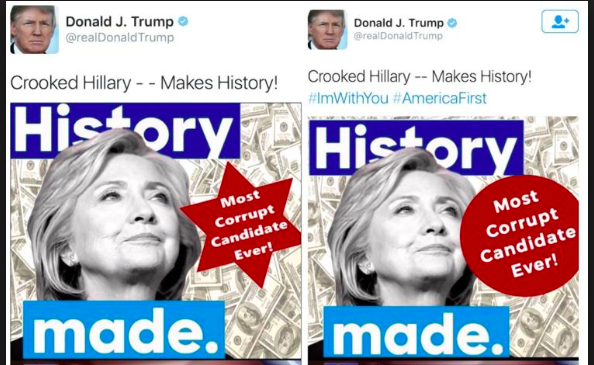 VOTE NOW! Is this Funny or Offensive?
Posted in:
Star Tweet FROZEN In Time
July 7th, 2016 – Presumptive Republican presidential nominee and cable news fixture Donald Trump is keeping his "Crooked Hillary/Star of David" tweet in the news by calling out the "dishonest" media's silence when Frozen also appeared to use the image on the packaging of a child's sticker book.
Where is the outrage for this Disney book? Is this the 'Star of David' also?
Dishonest media! #Frozen pic.twitter.com/4LJBpSm8xa

— Donald J. Trump (@realDonaldTrump) July 7, 2016
"These false attacks by Hillary Clinton trying to link the Star of David with a basic star, often used by sheriffs who deal with criminals and criminal behavior, showing an inscription that says 'Crooked Hillary is the most corrupt candidate ever' with anti-Semitism is ridiculous."
The campaign neglected to release the source of the image; nor was the party responsible for creating the image identified. The Trump campaign suggested the image was common to commercially available computer software and was an attack on Clinton's perceived criminality. The statement asserted use of the six-pointed star was an allusion to law enforcement and not a coded anti-Semitic message.
Seems something changed? That's ok, we welcome the hidden hand exposing itself.#MakeAmericaGreatAgain#AmericaFirst pic.twitter.com/BqTfHQIPnV — David Duke (@DrDavidDuke) July 3, 2016