Mischa Barton Apologizes For "Out of Context" Instagram Post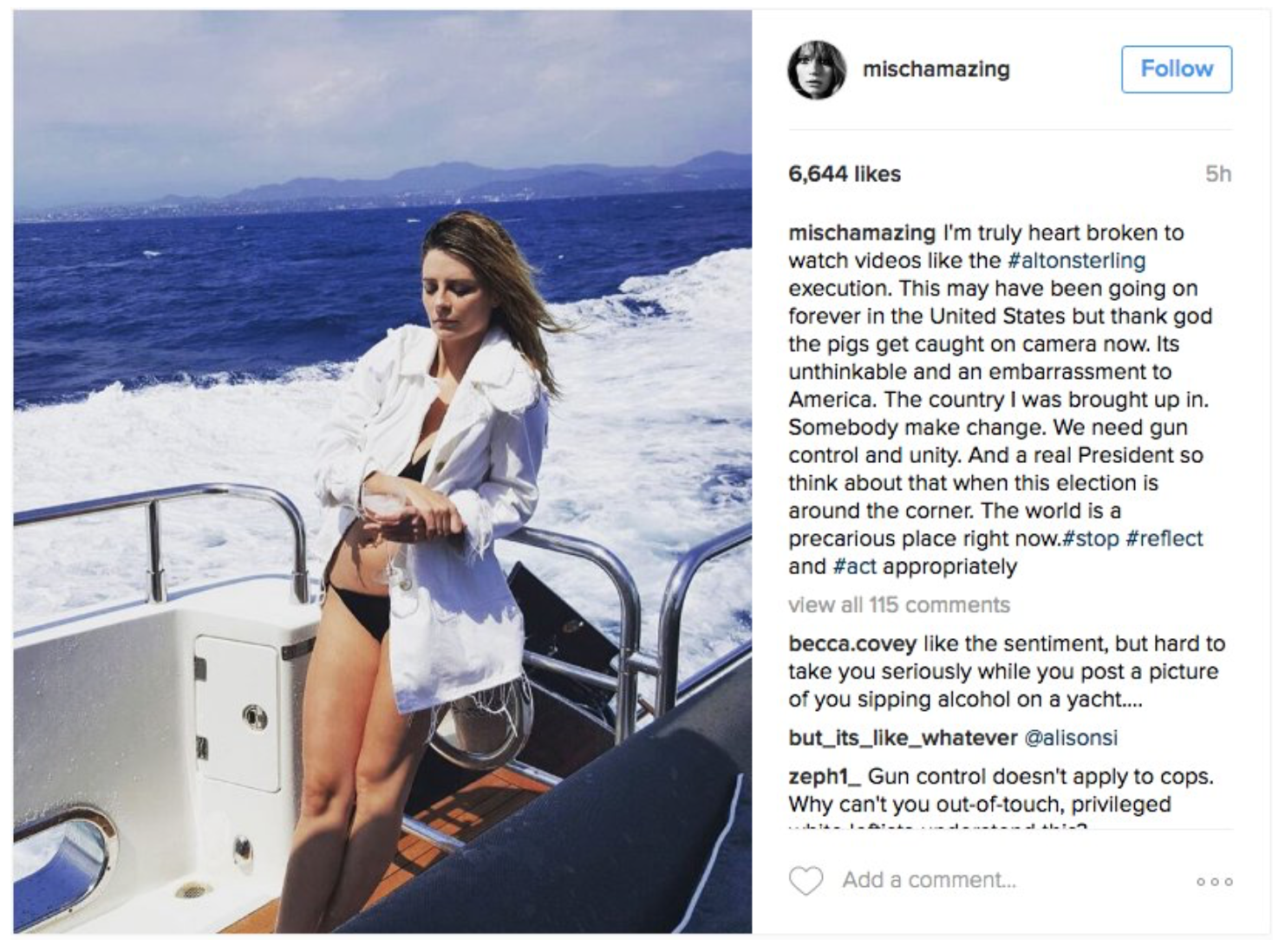 VOTE NOW! Is this Funny or Offensive?
Posted in:
#AllYachtsMatter
July 8th, 2016 – Amongst the politicians and pundits discussing the fatal shootings of Alton Sterling and Philando Castile was actress Mischa Barton. The former O.C. star's comments didn't fall on deaf ears and were also labeled as being pretty painfully tone deaf.
The now deleted Instagram post showed a caption saying "I'm truly heartbroken to watch videos like the #AltonSterling execution. This may have been going on forever in the United States but thank god the pigs get caught on camera now. Its unthinkable and an embarrassment to America. The country I was brought up in. Somebody make change. We need gun control and unity. And a real President so think about that when this election is around the corner. The world is a precarious place right now.#stop #reflect and #act appropriately."
Had this simply been a tweet, she may have only had English teachers chastising her about grammar. However, since this thought was sent out on Instagram there was, of course, a photo attached. This is where many people began to call her out on the insensitivity of the photo and pointed out the struggle to take her seriously with such disparity highlighted with the picture and words side by side.
According to The Guardian, 24 people have been killed by police in the U.S. currently in the month of July. Sterling and Castile, both black men who lost their lives after being shot on camera, have only further ignited cries for racial justice and the end of police brutality. Thursday evening brought even more tragedy when five Dallas police officers were killed during a peaceful protest rally. Public figures from all mediums have expressed their thoughts and ideas surrounding the distressing incidents. Beyonce wrote an open letter saying "The war on people of color and all minorities needs to be over." Drake also issued a letter where he said "No one begins their life as a hashtag. Yet the trend of being reduced to one continues."
Barton's thoughts weren't labeled as an open letter so much as they were just floating around on the open sea. She was quickly criticized and became the target of much sarcasm.
I know #BlackLivesMatter because "Mischa Barton" just send us a message
on a yacht
in a bikini
with strong Wi-Fi
safe from harm
yay..

— Cornelius Moore (@CMooreHere) July 7, 2016
Nothing screams "end police brutality" like sad face Mischa Barton… in bikini…on a boat…drinking glass of wine https://t.co/2e3QfxLNmM

— Saul Hubbard (@SaulAHubbard) July 7, 2016
Barton has retweeted an article from Entertainment Weekly about her apology over the controversial tweet. She has also made several other posts explaining herself and continues to vocalize her opinions about all of humanity.
I'm human I'm not perfect and I'm sorry if my Instagram post went out of context I didn't mean to offend anyone

— Mischa Barton (@MischaBarton) July 8, 2016
My heart goes out to the families of the innocent police officers who were shot in the line of duty. ? #PrayForDallas

— Mischa Barton (@MischaBarton) July 8, 2016
Humanity is slipping through our fingers. Pray for the victims. Pray for our country. Pray for the world. #PrayForDallas

— Mischa Barton (@MischaBarton) July 8, 2016
Despite her follow-up posts, Twitter was still able to cleverly call out the actress by starting #allyachtsmatter.
Do you see more of Mischa Barton's big heart or her big yacht – was her Instagram post Funny or Offensive? Vote and comment below.