Donald Trump Kicks Baby and Mother Out Of Rally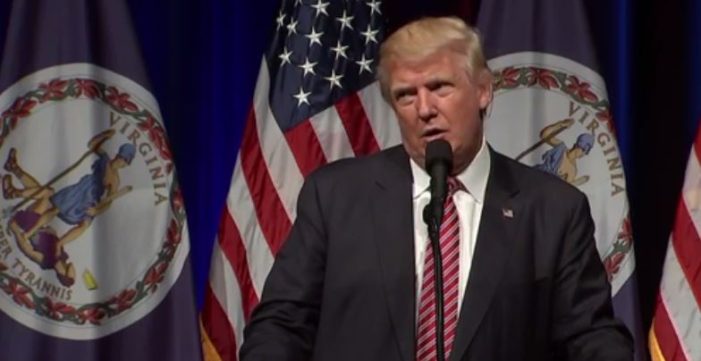 VOTE NOW! Is this Funny or Offensive?
Posted in:
The Children Are Our Fut…Never Mind
August 3rd, 2016 – It's been said that babies grow up too fast, but a certain baby couldn't grow up fast enough for Donald Trump at a rally in Virginia. Earlier yesterday, the Republican presidential nominee was interrupted not by another gold star family but by a crying baby while he was discussing China and trade policies.
When the wailing tot first garnered Trump's attention, the candidate initially seemed to not mind the noise and even tried to squash any concerns the mother may be having. "Don't worry about that baby. I love babies," he said. "I love babies. I hear that baby crying; I like it. What a baby. What a beautiful baby." The video doesn't show the mom's reaction, but as Trump went on, it seems she may have appeared worried that the situation might escalate. "Don't worry about it, you know," he said after mimicking the mom's movements. "It's young and beautiful and healthy, and that's what we want."
Trump re-focused the talk back to China. He began to expand upon China devaluing their currency and the ill-chosen times at which they do so. As he's beginning to explain how the U.S. can fight back, the baby starts fighting back, as well. It's been less than a minute from the first outcry, and this time Trump has a different perspective. "Actually I was only kidding. You can get the baby out of here," he said to laughs from the crowd. He gives a few waves of the hand and then continues. "That's alright. Don't worry. I, I think she really believed me that I love having a baby crying while I'm speaking. That's OK. People don't understand. That's OK."
People were quick to respond though. From jokes about the candidate and uproar from women to defense that the mother and child weren't really asked to leave, Trump drew plenty of the expected attention.
Donald Trump ejecting a crying baby from a rally is the one redeeming quality he's had this whole election tbh

— you're[still]single (@itsthatobvious) August 3, 2016
Donald Trump told a mother and her baby to leave his rally because the baby was crying…he is absolutely disgusting. #nevertrump — Em (@emnercessiannn) August 3, 2016
Things Donald Trump has fought with this week: 1. Military families 2. His own party 3. A cable news network 3. A baby It's only Wednesday. — Marcus Gilmer (@marcusgilmer) August 3, 2016

Politico reported that NBC News reporter Katy Tur announced in a televised interview that the baby was actually allowed to stay at the rally. Democratic Vice Presidential nominee Tim Kaine still took a jab at the incident while speaking in Florida about pre-K education. "I saw that Donald Trump kicked a crying baby out of an event earlier today," he said to the crowd. "So as I'm thinking about pre-K, sometimes you wonder who the baby is, right? You wonder who the baby is."
Were Donald Trump's comments just a playful moment or a reflection of poor characteristics? You make the call. Watch the video below and vote Funny or Offensive.