USA Olympic Outfits Criticized For Resemblance to Russian Flag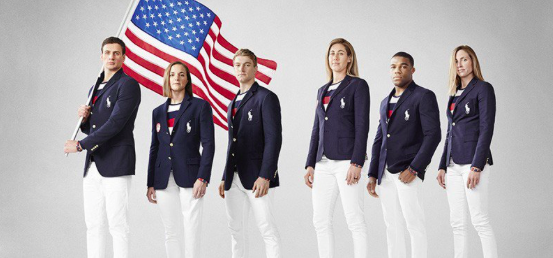 VOTE NOW! Is this Funny or Offensive?
Posted in:
USSRUFKM?
August 2, 2016 – As American athletes begin to arrive in Rio for the 2016 Summer Games, their Olympic outfits have already failed to place for some critics. Designed by iconic fashion pioneer, Ralph Lauren, the official team
uniforms are being criticized
for bearing an uncanny resemblance to the
Russian national flag
. Members of the US Olympic team will wear the outfits during the elaborate Opening Ceremonies later this month.
The Navy sport coats included in the ensemble cover part of the striped shirts the athletes will wear which draw attention to the white, blue and red of the
Russian national symbol
. Reaction to the outfit was mixed with some users on Twitter merely noticing the obvious similarities while others approved of the design, including a
self-illuminating label
reading: "USA" on the back for the team flag bearer. Some had stronger feelings about the uniforms and took to social media to voice their displeasure. One woman posted:
"The USA 2016 Olympic Team ceremony uniforms are embarrassing. The Polo logo… gaudy light up "USA".. the Russian flag looking undershirt.."
Another Russian hacking job? Team USA opening-ceremony shirt looks like Russian flag. pic.twitter.com/Gnw1hjBsBP

— Paul Lukas (@UniWatch) July 29, 2016
Fans of amateur sport can purchase the patriotic get up for around fifteen hundred (dollars not rubles) from the Ralph Lauren website. This isn't the first tailoring tragedy by the Polo pony-loving clothing maker. The designer's 2012 Olympic uniforms were roundly condemned for being manufactured in China causing long-serving Congressman, Harry Reid to call for them to be burned en masse.
With the Russian government standing accused of hacking emails belonging to the Democratic National Committee and, soon after, with the Republican nominee publicly inviting the Russian government to hack the emails of his political rival, Hillary Clinton, this brilliant blunder comes at an interesting time in American sport & politics.
As the competition is set to begin in Brazil, there will not likely be any major changes to the uniforms. It remains to be seen what the fashion detente will do for US-Russian relations.
Is the resemblance of the Team USA Olympic uniforms to the Russian flag Funny or Offensive? Vote & Comment below.