Dove In Hot Water Over Racially Insensitive Ad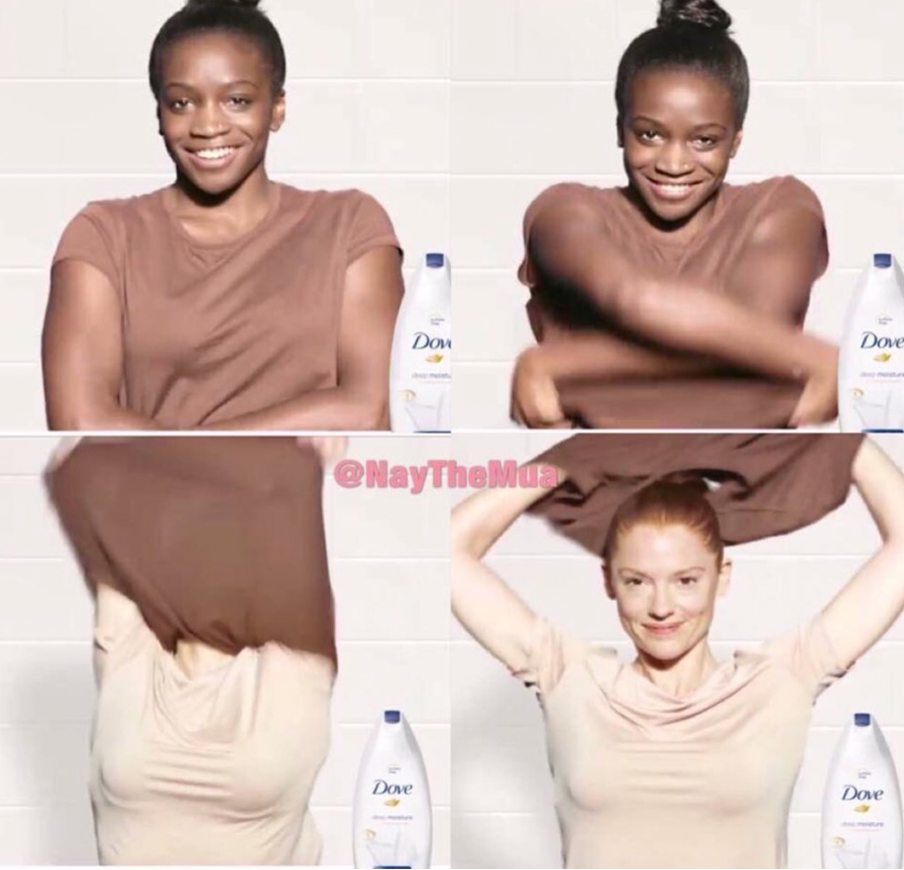 VOTE NOW! Is this Funny or Offensive?
Posted in:
Dove On Defense
October 10th, 2017 – Soap brand Dove, owned by parent company Unilever, got into hot water this past weekend for releasing an ad on their Facebook page where a black woman appears to be transforming into a white woman by using Dove Bodywash. The photo ad of 4 panels shows the black woman in the top two photos removing a tee shirt revealing the white woman in the 2 panels beneath.
The ad has been deleted but not before it left an impression on consumers who let their feelings be known on social media. Dove apologized on Twitter and then turned their apologies to Facebook.
EXPLAIN YOUR REASONING? WE'LL WAIT pic.twitter.com/mgemiu3679

— WHITNEY (@WWWHIIITNEYYY) October 8, 2017
"Dove is committed to representing the beauty of diversity. In an image we posted this week, we missed the mark in thoughtfully representing women of color and we deeply regret the offense that it has caused. The feedback that has been shared is important to us and we'll use it to guide us in the future."
And then they re-apologized via Facebook:
"As a part of a campaign for Dove body wash, a 3-second video clip was posted to the US Facebook page which featured three women of different ethnicities, each removing a t-shirt to reveal the next woman. The short video was intended to convey that Dove body wash is for every woman and be a celebration of diversity, but we got it wrong. It did not represent the diversity of real beauty which is something Dove is passionate about and is core to our beliefs, and it should not have happened. We have removed the post and have not published any other related content. This should not have happened and we are re-evaluating our internal processes for creating and approving content to prevent us making this type of mistake in the future. We apologize deeply and sincerely for the offense that it has caused and do not condone any activity or imagery that insults any audience."
Some compared the ad to early advertising that purposely stereotyped and disparaged African Americans and others even called for a boycott of Dove.
The historical context of @Dove @Unilever adverts over a century #DoveAd #doveisracist #Dove pic.twitter.com/IUdtFYGpTq

— #THATBRANDGUY (@danielkthebe) October 8, 2017
Here's some soap companies for sensitive skin owned by POC. Don't support huge cooperate businesses that are racist! #dove #DoveAd #DoveSoap pic.twitter.com/PzV3Uj8e0D

— vodka ? (@bloodhoneys) October 8, 2017
This is not the first time Dove has been criticized for their advertisements. An ad for Bodywash in 2011, showed a photo of three women in skin tone ranges from black to white and the words "Before and After."
How dare you!?!? @Dove_ZA So my melanin is not good enough?!? #Boycottdove pic.twitter.com/8Toh4fhJy0

— Aunty ka Duduzane? (@Zee_Pudding) October 8, 2017
And a photo of a bottle of Dove Lotion indicating it was for "Normal to Dark skin" from 2012 began re-cicrulating on Twitter.
Missed the mark before and again… I know you will keep missing. Weak apology @dove soap banned in my house. pic.twitter.com/LixxEFXBXe

— keepitreal (@mrstazozo) October 8, 2017
In a statement to Reuters in Business Week, Dove said it is "re-evaluating our internal processes for creating and approving content." What are your thoughts on Dove's advertisement?