H&M Under Fire For Using Black Child Wearing "Coolest Monkey" Hoodie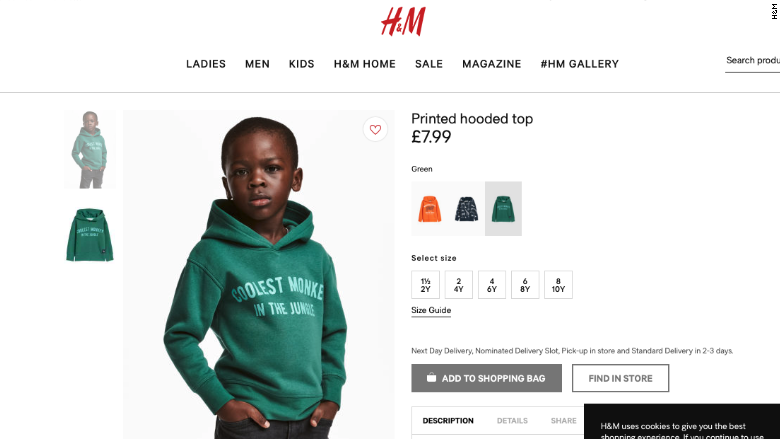 VOTE NOW! Is this Funny or Offensive?
Posted in:
Welcome To The Fumble
January 8th, 2018 – H&M is apologizing today after getting dragged over the coals for its use of a black child promoting a hoodie with the phrase "coolest monkey in the jungle." The clothing retailer used the young boy's photograph on the company's online British store but quickly caught the attention of people across the globe.
Charles Blow, a New York Times columnist, was one of the first to challenge the ad by directly asking H&M on Twitter if they had lost their "damned minds."
. @hm, have you lost your damned minds?!?!?! pic.twitter.com/EYuCXLZtv3

— Charles M. Blow (@CharlesMBlow) January 8, 2018
Throughout the night, neither the company or its Twitter handle had a comment on the status of their minds. The rest of Twitter, on the other hand, had plenty to say. The majority of users sharing the story were concerned by the fact that a retail giant like H&M didn't see the problem during any moment in the decision-making process.
Someone at H&M thought it would be cool to have this adorable black kid wear a hoodie that says "coolest monkey in the jungle." #dumbass https://t.co/gXUAz0nBiQ

— Amarnath Amarasingam (@AmarAmarasingam) January 8, 2018
In the year 2018 there's no way brands/art directors can be this negligent and lack awareness. If look at other sweaters in same category they have white kids. We have to do better. pic.twitter.com/Av4bS4t6yn

— alex medina (@mrmedina) January 8, 2018
So the white kid is the "survival expert" and the black kid's "the coolest monkey in the jungle" yeah?! 2018 and we still have to bear this kind of non-sense, injustice & disrespect?! @hm please get yourself a reasonable, intelligent marketing manager ASAP!! ??‍♂️ #smh pic.twitter.com/HrzuIDhT5W

— Leon Balogun (@LeonBalogun) January 8, 2018
How many ppl were involved in the planning, shooting, editing and publication of that deplorable @hm photo? The names of the ppl who did this and who didn't say anything to stop it should be publicized. There needs to be a punishment comparable to the embarassment of that child

— Jawnnay (@BRodella) January 8, 2018
Every company should invest in training that encompasses cultural competency and sensitivity. It is absolutely necessary. @hm pic.twitter.com/efMR0oL3jx

— The King Center (@TheKingCenter) January 8, 2018
On the other side of the cloth, there were some people pointing out that the hoodie itself isn't racist and that we've gotten "soft" as a society.
I don't see the issue with the H&M ad. Have we become so soft as a people that a black kid can't where a hoodie with the word "monkey" on it? My God. And we say were tougher than our ancestors smh

— Grinch Moffor ?? (@Kowenmoffor) January 8, 2018
That H&M hoodie in and of itself is not racist nor offensive. However putting it on and marketing it with a black child with historical and current context is just not a good look.

— Zee (@AsToldByZee_) January 8, 2018
By Monday morning, the backlash had prompted H&M to issue a formal apology and remove the photograph from advertisements.
"This image has now been removed from all H&M channels and we apologize to anyone this may have offended," said H&M (HNNMY) spokeswoman Anna Eriksson.
The one-two punch of apology and removal has been a consistent trend for brands and companies  who have made marketing mistakes. Last October, Dove had to offer multiple apologies after a Facebook ad they released showed a black woman appearing to transform into a white woman after using their body wash.
Do you think H&M's apology was sufficient? Did you find the ad offensive? Vote and comment now…