Drag Queen Story Hour Causes Protest, Police Presence At Indiana Library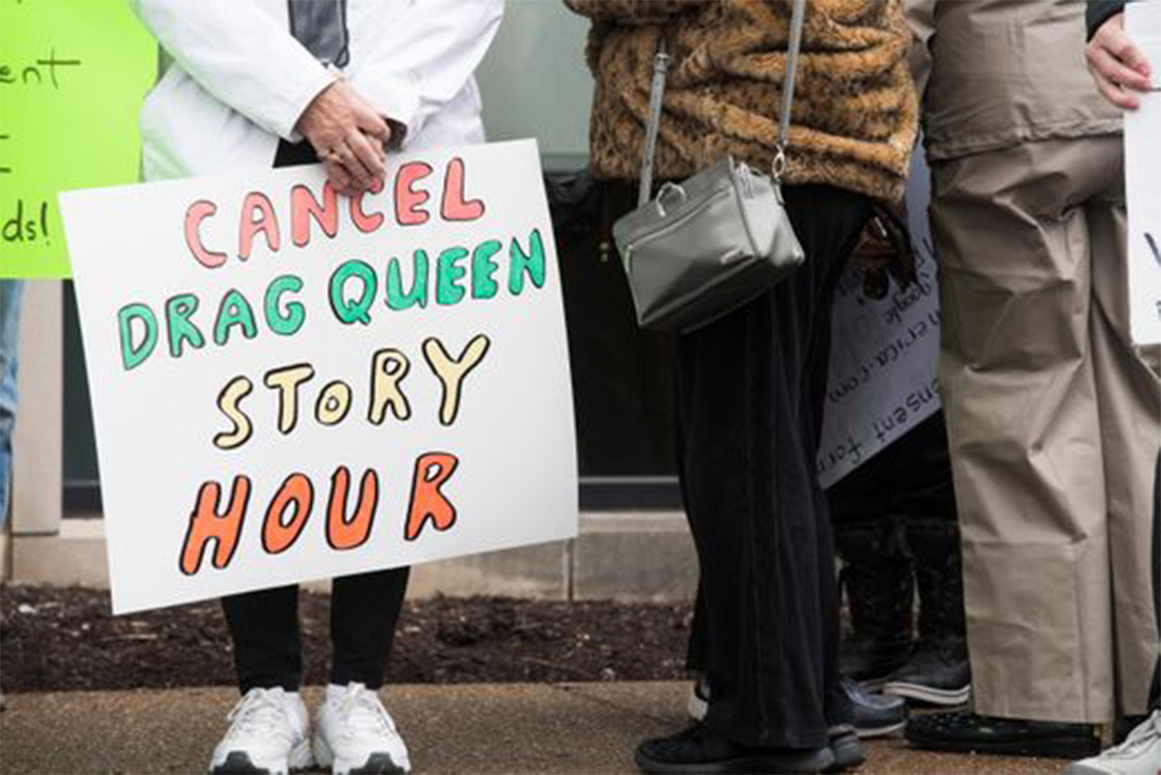 VOTE NOW! Is this Funny or Offensive?
Posted in:
Drag Queens, Community Screams
February 24th, 2019 – The Drag Queen Story Hour made its way to Evansville, Indiana yesterday and controversy wasn't far behind. After the Evansville Vanderburgh Public Library announced the event, reports of security presence were also publicized but local residents likely didn't expect to see 26 officers, a SWAT vehicle, and at least one confirmed Department of Homeland Security officer.
Drag Queen Story Hour began in San Fransisco in 2015 but now operates over 20 chapters across the country. Their mission is to encourage a love of reading while also teaching children to accept themselves and those around them.
Their journey to Evansville was immediately met with opposition. Over the past few weeks, members of the community have flooded school and library board meetings as they called for the story hour to be cancelled and for library board appointees to be removed. Motions for those decisions were denied and supporters of Drag Queen Story Hour stood their ground leading up to the event.
On Saturday, the two sides arrived at the library to continue making their cases. While the event wouldn't start until 10am, supporters and protestors showed up as early as 8am, according to local news source Courier & Press. Their report didn't include any large altercations but heated exchanges lasted throughout the morning.
Opponents traveled from Mississippi, Tennessee, Alabama and Kansas to make their voices heard. Police kept supporters and protestors separated by police tape and orange cones, but their voices crossed those lines for hours.
"Children as young as two or three years old are being forced to make sexual decisions about their gender," Gabriel Olivier told Courier & Press reporter Segann March. "They're being told to ignore basic biology about how their bodies were created by the Lord. They're being forced, coerced and ushered into this place where a drag queen will tell them they can decide what gender they are going to be. We're here to stand up against that and preach the gospel."
Other parents, even those who no longer live in Indiana, disagree. Daniel Mills, who grew up in Evansville but now lives in Washington, D.C. with his wife and four children, said he was supportive of the event and wasn't surprised by the protestors due to the negativity in our culture today.
"I think that reading to kids is absolutely a positive thing," he told Is It Funny or Offensive?. "Showing that it's okay to be different and that no matter what you look like, you can be accepted and loved, totally a good thing."
Mills added that he thought the protestors yelling at the kids and parents who went inside actually did more damage to children than having them listen to a drag queen read a book in a library.
"I'm definitely surprised that people drove from several states away, devote their entire weekend to making kids feel unwelcome and afraid, and then somehow try to justify it as part of a loving religion," he said.
Inside, Florintine Dawn, the Drag Queen performer, read The Very Hungry Caterpillar, Brown Bear, Brown Bear, What Do You See,? and Goodnight Moon. Children also danced to "The Hokey Pokey," "Head, Shoulders, Knees, and Toes," and "Freeze Dance." Library CEO Cyndee Sturgis Landrum praised the story hour, adding that Florinitne was a "natural storyteller."

The library ended up adding a fourth reading segment to accommodate the larger-than-expected crowd size. Ultimately, 275 children and their guardians participated in the story hour — over 150 children were turned away due to capacity.
What are your thoughts on the explosive reactions to Evansville's library hosting Drag Queen Story Hour?