ESPN Apologizes After Airing Fantasy Draft Auction Compared To Slave Auction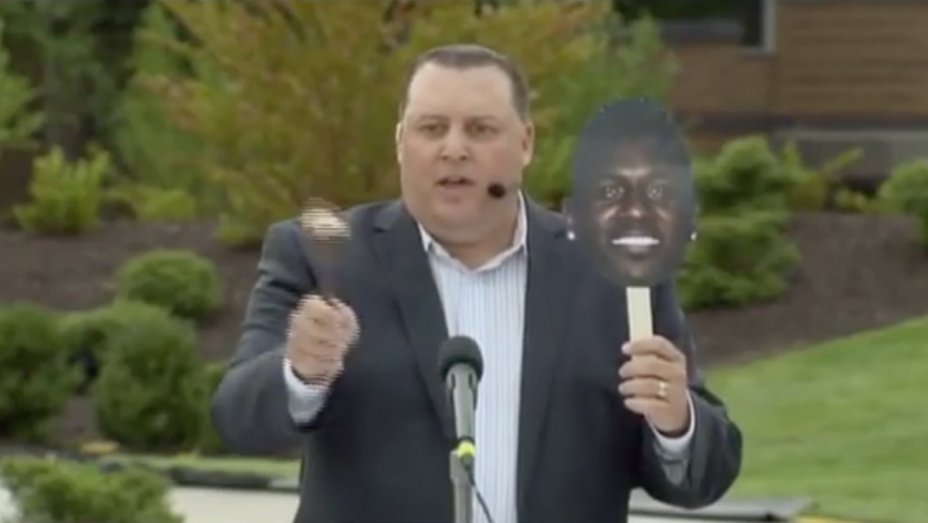 VOTE NOW! Is this Funny or Offensive?
Posted in:
Flag On The Play
August 16th, 2017 – The marketing playbook was thrown on the ground as ESPN apologized for airing a fantasy football auction that many compared to an actual slave auction. While many people are familiar and comfortable with fighting over athletes to win their group's fantasy league, seeing a white auctioneer stand on a stage holding photos of black people's heads on sticks left many people uncomfortable.
The segment was part of a 28-hour marathon on ESPN2 called Fantasy Sports Marathon. The bit found Alan Wheeler as the auctioneer, and reactions rolled in quickly once star athletes including Odell Beckham Jr. popped up on the screen. The New York Giants wide receiver ended up going to a white man for a whopping $34.
White athletes were also available during the auction – ESPN additionally shared video of New England Patriots quarterback Tom Brady being propped up for bidding.
Comparisons to real events as well as those depicted in films, however, had already made the rounds on social media. Jordan Peele's horror hit Get Out was referenced showing the modern, twisted use of slave auctions.
Golden State Warrior Kevin Durant and writer/activist Shaun King were amongst many high profile people calling the event out and asking ESPN to issue an apology.
Dear @ESPN,

Apologize now for doing a sketch where you auctioned a Black man off to the highest bidder. pic.twitter.com/D8SC1cjhBU

— Shaun King (@ShaunKing) August 15, 2017
Bum ass espn running out of ideas…. pic.twitter.com/4QVTtncN6R

— Kevin Durant (@KDTrey5) August 16, 2017
Soooooo ESPN just did an "auction" sketch ? pic.twitter.com/zvezCItems

— Jᴀsᴏɴ (@rjasonscales) August 14, 2017
Hey @espn, your fantasy football draft auction segment resembles……. pic.twitter.com/L8HmRNJuCf

— Danté Peterson (@tayp22) August 15, 2017
So @espn who's idea was it to auction off football players ?? U guys might wanna address this optic sooner than later

— OldMan Ebro (@oldmanebro) August 15, 2017
And while others agreed the optics looked bad, they pushed back on the idea that it was intentionally racist and reminded people that white athletes were also included in the auction.
Fam-The optics aren't good-agreed. But it was replicating Fantasy Football auctions–whites up for bid too.
We appreciate you. https://t.co/oTVl1pkJku

— Kenny Mayne (@Kenny_Mayne) August 15, 2017
this mentality is why racism is still alive and well, you know there is white guys in this auction too?

— Nick Corriere (@ncorriere23) August 15, 2017
I'm with you on 99.8% of things, but this is a type of fantasy football draft, auction style, where all players are auctioned off. Calm down

— Ernie Estrella (@ErnieEstrella) August 15, 2017
The fantasy draft auction happened amidst a difficult time for the country as a white supremacist rally in Charlottesville, Virginia left one dead and 19 injured. While the debate over content and timing continued, ESPN released a statement saying:
"Auction drafts are a common part of fantasy football, and ESPN's segments replicated an auction draft with a diverse slate of top professional football players. Without that context, we understand the optics could be portrayed as offensive, and we apologize."
What do you think? Was this a normal, fun sports activity or a bad decision that evoked pain? Funny or Offensive? Vote and comment now…